New Underwater Museum in Cannes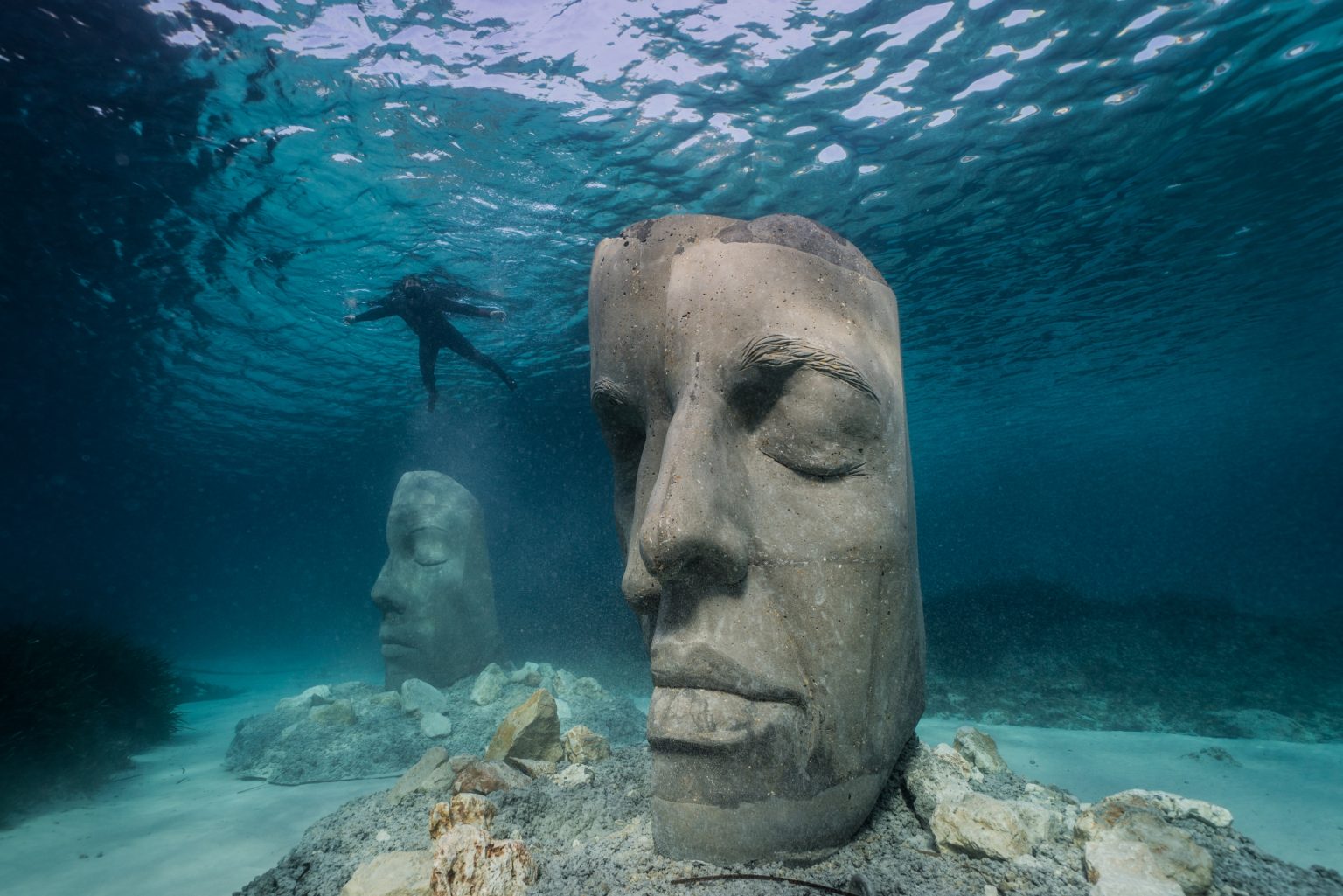 A new underwater museum has opened in Cannes, France this month. Funded by the Mairie de Cannes and commissioned by its mayor, David Lisnard, the project took over 4 years to develop and is the work of British sculptor Jason de Caires Taylor.
The Museum is Jason de Caires Taylor's first installation in the Mediterranean Sea. It follows on from his previous work, the most famous of which is the world's first underwater sculpture park – the Molinere Underwater Sculpture Park in Grenada in the Caribbean.
The Museum in Cannes features a series of six monumental three-dimensional portraits, each over two metres in height and ten tons in weight. They are sited near the island of Sainte-Marguerite, one of the Lérins Islands, just off the coast of Cannes. Placed at a depth of between two and three metres, these artworks rest on areas of white sand, in-between oscillating posidonia sea grass meadows in the protected southern part of the island. The shallow depth and close proximity to shore make the site easily accessible, and the crystal-clear waters provide ideal conditions for snorkelling. This is the one museum you can access in a socially-distant way, wearing a scuba mask over your eyes rather than a mask over your mouth.
The six works are based on portraits of local members of the community, covering a range of ages and professions, for example, Maurice – an 80 year old local fisherman –  and Anouk – a 9- year old primary school pupil. Each face is significantly upscaled and sectioned into two parts, the outer part resembling a mask. The theme of masks connects to the history of Île Sainte-Marguerite, well known as the location where the Man with the Iron Mask was imprisoned. Cannes, through its famous annual film festival, is well known for its relationship with the performing arts.
The location of the sculptures was previously an area of disused marine infrastructure. Part of the project was a significant clearing of the site, removing marine debris such as old engines and pipelines to create a space for the installation of artworks which have been specifically designed, using Ph neutral materials, to attract marine fauna and flora. The site has now been cordoned off from boats, making it safe for snorkellers and divers, and preventing damage by anchors to the seagrass meadows. Posidonia grass is a vital habitat area and is sometimes referred to as the lungs of the ocean for the vast amount of oxygen it creates. With all his projects, Jason aims to draw attention to the sea as a fragile biosphere in urgent need of protection.
The split mask is a metaphor for the ocean. One side of the mask depicts strength and resilience, the other fragility and decay. From land, we see the surface, calm and serene, or powerful and majestic. This is the view of the mask of the sea. However below the surface is a fragile, finely-balanced ecosystem – one which has been continuously degraded and polluted over the years by human activity.
You can find out more about The Museum and Jason de Caires Taylor at www.underwatersculpture.com or on Instagram – #jasondecairestaylor.
---
Images: @jasondecairestaylor – www.underwatersculpture.com
Gozo Diving and Gozo Technical Diving join RAID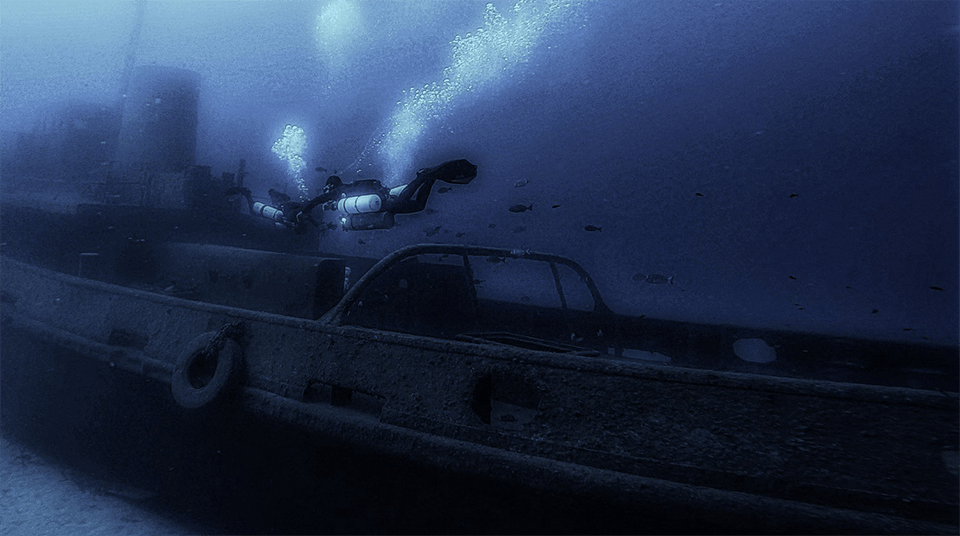 Great news for RAID divers around the world: Gozo Diving & Gozo Technical Diving have joined the RAID network and now offer RAID courses, and RAID-quality support in one of the classic Mediterranean dive destinations.
Malta is a well-known and highly rated diving destination. The water is warm (around 28 degrees), the visibility is epic (20-40 metres), and many sites have weak to moderate current. So, there are great dive sites for every level of experience, and these include fantastic and historic wreck dives.
Located on the Island of Gozo, RAID's new dive centre, offer the complete range of recreational, technical and Instructor courses. The facilities include two classrooms, access to an onsite pool and a full CCR room. So, visiting divers and instructors can enjoy nitrox, trimix, as well as oxygen-compatible air fills, rentals of sidemount cylinders, twinsets, and stage cylinders, DPV rental and of course high-end teaching, coaching and experienced guiding.
Gozo Diving and Gozo Technical Diving has more than 30 years of experience in training, exploration and diving professionalism. Now fully aligned to offer the the complete spectrum of RAID courses, which means both experienced divers as well as those who want to start exploring the underwater world can come and enjoy the dive site attractions of Malta and Gozo knowing they'll get the fun and full-service experience our agency and network of RAID dive centres are famous for.
To find out more, email: info@gozotechnicaldiving.com or visit their website at: www.gozotechnicaldiving.com
Photos: RAID Blog
DIVING talks 2022: 4 great reasons why you should attend!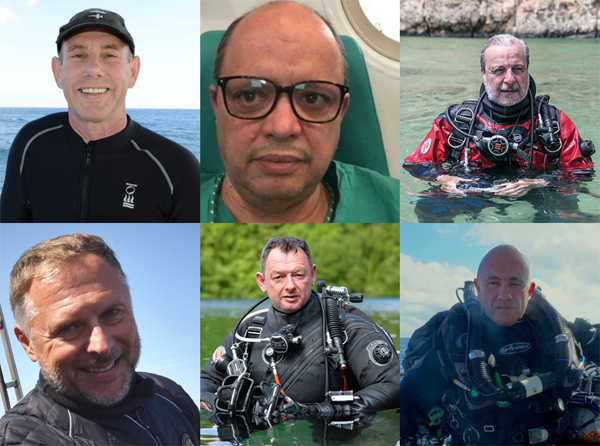 International Dive Show DIVING talks 2022 takes place from 6-9 October in Troia, Portugal. Here's four great reasons why you should attend…
1. The 'Talks' and the Speakers
What do you get when you have in the same room Dr Alessandro Marroni, Dr Óscar Camacho and Dr Simon Mitchell? Undoubtedly an incredible amount of knowledge in diving physiology and hyperbaric medicine. If you are a diver, you know the value of such a debate.
What do you expect to see in a Bill Stone presentation?
Wouldn't you like to discuss with Thomas Stachura, Leigh Bishop or Armando Ribeiro their findings underwater in the expeditions that led to the discovery and identification of new shipwrecks?
2. The Exhibition: brands and trials
It's about talking with 'who knows' and testing that piece of equipment even underwater if you want!
Friday, October 7, is BRANDS DAY. Try dive the Mares SCR Horizon, test your preferred scooter, and more. Bring shorts or a swimming suit. This is happening in the swimming pool. Join us on October 7. Diving Talks is also Brands Day!
3. DIVING talks is a family/ partner friend event
You don't need to leave your family or partner behind.
If you want to attend, transform this trip into a partner or family trip to Portugal. There are many things they can do while you enjoy the Talks.
It is not that you need to have something planned. The peninsula is such a fantastic site to enjoy; there's the beach if you want to relax by the sea, there are trails you can check out, or you can relax by the pool.
4. YOU CAN ACTUALLY DIVE!
If you have free time and want to explore Portugal underwater, DIVING talks can be the pretext for a 'stay and dive' side-program.
Diving talks partnered with Portugal Dive, a boutique dive concierge that organizes dive trips to Portugal; the mainland and in the Azores and Madeira archipelagos.
Diving recreational or technical, you can expect the European Atlantic's most transparent waters full of life, schools of fish, the big pelagic, and even monk seals: all that and wrecks, inland caves, you name it.
Opt to arrive one-week earlier or leave one-week later, and chose the stay and dive program for your type of diving and preferences.
For more information, contact Arlindo Serrão via e-mail: arlindo.serrao@portugaldive.com or check out the following links: