The underwater wonders of the UK's seas, a story in photographs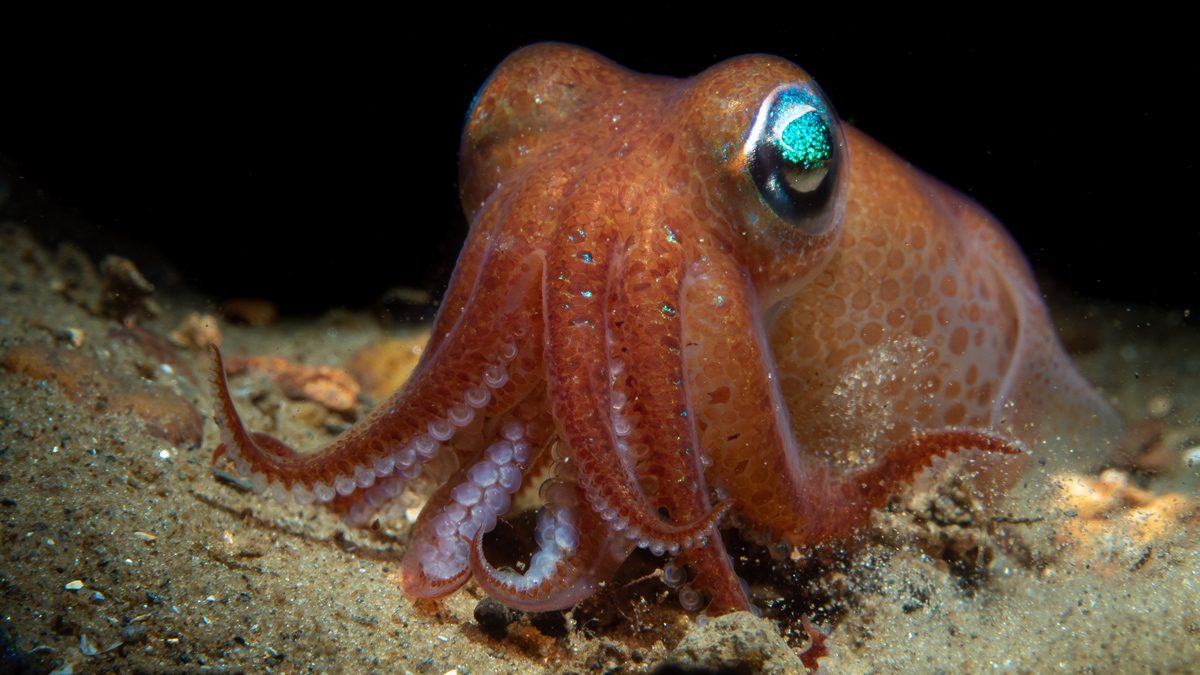 From the Jurassic Coast of Dorset to the northernmost waters of Scotland, there is a huge array of incredible landscapes and animals beneath the water's surface in the UK. The Marine Conservation Society has gathered together some of the amazing ocean imagery capturing the wonders of UK seas by talented photographers and divers around the country.
Read the photographers' stories behind the captivating images, enjoy some unexpected sightings and get inspired to head to the UK's coasts and seas as lockdown eases and summer draws closer.
The Marine Conservation Society's sightings programme asks beachgoers to report animals including jellyfish, turtles and basking sharks when they spot them in UK waters. Divers can join Seasearch, a volunteer diving programme that monitors underwater life, with the opportunity to hone underwater photography skills.
Creatures of the deep
Sea hare, Swanage Pier, Dorset, UK, June 2020
The story: Sea hares look brown and sluggish at first glance but if you look closely they have delicate patterns and colours. I used a snooted spotlight effect to show this off and highlight the head tentacles which resemble a hare's ears, giving this animal its common name.
Fluorescent fireworks anemone, Inveraray, Loch Fyne, July 2020.
The story: Over recent years underwater fluorescence photography has become a passion of mine, particularly in British waters. I never know quite what I'm going to find that will fluoresce under the blue (near UV) light. After spending the day diving at the Garvellachs my buddy and I decided to stop off for an evening dive in Loch Fyne. The site we decided on was at Inveraray slip which is fantastic for fireworks anemones. This particularly large individual was a favourite of mine from this dive as I was able to capture the whole anemone with its long tentacles stretched out within frame.
Photographer: Dan Bolt
Flabellina pedata nudibranch, Swanage pier, England, 14 July 2020.
The story: The colours of this nudibranch make it not only one of our most flamboyant, but also easiest to spot! In a dark area under the pier this individual was making its way along a stalk of kelp. A flash of pink and purple in my torch light caught my eye, and so I had the pleasure of observing it for several minutes before I moved on.
Photographer: Kirsty Andrews
Tompot blenny, Babbacombe Beach, Torquay, Devon, UK, June 2020.
The story: This tompot blenny is presenting a smiley face to the camera but he's actually carefully guarding a stash of eggs in the crack behind him. Male tompots can be quite feisty in guarding their territory, which they keep clean and tidy, ready for several females to lay eggs in, if they're lucky. They will fertilise the eggs and guard them for around a month in the early Summer.
Forests of the sea
Grey seals in surge, taken at Eilean Cluimhrig, Loch Eriboll, Scotland, UK
The story: The Grey seals on the North coast of Scotland are not as accustomed to divers as in some UK locations, but it was fun to watch them enjoying themselves at a distance. They were far more comfortable in the surging waves than I was, as I clung on to kelp to capture this photo.
Young Lumpsucker, Kinlochbervie, Sutherland, Scotland. 4th November 2020
The story: This young lumpsucker was about the size of a tennis ball and was living attached to the blades of sugar kelp. My buddy Kirsty Andrews found this one and I photographed it with one of my flashes backlighting the kelp to reveal its golden colour. As always with great finds, it was at the end of a long and chilly November dive, so I only had time for a few pictures before I had to bid it goodbye. I like the featherstar arms peeking into the background of this image, which are so characteristic of this area in the far north west of Scotland.
Photographer: Paul Naylor
Spiny starfish (Marthasterias glacialis), Wembury, Devon, 4th June 2020.
The story: This starfish slowly walking up to the top of the kelp canopy was seeking a good vantage point from where it could release its spawn. A chemical sent out by females with their eggs prompts neighbouring starfish to join the party.
Photographer: James Lynott
Brown crab in amongst dense animal turf, Falls of Lora, Loch Etive. 15th August 2020.
The story: Situated at the narrow entrance to Loch Etive, near Oban, the Falls of Lora has a reputation of being a bit of a scary dive. Given that the tide races through creating upwells, whirlpools, and standing waves, it's easy to understand why. But done at the right time it is an excellent site and easily a favourite shore dive of mine. There is such amazing underwater topography and proliferation of life at this site, there was plenty to admire and photograph. While swimming along one of the gullies this crab caught my eye as it seemed to be comfortably nestled into the yellow breadcrumb sponge and hydroids surrounding it.
Into the blue
Photographer: Alex Mustard
Blue Shark. Penzance, Cornwall, England. 29th September 2020
The story: I'd only seen blue sharks in British waters once before, so was delighted to get the chance on a sunny late-September day in 2020. After a few hours waiting the sharks started arriving, as their numbers built up they became more confident and rewarded me and my buddy with plenty of close passes. This frame of a beautiful female slicing through the autumnal sun was a favourite and stands out because of the blobs of atmospheric lens flare. Blue sharks are sadly the world's most fished shark, so it was a real treat to see them.
Photographer: Matt Doggett
Bib or pouting (Trisopterus luscus), Jurassic Coast, Dorset.
The story: Photographing these large shoals can be a challenge as the fish are highly reflective and change direction constantly. One summer I was drifting through crystal clear waters over an area of huge boulders off the Jurassic Coast in Dorset. The boulder tops were covered with red seaweeds, sponges and antenna hydroids. Suddenly I was joined by this small shoal of bib which swam alongside and just in front of me for several minutes. They would often bunch together nicely, allowing me to snap away as we floated along in the gentle current. It's wonderful, relaxing dives like this that give you fond memories of British diving and keep you coming back for more.
Photographer: Mark Kirkland
Basking shark, Isle of Coll, July 2020.
The story: I've been over to the Island regularly in the last few years to photograph this huge fish as it migrates up the west coast of Scotland. I wanted to do something different from the classic head-on open mouth shot so I had a custom bit of photography gear built to try and take split shots – something that was rarely seen. It was 2 years in the planning and a real technical challenge due to the dark, plankton rich waters but I had a glorious week on the island with multiple dreamy encounters. This shot was taken on the last night, just as the sun was setting.
Photographer: Kevin Morgans
Atlantic Puffin, Fair Isle, Shetland.
The story: When photographing an animal, eye contact is a critical component, allowing your viewer to connect with the image. This image breaks many of the traditional rules. The setting sun, the uneasy pose of the puffin and scene all throw up many questions and thoughts. Where is the puffin looking? What is it thinking? What lies beyond the horizon?
For more information about the Marine Conservation Society visit their website by clicking here.
Title image: Mark Kirkland
Amazing Alonissos – The all round dive vacation destination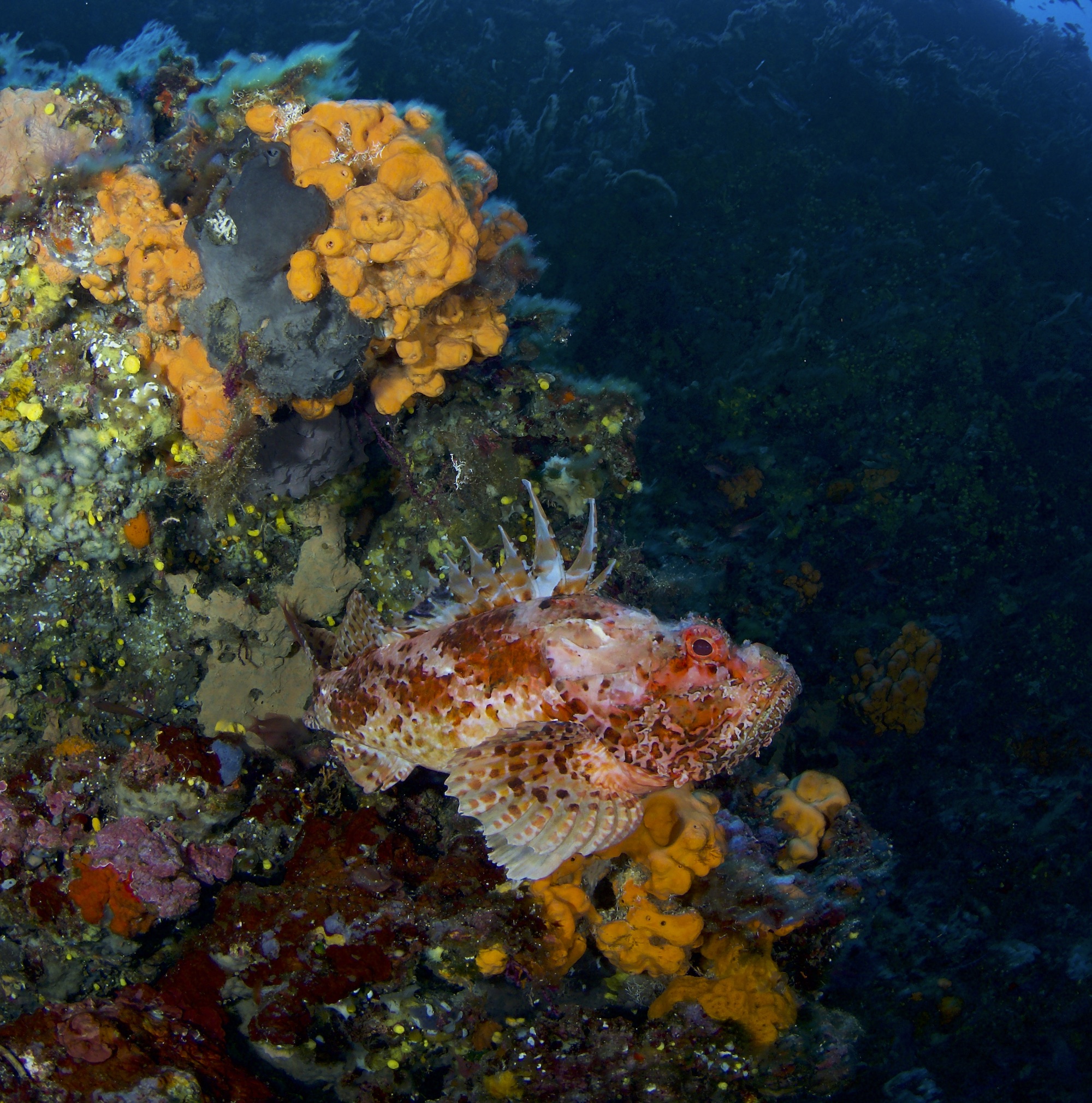 In early summer we were given a wonderful opportunity to visit Alonissos in the Sporades Islands in the northern Aegean Sea. This green and forested island sits at the edge of the Alonissos National Marine Park, the largest marine protected area in Europe. Our main focus was to be scuba diving, but during our short stay we were especially impressed with all of the other activities and experiences available on Alonissos for the discerning vacationer.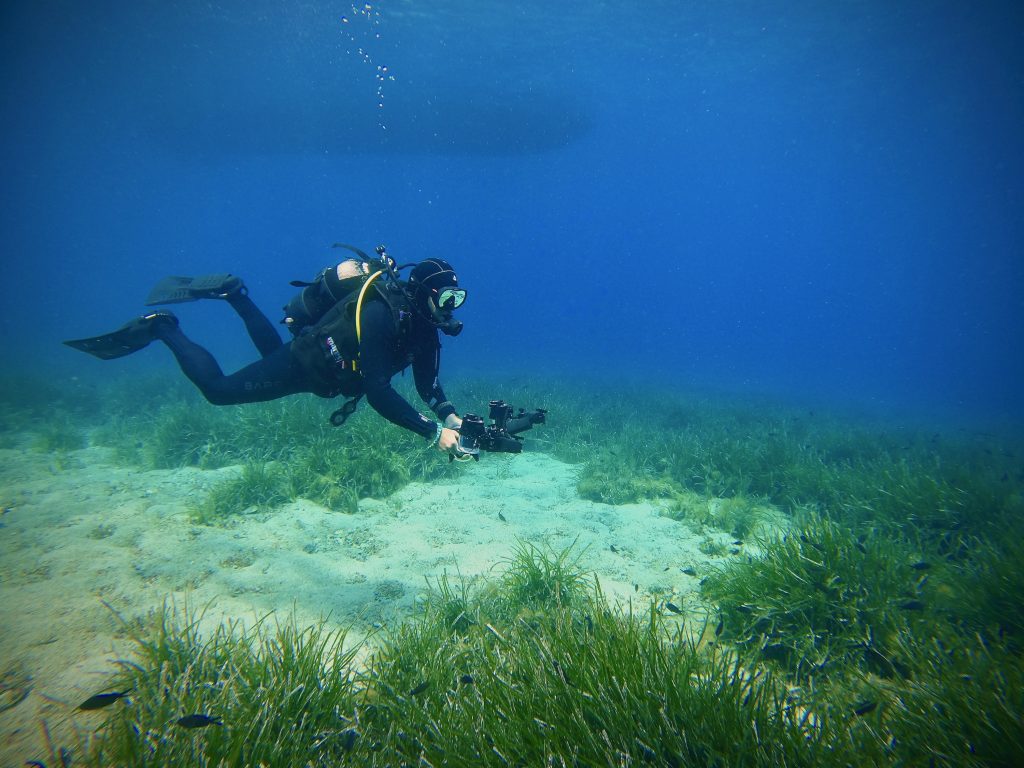 The scuba diving was really outstanding. In contrast to some areas of the Mediterranean, the marine biodiversity here was impressively diverse and abundant. Our short stay meant we just had a small taste of the diving available, however our hosts at Alonissos Triton Dive Center treated us to some exceptional sites from their impressively long list. The variety of marine life we encountered was a delight: large Gorgonian sea fans, many species of nudibranchs, small pipefish to large groupers, octopus, and much more.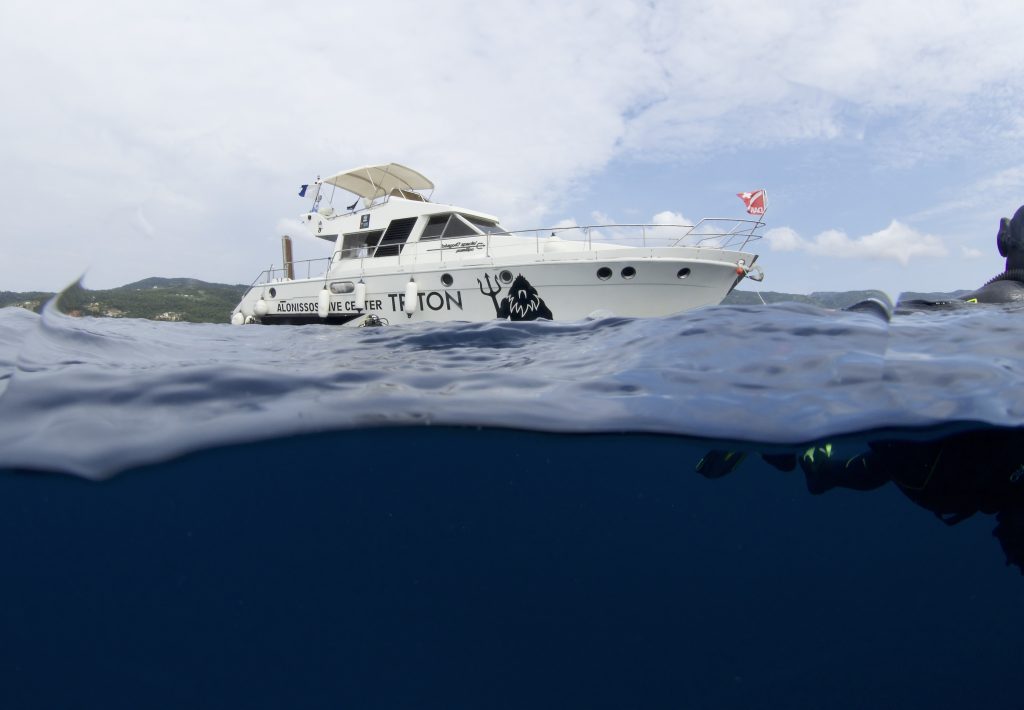 One of the most incredible experiences was the chance to dive the oldest accessible shipwreck in the world, the Ancient Shipwreck of Peristera underwater archeological site from 500 BC … an amazing dive site with a very unique automated underwater museum monitoring system in place to protect its archaeological heritage. It was a busy but hugely satisfying few days of diving and we could certainly spend much longer on this idyllic isle!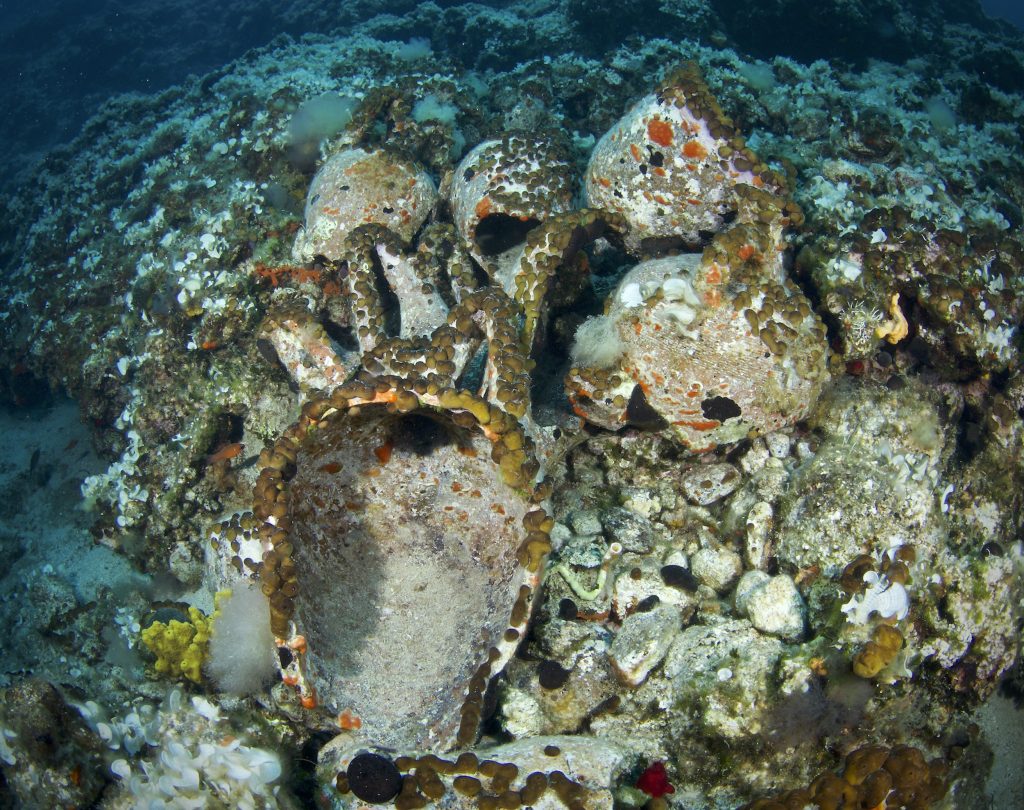 Greece has a huge number of beautiful islands to visit, so why choose Alonissos?
This island is one of the quieter Greek islands and as such has a very relaxed and welcoming feel, where you can find an authentic slice of the Aegean region. And, it is really easy to get there — so many airports in the UK offer flight connections directly to Skiathos (the hub of the Sporades) that you should not have to drive more than 100km in the UK to an airport.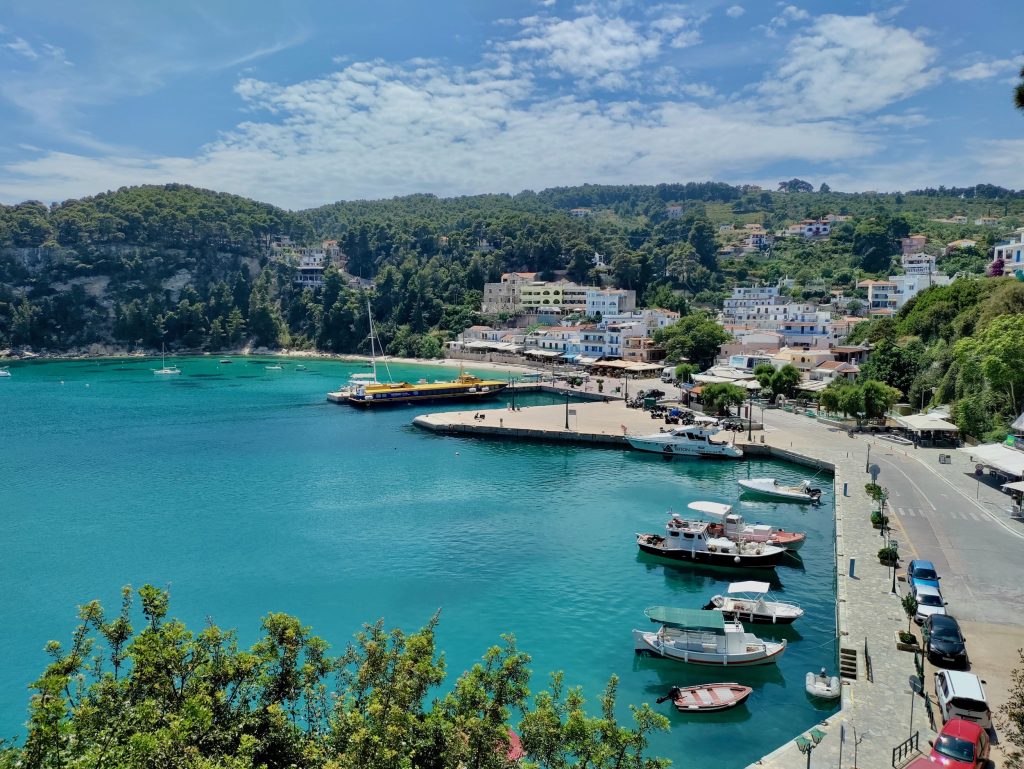 Finally, the variety of non-diving activities is hard to beat. There are boating day trips into the National Marine Park, taking you to visit secluded beaches and giving you a chance to see some amazing wildlife (such as monk seals, Eleonora's Falcon, and several species of dolphin to name a few). Both the main port town of Patitiri and the old village of Chora are full of interesting shops, charming alleyways, and restaurants with delicious meals. As an added bonus, the Alonissos cheese pie is a particularly moreish local specialty!
As a holiday destination, Alonissos really had everything one could ask for. Look for our full print article in an upcoming issue of Scubaverse's own Dive Travel Adventures magazine!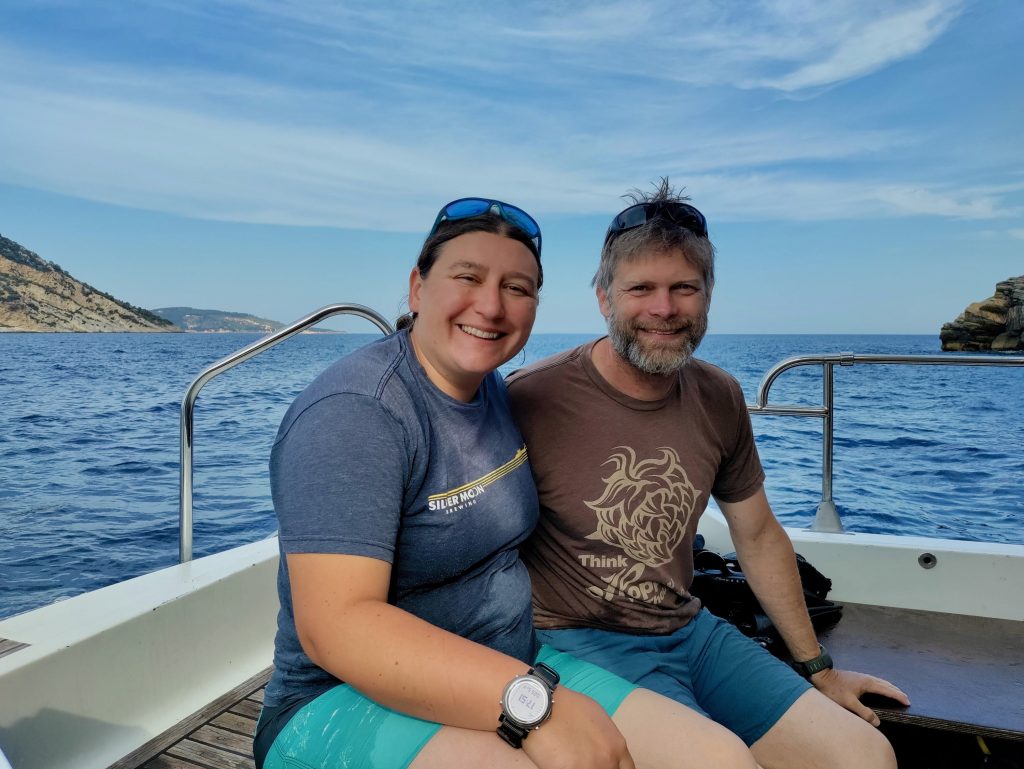 Thanks to:
The Municipality of Alonissos (https://alonissos.gr/en/)
Alonissos Triton Dive Center (https://bestdivingingreece.com)
Alonissos National Marine Park (https://alonissos.gr/en/marine-park/overview.html)
Paradise Hotel (https://paradise-hotel.gr/)
Albedo Travel (https://alonissosholidays.com/)
Diving With… Sporades Diving Group in Skopelos & Alonissos Islands, Greece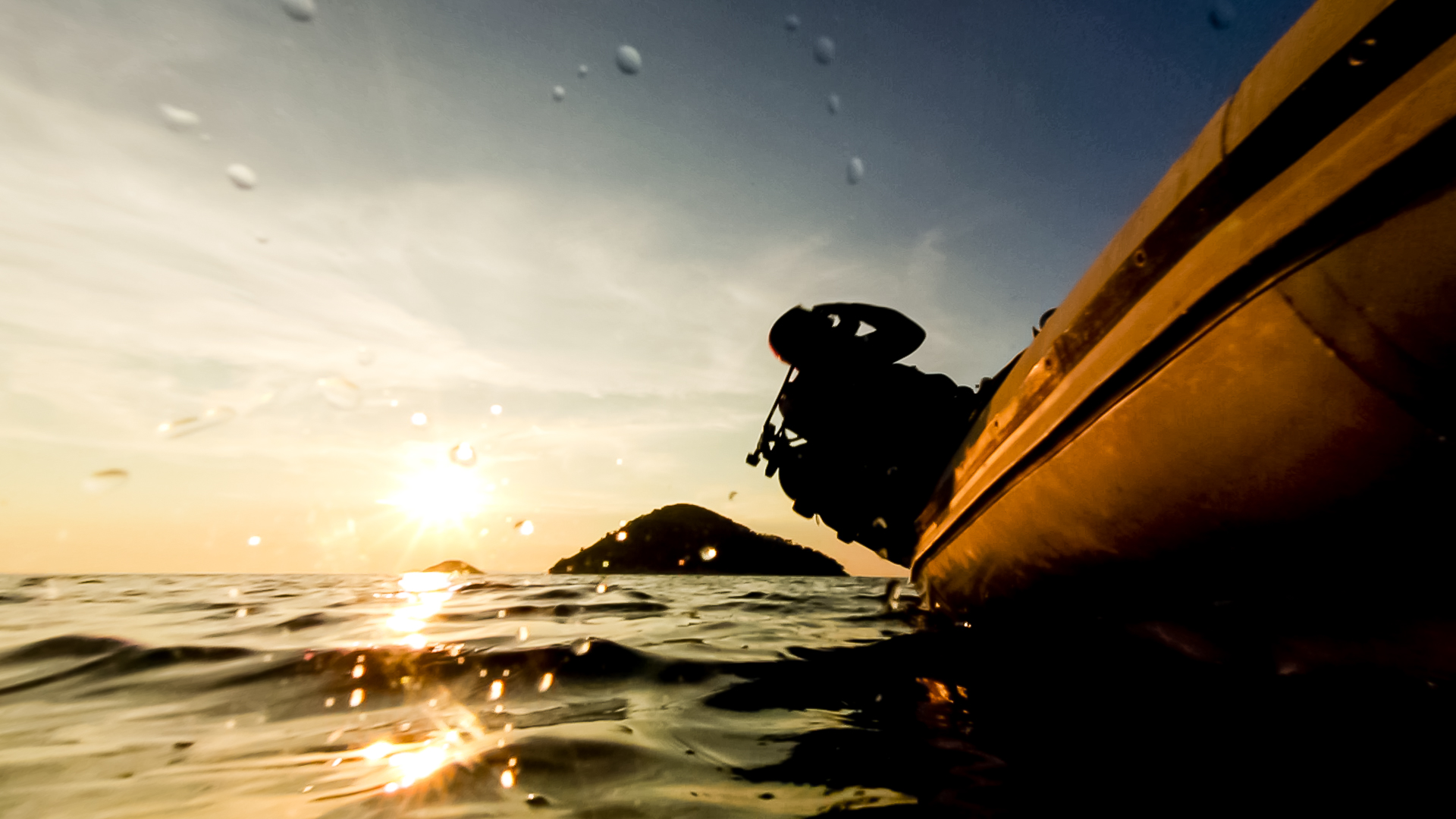 What is your name?
(Anastasios) Tasos Ktistis
What is the name of your business?
Sporades Diving: Skopelos Dive Center operates in Skopelos island and Ikion Diving that operates in Alonissos island, which is run by my business partner Kostas Danis.
What is your role within the business?
Master Scuba Diving Trainer PADI & Co-Owner of Skopelos Dive Center & Manager of Skopelos Island diving operations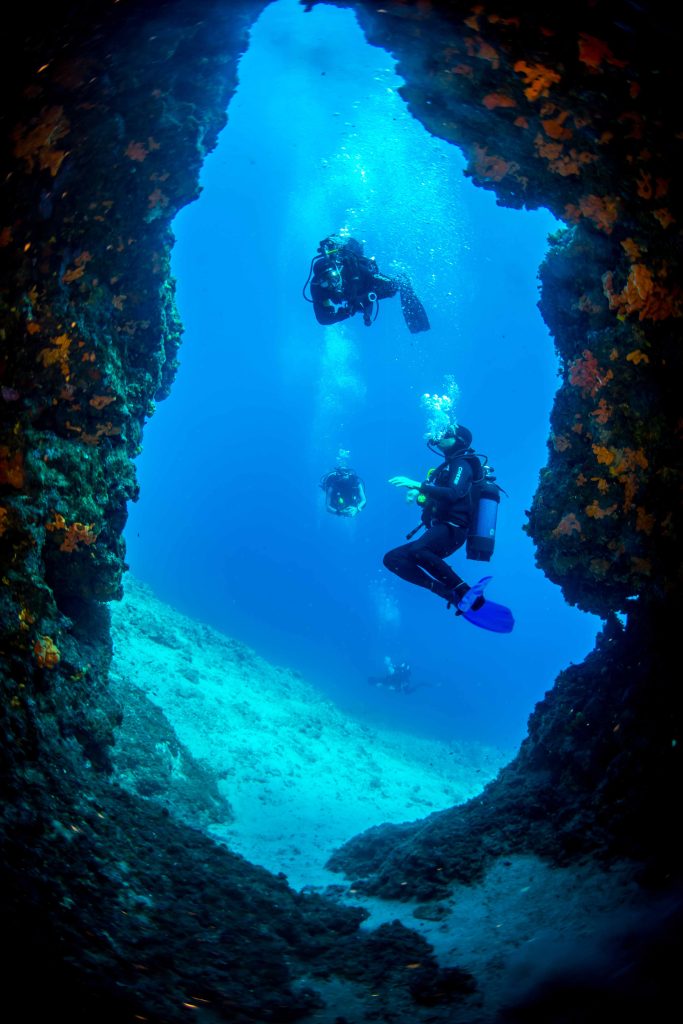 How long has the business operated for?
Since 2014
How long have you dived for, and what qualification are you?
I have been diving since 2012. I am a Mechanical Engineer with a BA in Documentary Photography and since 2012 I am qualified as a Master Scuba Diving Trainer PADI, since 2021 Tec65 diver and since 2022 as a Tec40 Diving Instructor
What is your favorite type of diving?
Wreck Diving
If you could tell people one thing about your business (or maybe more!) to make them want to visit you what would it be?
We offer our clients a safe and relaxed type of diving in the exciting and crystal-clear waters of the Sporades islands in Greece. Christoforos and Peristera's ancient wreck are two must dive destinations.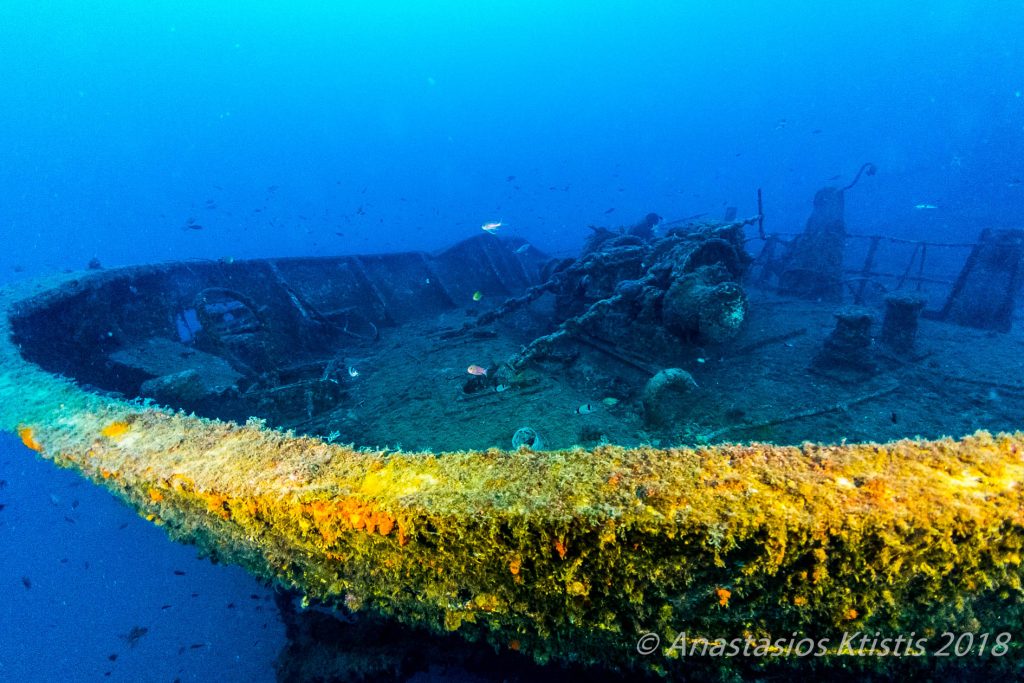 What is your favorite dive in your location and why?
My favorite dive location is the "Christophoros" shipwreck. A 83m long modern shipwreck that sank in 1983 in Panormos Bay in Skopelos island. As a wreck diving lover, I am so excited that as one of our dive locations I get to dive on this amazing site with our clients.
What types of diving are available in your location?
On our dive sites the rocky landscape is dominant with beautiful reefs, walls and caverns that I am sure everyone will enjoy. And of course wreck diving at the "Christophoros" shipwreck
What do you find most rewarding about your current role?
The satisfaction and the happiness on our clients' faces after a dive.
What is your favorite underwater creature?
Nudibranches!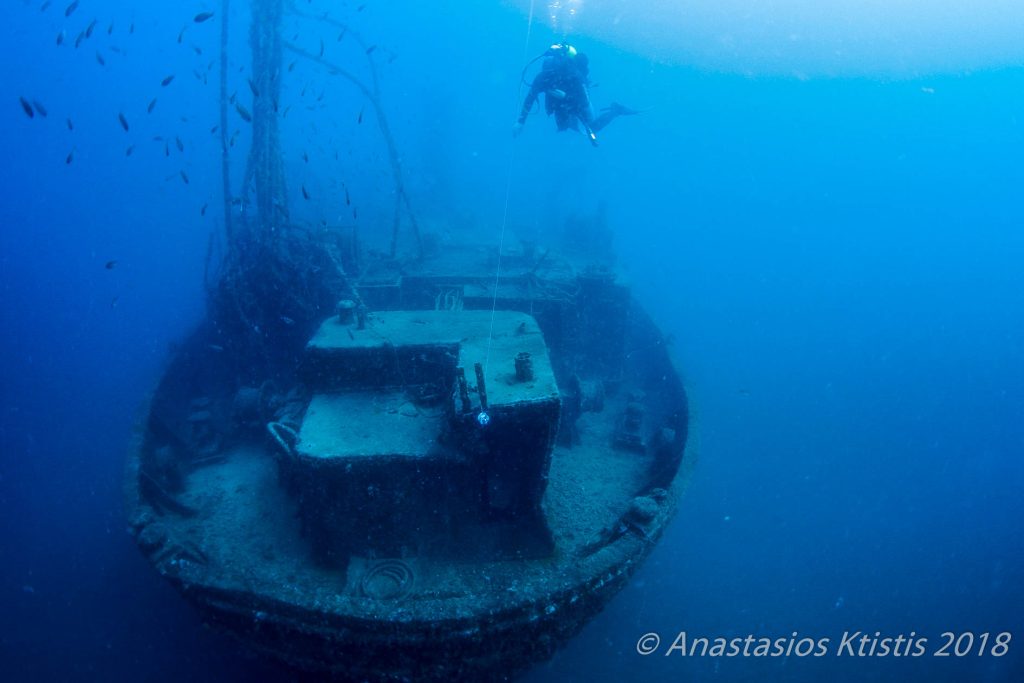 As a center what is the biggest problem you face at the moment?
I would say the fact that the Sporades islands have a short summer season (July-August) although the weather is ideal for diving from May till October.
Is your center involved in any environmental work?
Of course we are! First of all, we are all great advocates of the less plastic movement that has started in 2014, not only in Skopelos but also in Alonissos (Ikion Diving). We participate in underwater clean-ups as well as in projects for local management of plastic waste (#zeroplastic with iSea and Re-Shape plastic-funded by Beyond Plastic MED.)
Are there any exciting changes / developments coming up in the near future?
We currently aspire to get more involved in Scientific Diving projects by actively supporting the operations through our involvement in EU funded projects, while at the same time we are also exploring the possibilities of Technical Diving as me and my partner of the Alonissos base, Kostas Danis, are certified PADI Tec40 Instructors. We believe that in the future our business will be well known for not only its recreational diving services but also its involvement with the Scientific Diving community through its technical diving services and expertise.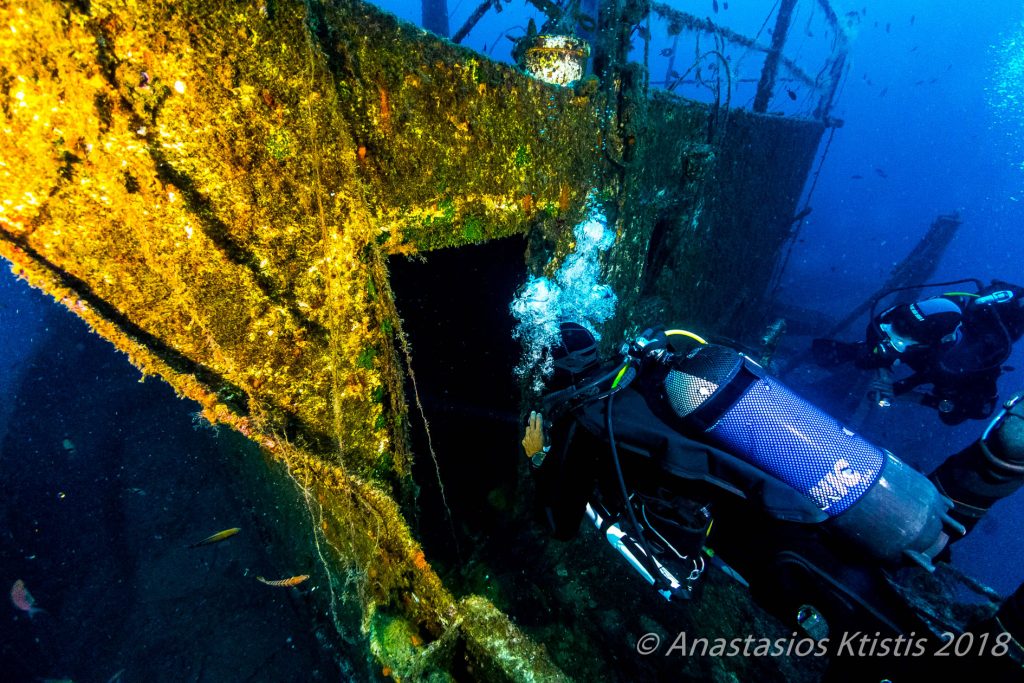 How do you see the SCUBA / Freediving / snorkeling industry overall? What changes would you make?
I believe that SCUBA and in general alternative tourism becomes more inclusive and even more people are interested to get to engage in this type of activities that ultimately protect the environment by raising awareness of the public about the ecosystem of the sea and its significance to a viable future.
Finally, what would you say to our visitors to promote the diving you have to offer?
At Skopelos Dive Center and Ikion Diving Alonissos (Sporades Diving Group) you can create fantastic underwater experiences – including guided dives, PADI courses, and snorkeling tours combining the two islands. It is our goal to create a safe, comfortable experience for divers of all abilities.
Where can our visitors find out more about your business? (This is where you enter your contact details and any specific details on how our audience can reach you)
Website: https://sporadesdiving.gr/
Skopelos Dive Center (Skopelos Island)
+306940448000
Ikion Diving Alonissos (Alonissos island)
+30 6940 448 004 (WhatsApp: +30 6984181598)