Wining and Diving – The Azores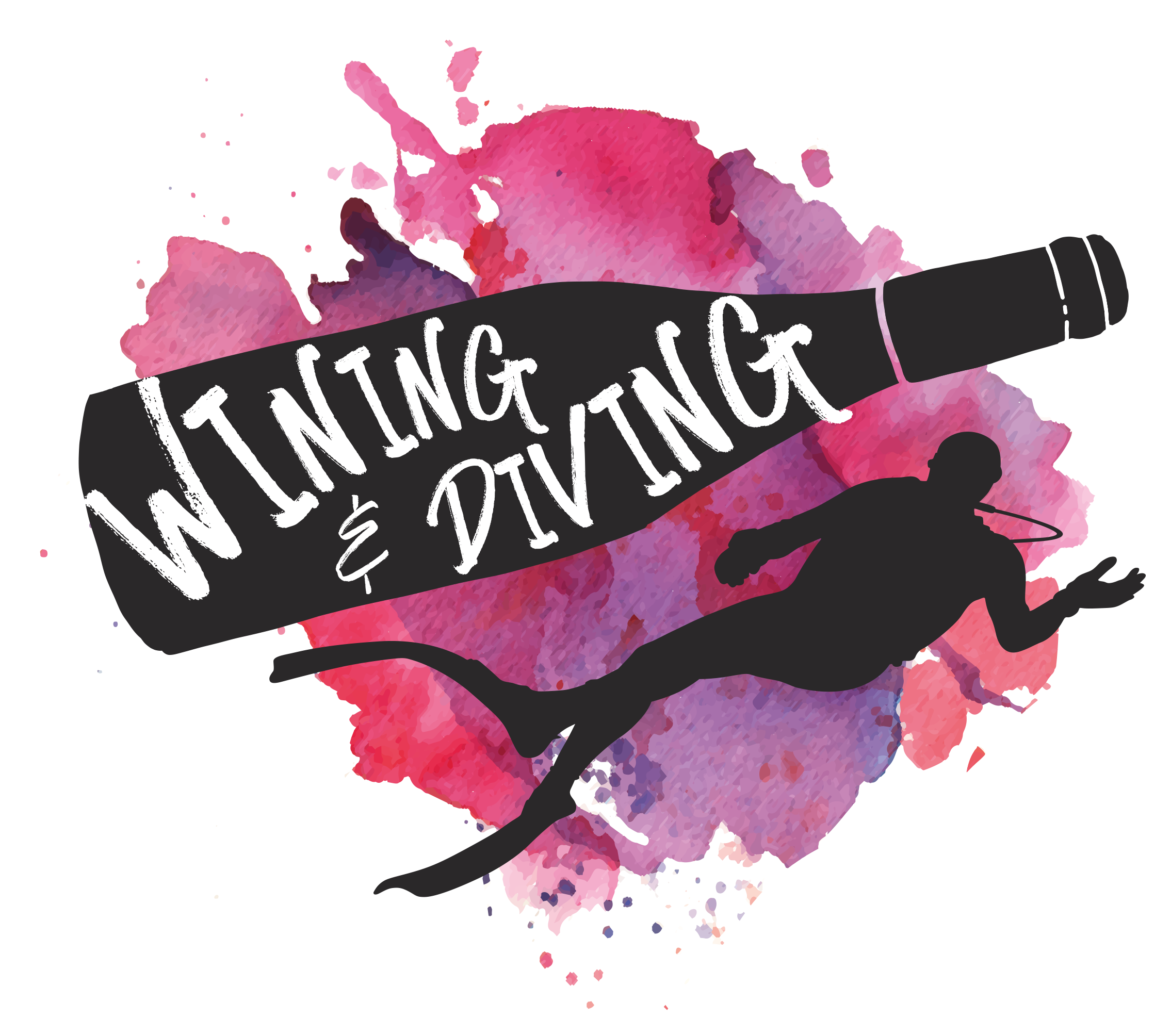 The Wining and Diving series sees Nick and Caroline Robertson-Brown embark on a tour to tickle the taste buds as well as to discover amazing dive sites in wine-making regions around the world. Some of the best wines are influenced by sea breezes and a coastal climate, allowing two of Nick and Caroline's passions to be combined into one epic journey.
**Please note, Nick and Caroline are not encouraging drinking before diving! The two activities are kept well apart on each of these trips.
---
The Azores comprises nine volcanic islands which have been pushed up above the surface, far out in the middle of the Atlantic Ocean. The islands lie some 850 miles east of the coast of Portugal and 1,200 miles from Canadian shores. Everything about these islands have been shaped by the ocean and the wind. They are warmed by the Gulf Stream, pounded by storms and all the island's activities are dictated by waves and wind. Despite being such a remote spot, traveling to these islands is very easy. We headed to Pico for our tour and flew from Manchester to Lisbon and then on to Pico, with the 2 flights only just over 2 hours each. Pico's volcanic peak is the highest point in Portugal and is a spectacular sight as you come into land; that is when it is not shrouded in cloud.
The first part of our 10 day trip was to discover the wines that are made on the island. The vineyards here are very different to those found elsewhere in the world. Here the vines grow at ground level, protected from the elements by black, volcanic dry-stone walls, which have earned these slopes the honour of becoming UNESCO World Heritage sites.  Our first stop is our wonderful hotel, Pocinho Bay, which is right on the seafront and built in the local traditional style. It is set in the heart of the wine making region and is also surrounded by some of the most important breeding grounds for Cory's Shearwaters, whose mating calls entertain throughout the night.
A short drive away is one of Pico's main towns, Madalena, and it is here that you can tour the wine co-operative, where most of the islands grapes are brought to be made into wine. You can taste the different varieties, but we would advise that you stick to the white wines and stronger, sweeter fortified wines. They are delicious and a real surprise, the Frei Gigante, in particular, is a truly refined and refreshing wine.
Should you get the chance to visit Pico, take time to tour the island, both by car and by foot. You never know who you may meet, either, as we bumped into the President of Portugal at the wine museum! One of the highlights for us was seeing all the public pools. On Pico, there seems to be an obsession with swimming and so pools, with fabulous facilities, are scattered all around the island. They are usually built close to the shore, and are sea water pools. With activities so dependent on the weather, it is always best to have a back-up plan. The walk up to the top of Pico, a hard 3 hour hike each way, can only be done if visibility is good and in our 10 day stay on the island, it was only possible on 2 or 3 mornings.
The Azores are famous for their whales. Up until the 1980s, the islanders still hunted whales for their oil, but now, thank goodness, the islands make their money from resident and passing whales and dolphins by taking tourists out to see them. Whale Watching headquarters of the Azores is Lajes on Pico. A mouth-watering list of species that can be spotted in these waters. Alas the weather beat us and our trip was postponed due to high winds and huge waves.
As the wind dies down, it is time for us to start diving. We have chosen a different type of diving from the normal on offer in Pico. Most companies use RIBs to get to the local dive sites, but we have decided to take things a little slower and dive from an 8 berth yacht. The boat has a dive deck, which forms part of the back of boat, and this lowered down to give an excellent platform to dive from. These islands offer varied diving, with volcanic underwater seascapes that are dramatic. Numerous caves and caverns have been carved by wave action, cutting into the hard, black rocks. As these islands peak out of the Atlantic, far from any other land, they are a haven for a huge number of pelagic species, as well as offering a great stopping point for those migrating north and south through this vast ocean. Our yacht, serving both as a dive platform and hotel, means that we can move to different areas, and moor in different harbours, depending on where we want to dive. We dived two caves off neighbouring Faial Island, where eagle rays swoop out as they are disturbed by our group. Orange scorpionfish rest on algae covered rocks, unusually standing out from their positions. The Azores is one of the best destinations for diving with blue sharks, although many locals fear that over-fishing of these beautiful sharks is reducing the chances of these encounters.
Some 50 miles off Pico lies Princess Alice Bank. You cannot see it, but rising up from the seabed to around 30m, there are several underwater pinnacles that attracts huge numbers of mobula rays. For most divers, getting here means a 3 hour (each way), sometimes spine-crunching, journey by RIB that can only be made in the best of weather. For us, it meant a more sedate overnight sail. With no light pollution, the stars alone were worth the journey! As we slept, our crew completed the 9 hour trip, so that we woke out at sea, with no land in sight, already at our destination. The currents, can be very strong here, so after fuelling-up on some breakfast whilst listening to our safety briefing, we jumped in. The current was ripping! We had plenty of lines to hang on to and we needed them. But we were rewarded, as after just a few minutes, a group of over 30 mobula rays cruised past us.
They seem curious, and smaller groups then spent the next 2-3 hours coming round to get a closer look at us.  With happy divers back on board, we set sail for Pico with all sails full of wind. This meant an afternoon of sailing and relaxing in the sun. This was truly a perfect tonic to the high adrenalin dive.
The volcanic islands of the Azores have a huge amount to offer. There is so much to do and see, and we only set foot on one of the islands. It is perfect for those who want to dive all week, but also offers more than just diving for groups that are traveling with non-divers. The islands are a haven for marine life and are littered with wrecks. It offers diving in clear, blue waters and there is always a chance you might see something truly incredible.
---
Links
Why Skopelos should be your next summer dive destination!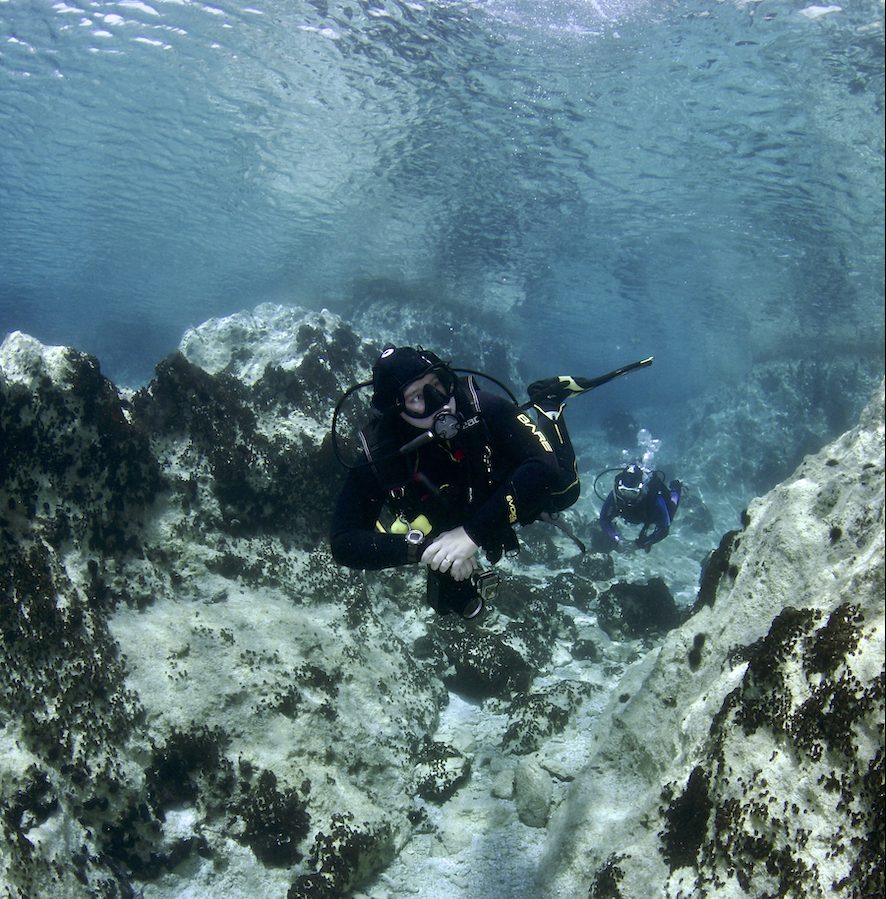 Earlier this year we were given a fantastic opportunity to visit Skopelos in the Sporades Islands in the northern Aegean Sea. This green, mountainous island sits at the edge of the largest marine park in Europe, the National Marine Park of Alonissos and Northern Sporades. We were to focus primarily on scuba diving, but during our short stay we were especially impressed with the equally diverting topside options in Skopelos.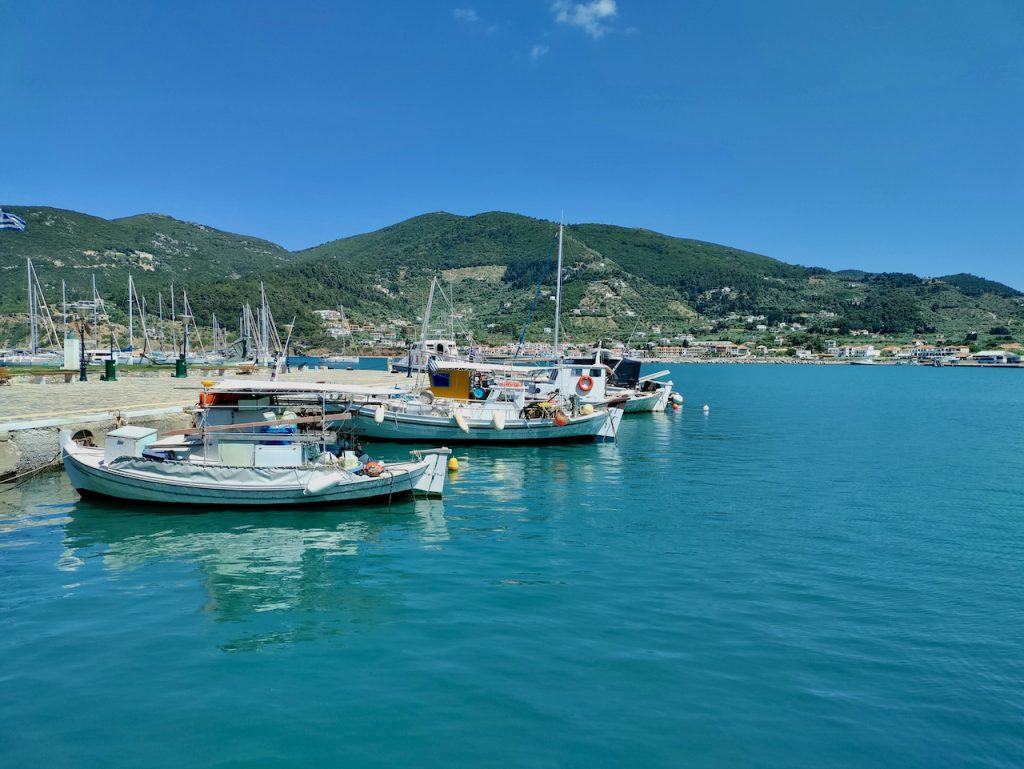 Our short stay meant we just got a glimpse of the great diving on offer, however our hosts at Skopelos Dive Center in Panormos treated us to some brilliant sites just a few minutes from shore. From nudibranchs, shoals of damselfish, large groupers and shy octopus to caverns and swimthroughs featuring rainbows of light. The variety of marine life and topography we encountered was outstanding.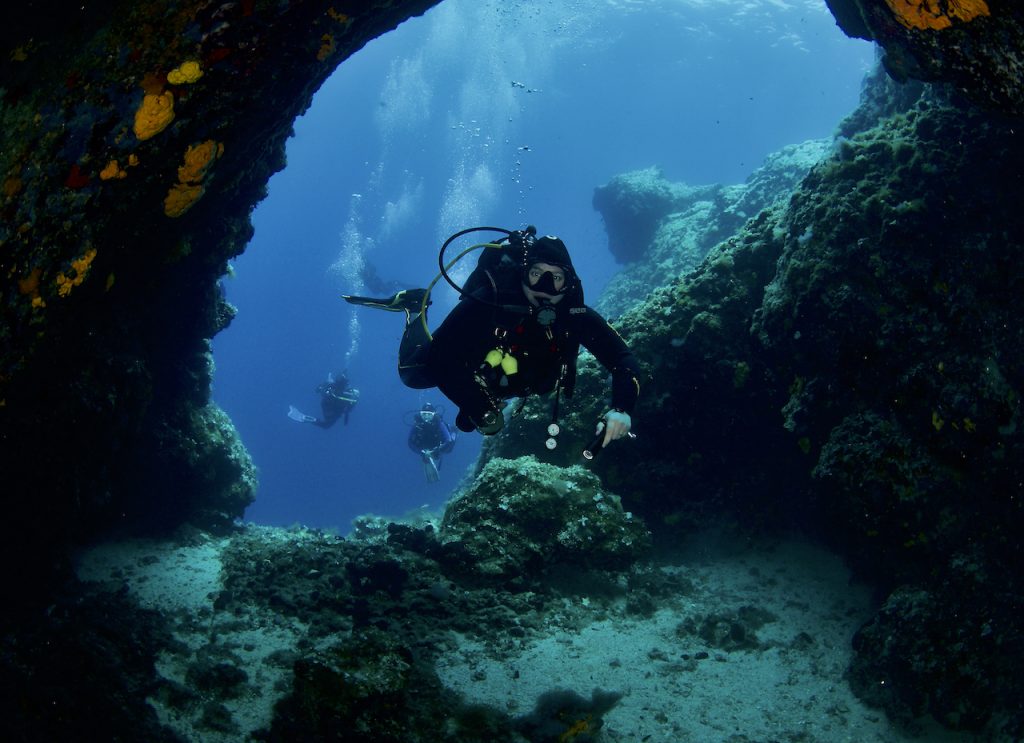 One of the most incredible experiences was the chance to dive the wreck of the Christophoros, an 83m long cargo ship sitting upright on the seabed, with the deck at 32-35m. The large, well preserved and stunning wreck is a joy to dive. It is also located just a 2 minute boat ride from shore in a sheltered and current free location with great visibility, creating the conditions for a great dive. We had a few days of truly wonderful diving and we could certainly spend much longer in this fabulous holiday destination!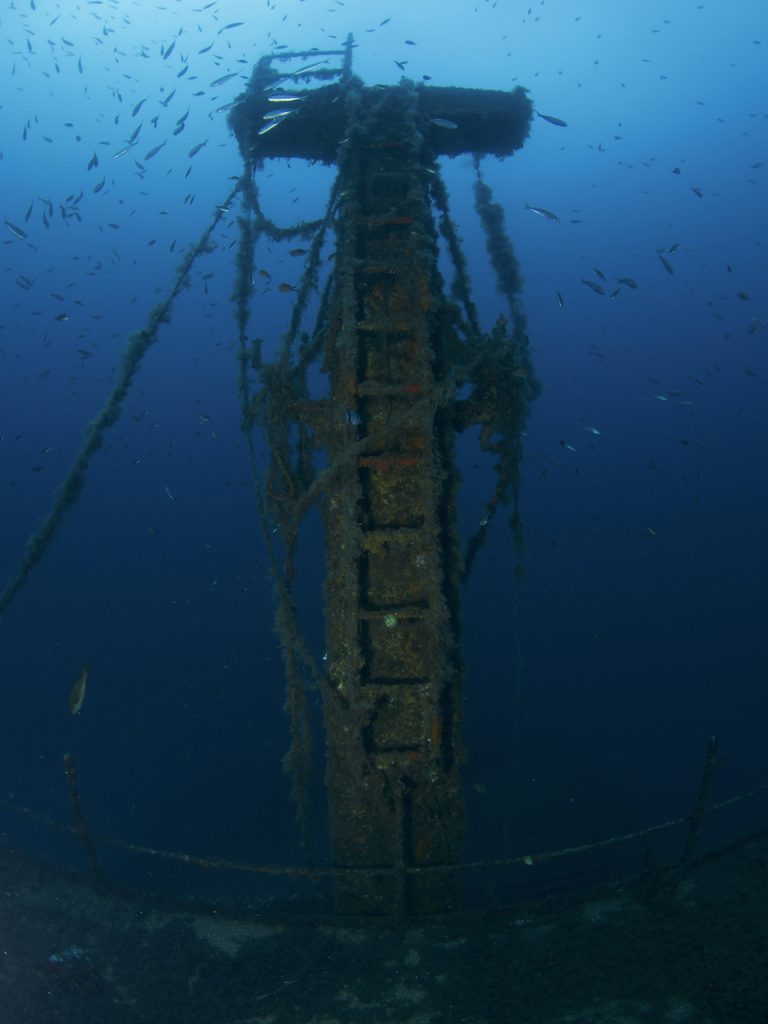 What makes Skopelos special?
This island is one of the less visited Greek islands with a very relaxed and friendly feel, even though it is really easy to get there – many airports in the UK offer flight connections directly to Skiathos (the hub of the Sporades) May through October. The diving is excellent and there are many dive sites to enjoy. Lastly, the variety of non-diving activities makes for a full vacation experience. Boat trips into the National Marine Park take you to visit secluded beaches and give you a chance to see some amazing wildlife, the Mamma Mia! tours are excellent fun, and numerous small, beautiful seaside villages with great tavernas and beaches are a delight to visit.
As a destination, Skopelos really has everything you could ask for both for a diving holiday and a fun summer vacation. Look for our full print article in an upcoming issue of Scubaverse's own Dive Travel Adventures magazine!
Thanks to:
Municipality of Skopelos (https://skopelos.com/)
Skopelos Dive Center (https://sporadesdiving.gr/)
Ionia Hotel (https://www.ioniahotel.gr/en)
Dolphin of Skopelos (https://dolphinofskopelos.com/)
Ta Kymata restaurant (@takymata)
The Muses restaurant (https://www.facebook.com/TheMussesMousses/)
Aktaiov resturant (https://skopelos.com/listings/aktaion-taverna/)
Amazing Alonissos – The all round dive vacation destination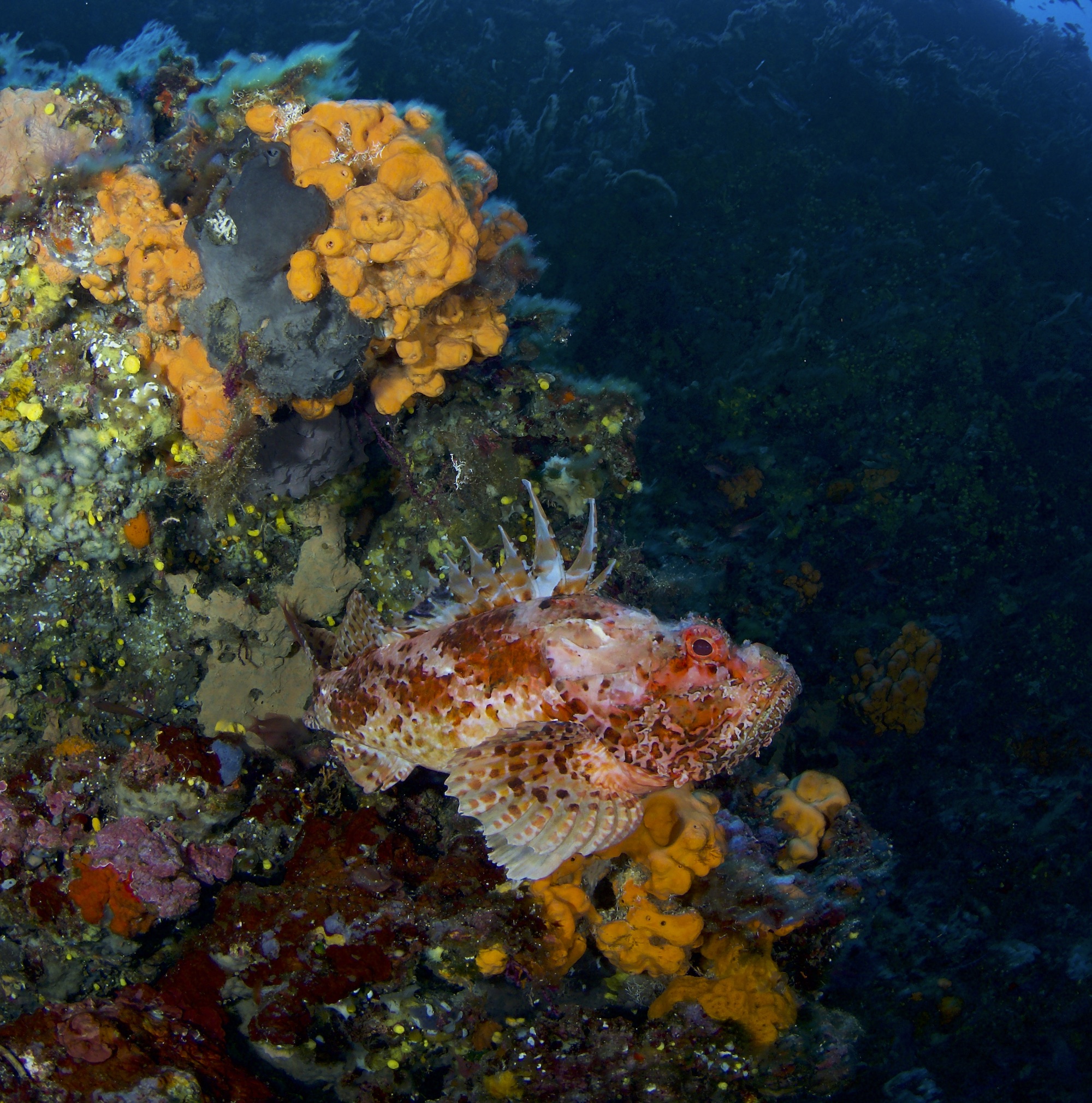 In early summer we were given a wonderful opportunity to visit Alonissos in the Sporades Islands in the northern Aegean Sea. This green and forested island sits at the edge of the Alonissos National Marine Park, the largest marine protected area in Europe. Our main focus was to be scuba diving, but during our short stay we were especially impressed with all of the other activities and experiences available on Alonissos for the discerning vacationer.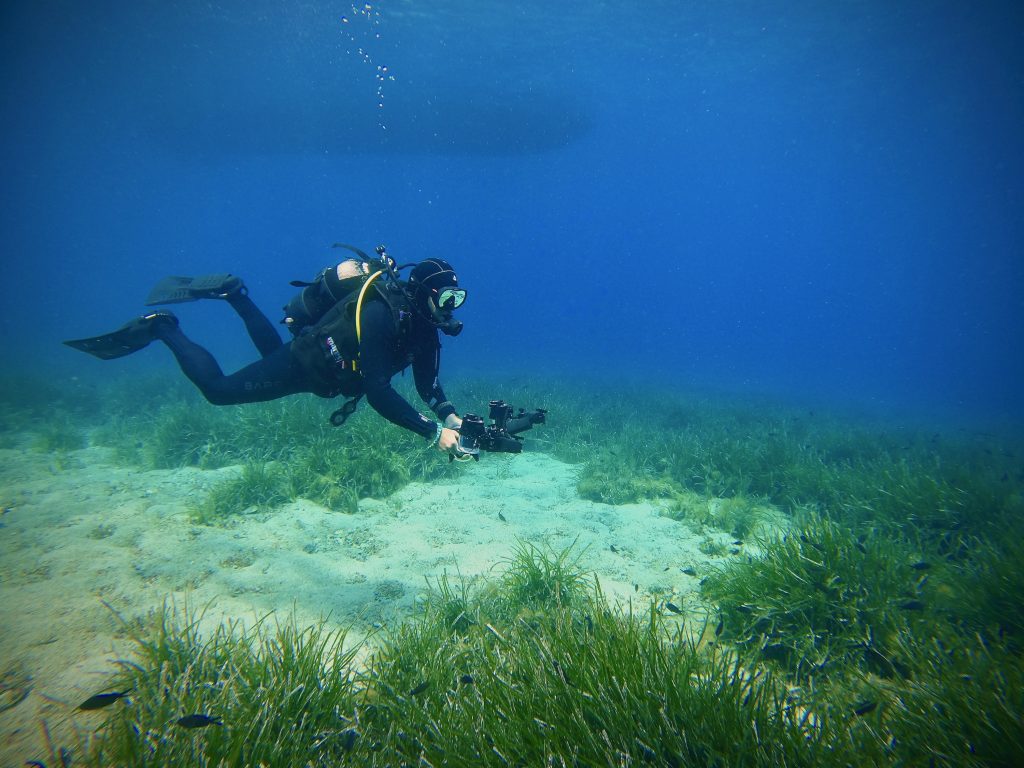 The scuba diving was really outstanding. In contrast to some areas of the Mediterranean, the marine biodiversity here was impressively diverse and abundant. Our short stay meant we just had a small taste of the diving available, however our hosts at Alonissos Triton Dive Center treated us to some exceptional sites from their impressively long list. The variety of marine life we encountered was a delight: large Gorgonian sea fans, many species of nudibranchs, small pipefish to large groupers, octopus, and much more.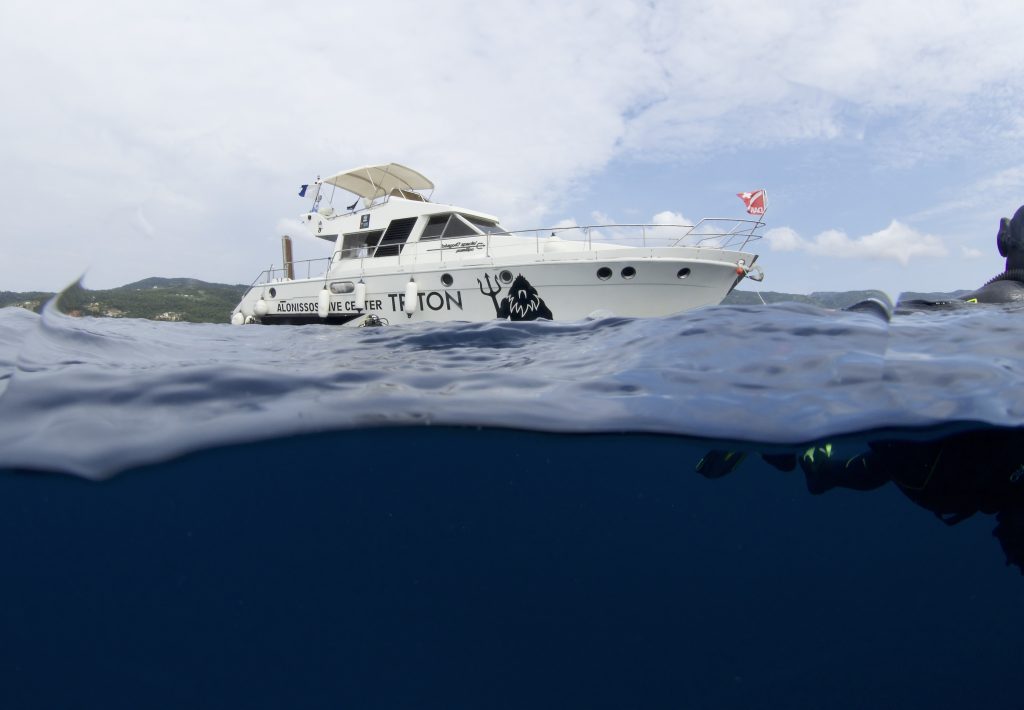 One of the most incredible experiences was the chance to dive the oldest accessible shipwreck in the world, the Ancient Shipwreck of Peristera underwater archeological site from 500 BC … an amazing dive site with a very unique automated underwater museum monitoring system in place to protect its archaeological heritage. It was a busy but hugely satisfying few days of diving and we could certainly spend much longer on this idyllic isle!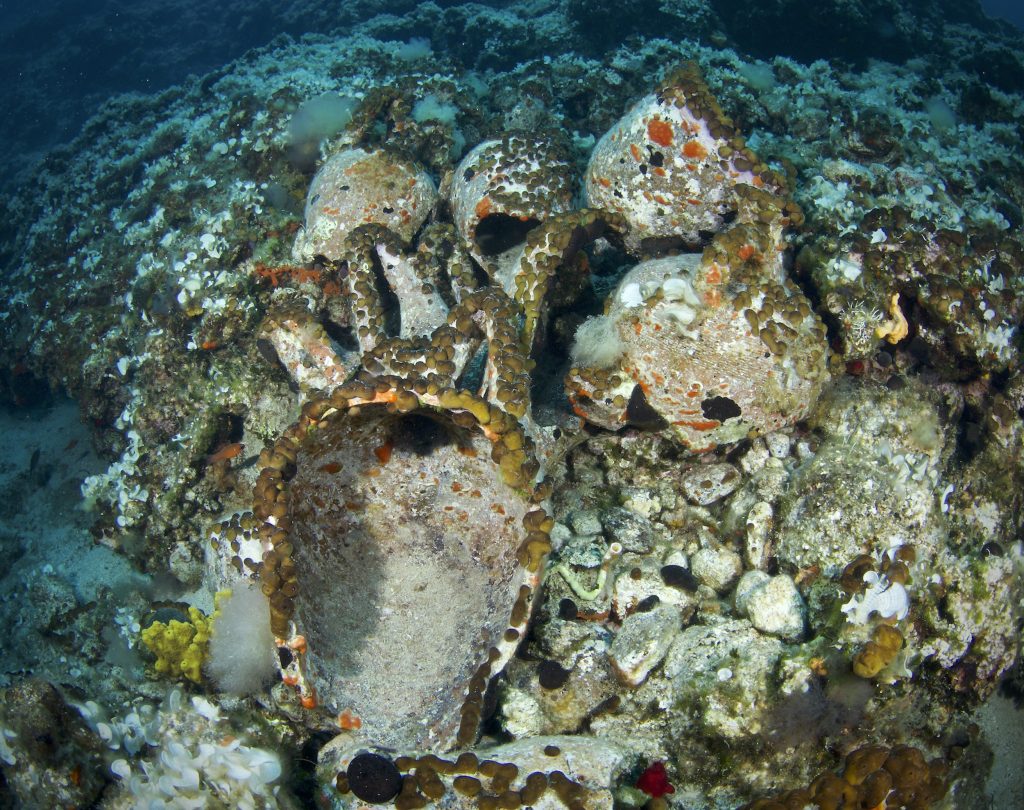 Greece has a huge number of beautiful islands to visit, so why choose Alonissos?
This island is one of the quieter Greek islands and as such has a very relaxed and welcoming feel, where you can find an authentic slice of the Aegean region. And, it is really easy to get there — so many airports in the UK offer flight connections directly to Skiathos (the hub of the Sporades) that you should not have to drive more than 100km in the UK to an airport.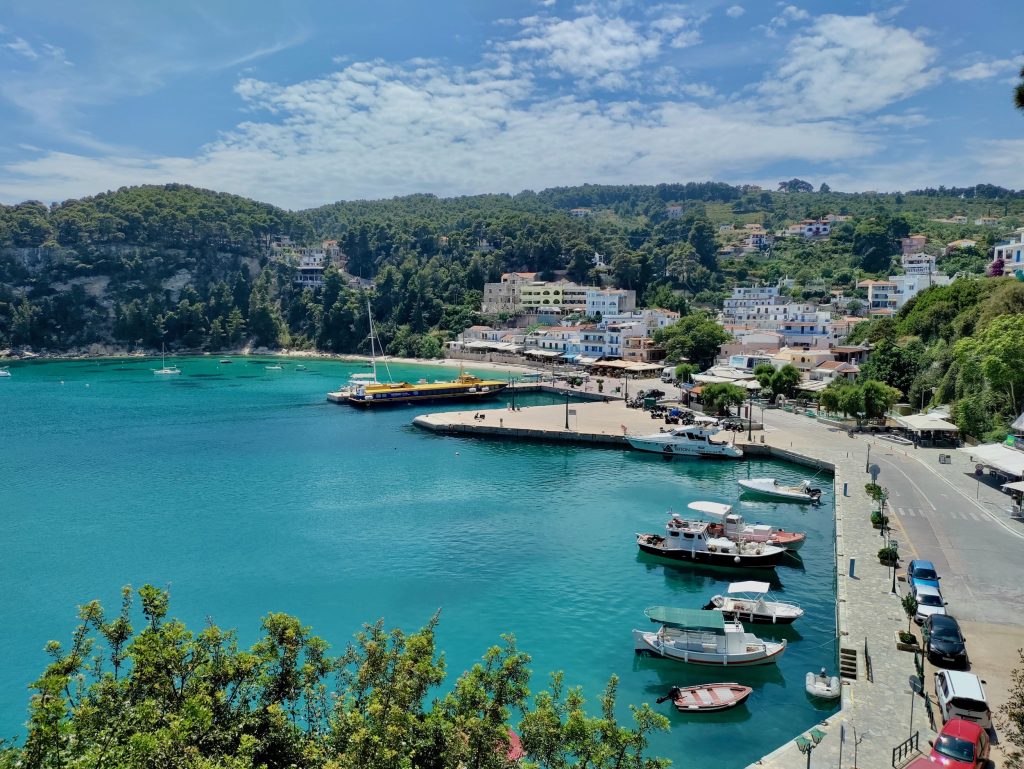 Finally, the variety of non-diving activities is hard to beat. There are boating day trips into the National Marine Park, taking you to visit secluded beaches and giving you a chance to see some amazing wildlife (such as monk seals, Eleonora's Falcon, and several species of dolphin to name a few). Both the main port town of Patitiri and the old village of Chora are full of interesting shops, charming alleyways, and restaurants with delicious meals. As an added bonus, the Alonissos cheese pie is a particularly moreish local specialty!
As a holiday destination, Alonissos really had everything one could ask for. Look for our full print article in an upcoming issue of Scubaverse's own Dive Travel Adventures magazine!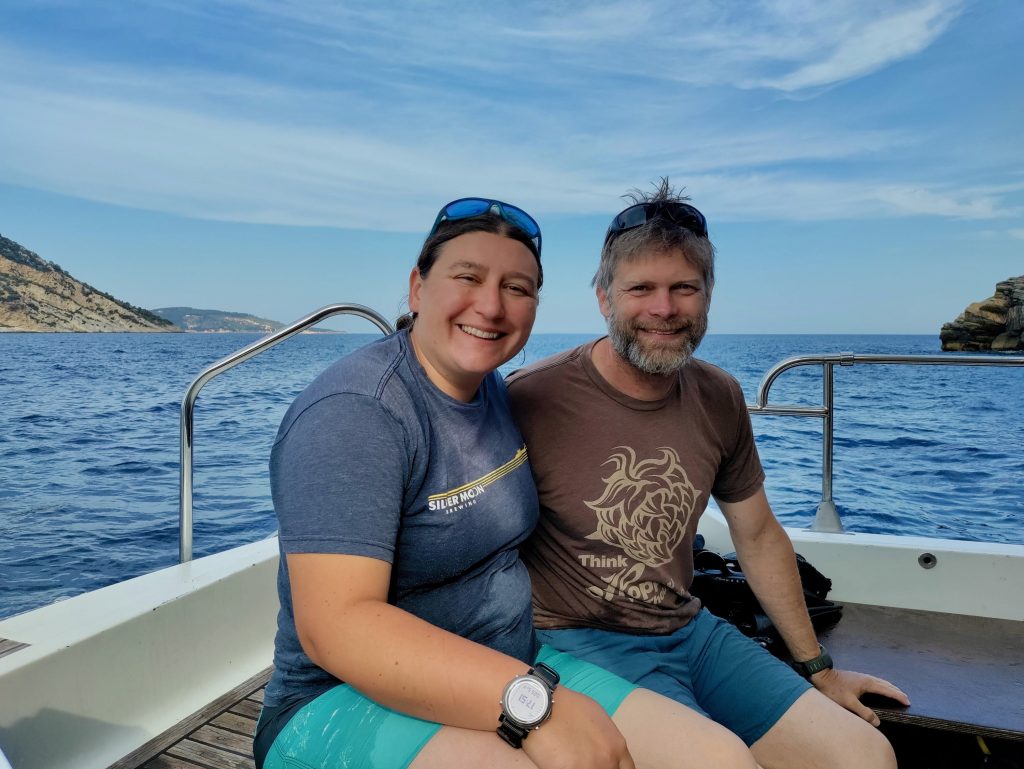 Thanks to:
The Municipality of Alonissos (https://alonissos.gr/en/)
Alonissos Triton Dive Center (https://bestdivingingreece.com)
Alonissos National Marine Park (https://alonissos.gr/en/marine-park/overview.html)
Paradise Hotel (https://paradise-hotel.gr/)
Albedo Travel (https://alonissosholidays.com/)