New destination for Diverse Travel: Croatia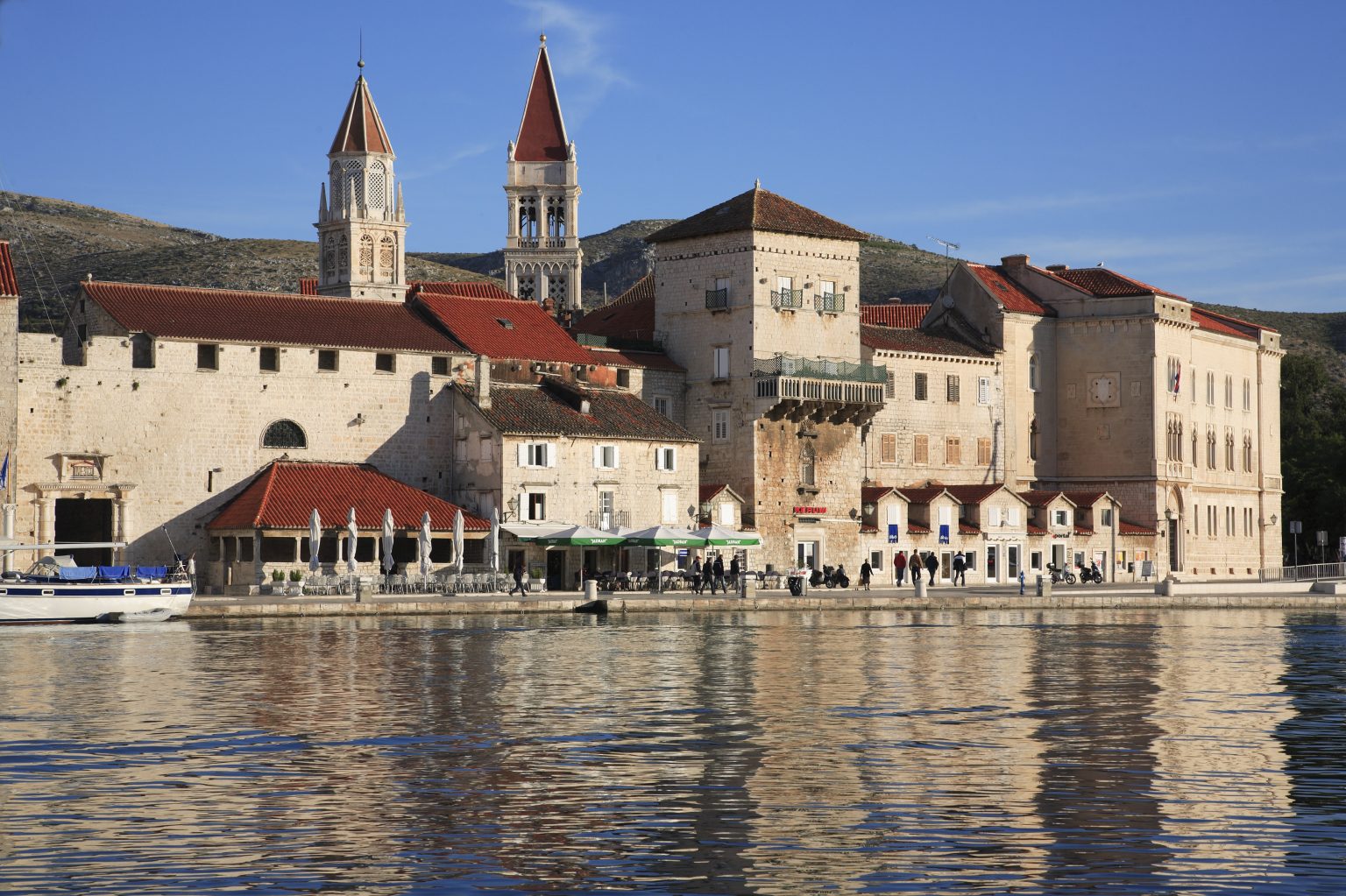 UK-based dive holiday experts Diverse Travel have added Croatia to their programme for 2021.
Croatia is one of the gems of southeast Europe and celebrates 30 years of independence in 2021. Stunning natural scenery combines with an incredible history and, with 3,600 miles of beautiful coastline to explore, this is the perfect destination for water lovers of all kinds.
Croatia's coastline comprises over 700 islands, almost 400 islets and over 75 reefs, making the Croatian archipelago the largest in the Adriatic Sea, which is the northernmost arm of the Mediterranean. Turquoise and crystal clear waters attract sailors, swimmers and snorkellers, but only divers have privileged access to its underwater realm.
Diving in Croatia has existed since the 1950s and earlier, but it has only come to the attention of travelling divers in recent years. The diving is typically Mediterranean with an interesting underwater topography of hidden caves and coral-adorned walls with overhangs and swim-throughs to explore. Many endemic species can be found amongst the rocks and reef patches.
All kinds of corals including sponges, yellow, and extremely rare, red gorgonians, can be found here amongst the rich flora and fauna of the perfectly clean Adriatic. Grouper, catfish, lobster, moray eels and octopus are commonly seen on dives, whilst macro lovers will find plenty to discover in the numerous tiny cracks and crevices. Nudibranchs of all hues are a particular speciality underwater here, as well as beautiful Yellow Seahorses.
Diverse Travel have chosen the area surrounding the picturesque waterfront town of Trogir as the starting point for their tailor-made holidays to Croatia. Trogir is located on the Dalmatian coast, 20 kilometres west of Split – Croatia's second largest city and the largest city on the Adriatic. Trogir became a World Heritage Site in 1997, and with 2,000 years of history, there is plenty to occupy divers on dry days, or non-diving partners and friends.
Croatia is great value for money and packages for a one week dive holiday start from just £575pp (based on May 2021) including flights with easyJet from London Gatwick or Luton to Split, 23kg baggage, return transfers, 7 night's accommodation in a one bedroom, self-catering apartment and 10 boat dives with air, tanks and weights.
The carefully-chosen accommodation and dive centre are situated a short stroll apart in the pretty resort of Okrug Gornji Bay, which offers a super beach and plenty of restaurants, cafes and bars, as well as a water taxi to take in the cultural sights of the old town of Trogir.
Sales Manager John Butland recently visited Croatia to check that this new destination could meet Diverse Travel's exacting standards and he had this to say:
"Croatia had been a long time on my dive wish-list. I'd heard so much about its incredible scenery above and under the water and I'm happy to report that it exceeded my expectations. If you're looking for a spring / summer destination with crystal clear water, interesting diving, plenty of critters and culture, look no further. Croatia is ideal for divers wanting to getaway for a few days, and with a flight time of just over two hours and a 15 minute transfer, you can be under the beautiful Adriatic quicker than a trip to the coast on a sunny weekend in the UK!"
Read more about John's experiences in Croatia on the Diverse Travel blog at www.diversetravel.co.uk/new-for-diverse-travel-croatia-diving-holidays and visit the destination guide at www.diversetravel.co.uk/diving-holiday-destinations/croatia-diving-holidays for full details.
With over fifty years' experience of dive travel, dive centre and resort management the expert Diverse Travel team has the experience to deliver memorable holidays that benefit from full financial ATOL and TTA protection.
For more information visit www.diversetravel.co.uk, call 01473 852002, or email info@diversetravel.co.uk.
Amazing Alonissos – The all round dive vacation destination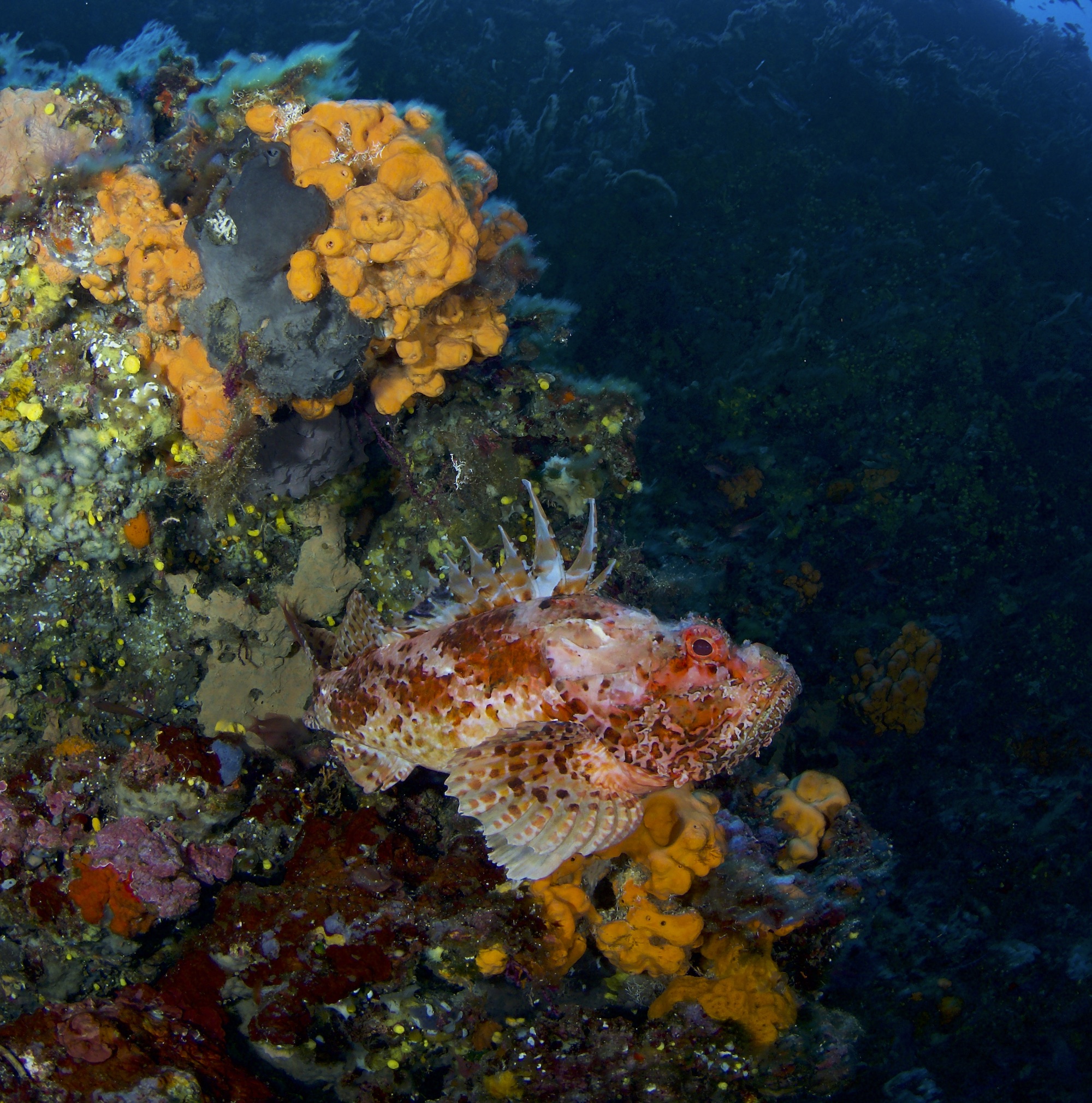 In early summer we were given a wonderful opportunity to visit Alonissos in the Sporades Islands in the northern Aegean Sea. This green and forested island sits at the edge of the Alonissos National Marine Park, the largest marine protected area in Europe. Our main focus was to be scuba diving, but during our short stay we were especially impressed with all of the other activities and experiences available on Alonissos for the discerning vacationer.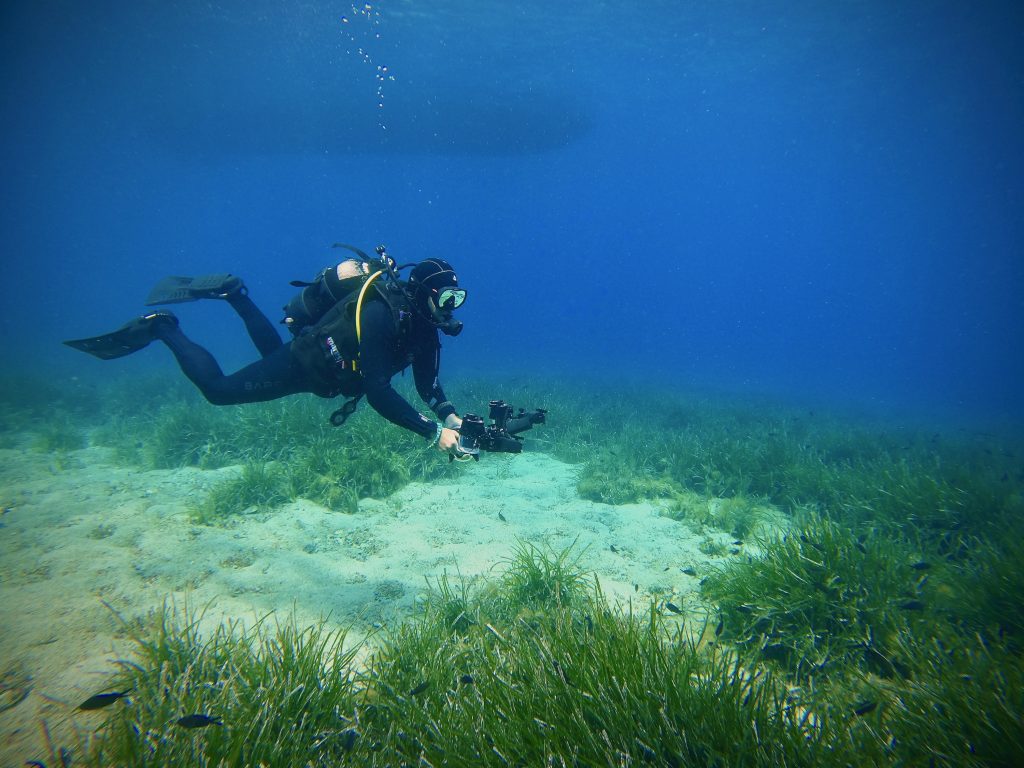 The scuba diving was really outstanding. In contrast to some areas of the Mediterranean, the marine biodiversity here was impressively diverse and abundant. Our short stay meant we just had a small taste of the diving available, however our hosts at Alonissos Triton Dive Center treated us to some exceptional sites from their impressively long list. The variety of marine life we encountered was a delight: large Gorgonian sea fans, many species of nudibranchs, small pipefish to large groupers, octopus, and much more.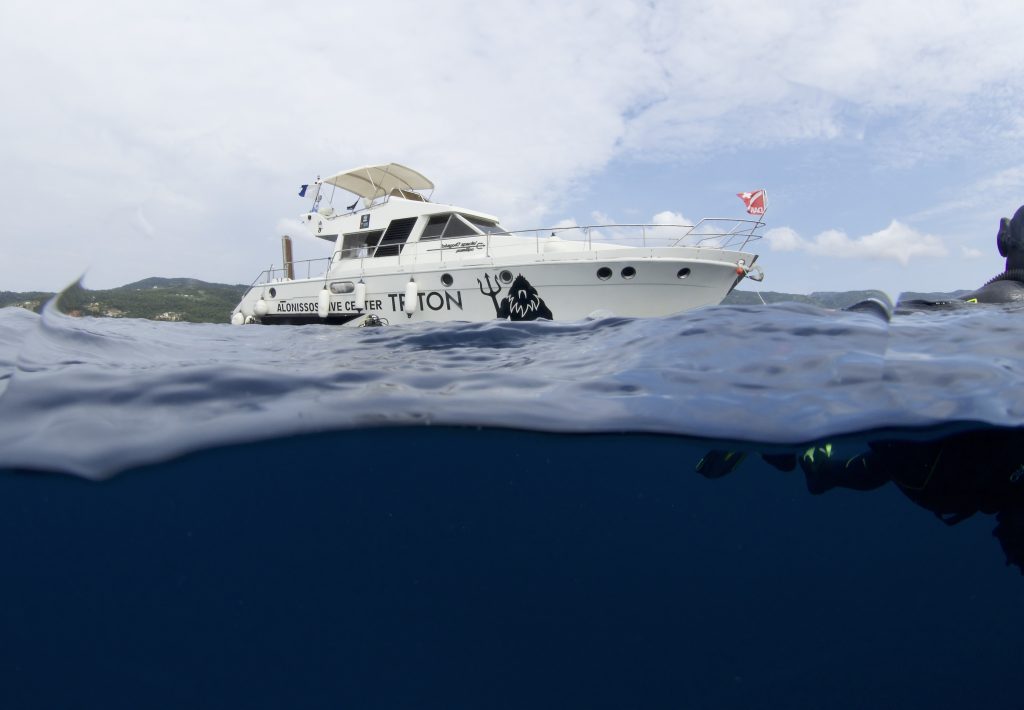 One of the most incredible experiences was the chance to dive the oldest accessible shipwreck in the world, the Ancient Shipwreck of Peristera underwater archeological site from 500 BC … an amazing dive site with a very unique automated underwater museum monitoring system in place to protect its archaeological heritage. It was a busy but hugely satisfying few days of diving and we could certainly spend much longer on this idyllic isle!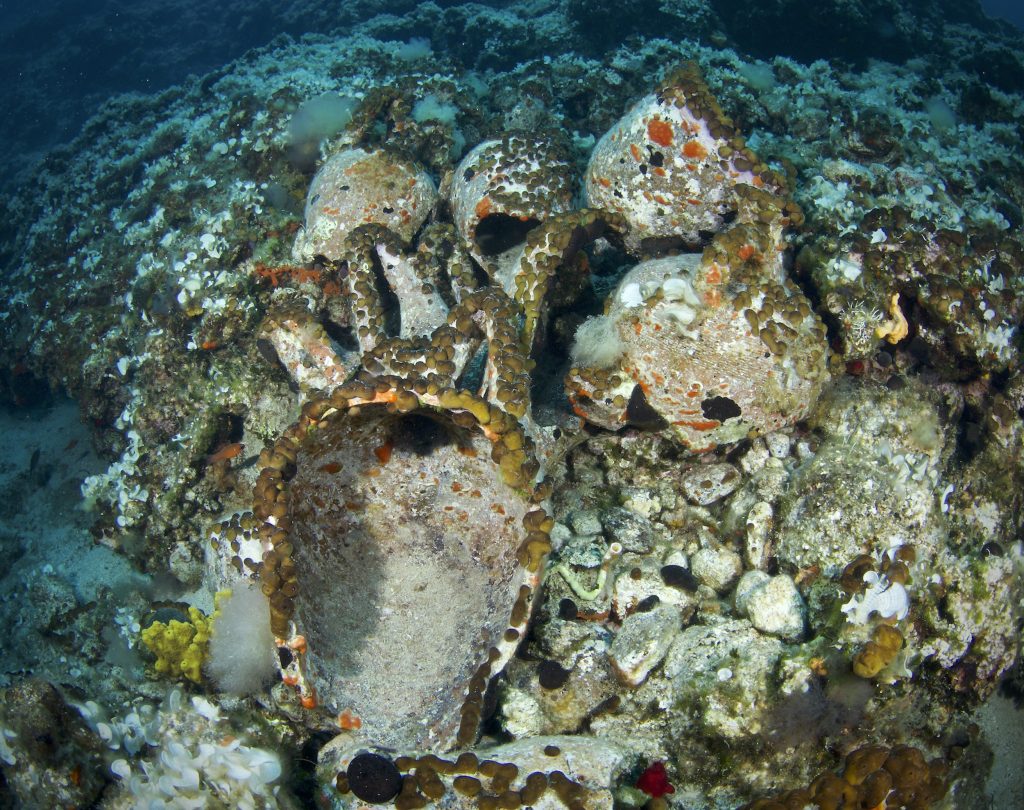 Greece has a huge number of beautiful islands to visit, so why choose Alonissos?
This island is one of the quieter Greek islands and as such has a very relaxed and welcoming feel, where you can find an authentic slice of the Aegean region. And, it is really easy to get there — so many airports in the UK offer flight connections directly to Skiathos (the hub of the Sporades) that you should not have to drive more than 100km in the UK to an airport.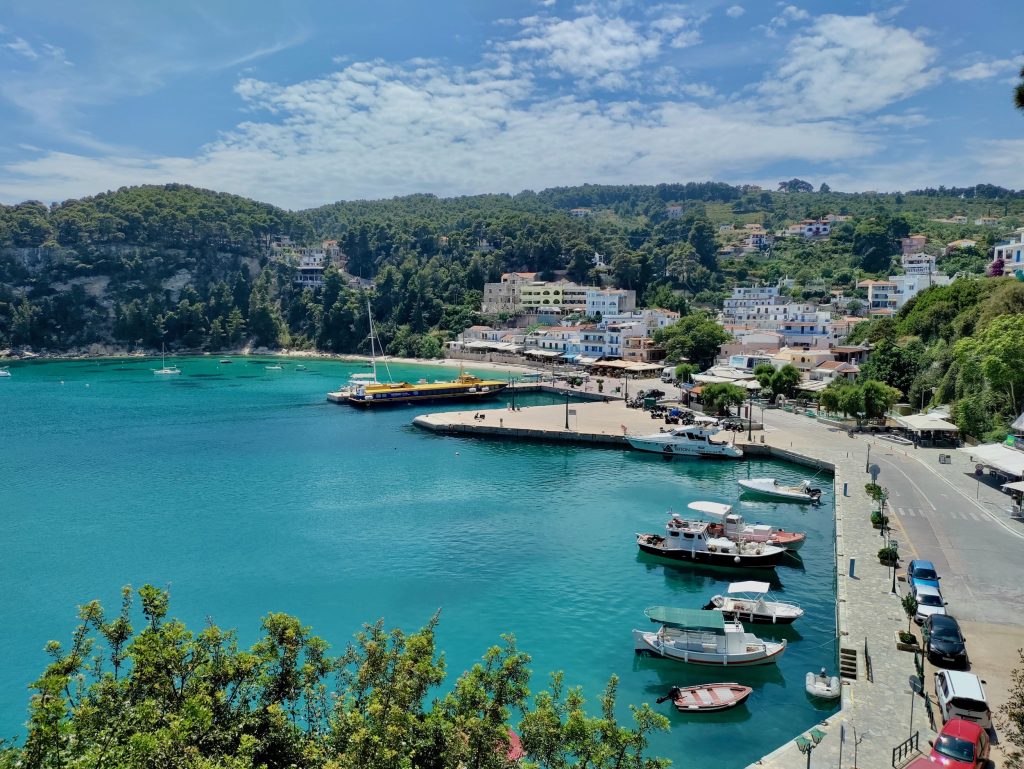 Finally, the variety of non-diving activities is hard to beat. There are boating day trips into the National Marine Park, taking you to visit secluded beaches and giving you a chance to see some amazing wildlife (such as monk seals, Eleonora's Falcon, and several species of dolphin to name a few). Both the main port town of Patitiri and the old village of Chora are full of interesting shops, charming alleyways, and restaurants with delicious meals. As an added bonus, the Alonissos cheese pie is a particularly moreish local specialty!
As a holiday destination, Alonissos really had everything one could ask for. Look for our full print article in an upcoming issue of Scubaverse's own Dive Travel Adventures magazine!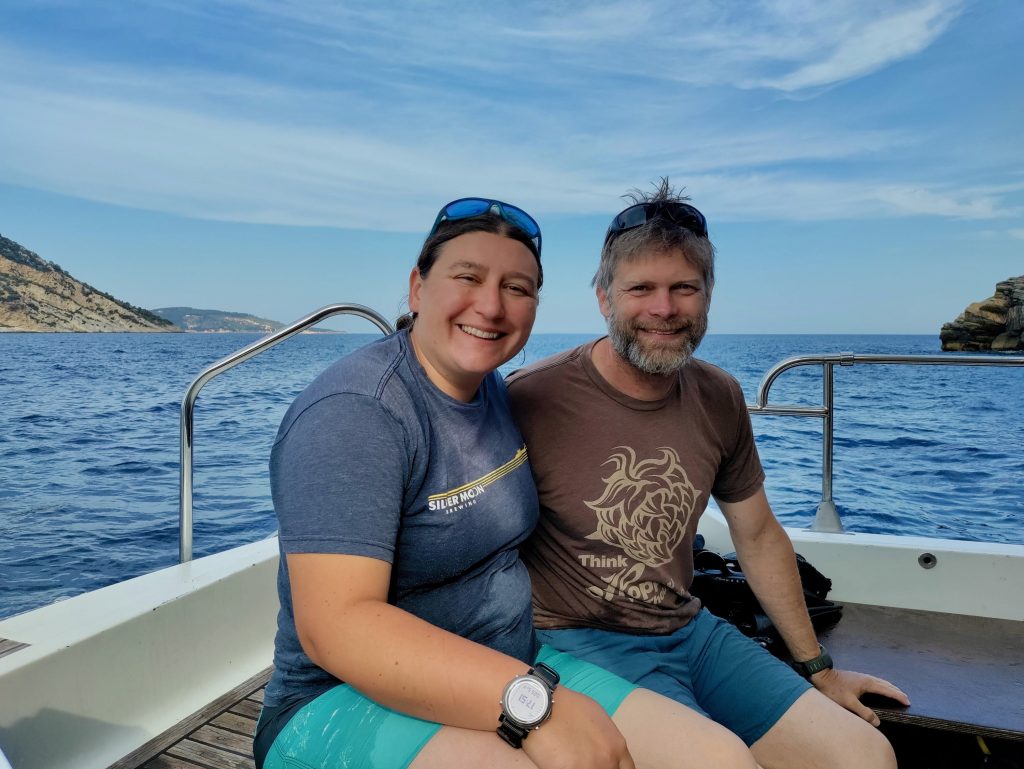 Thanks to:
The Municipality of Alonissos (https://alonissos.gr/en/)
Alonissos Triton Dive Center (https://bestdivingingreece.com)
Alonissos National Marine Park (https://alonissos.gr/en/marine-park/overview.html)
Paradise Hotel (https://paradise-hotel.gr/)
Albedo Travel (https://alonissosholidays.com/)
Diving With… Sporades Diving Group in Skopelos & Alonissos Islands, Greece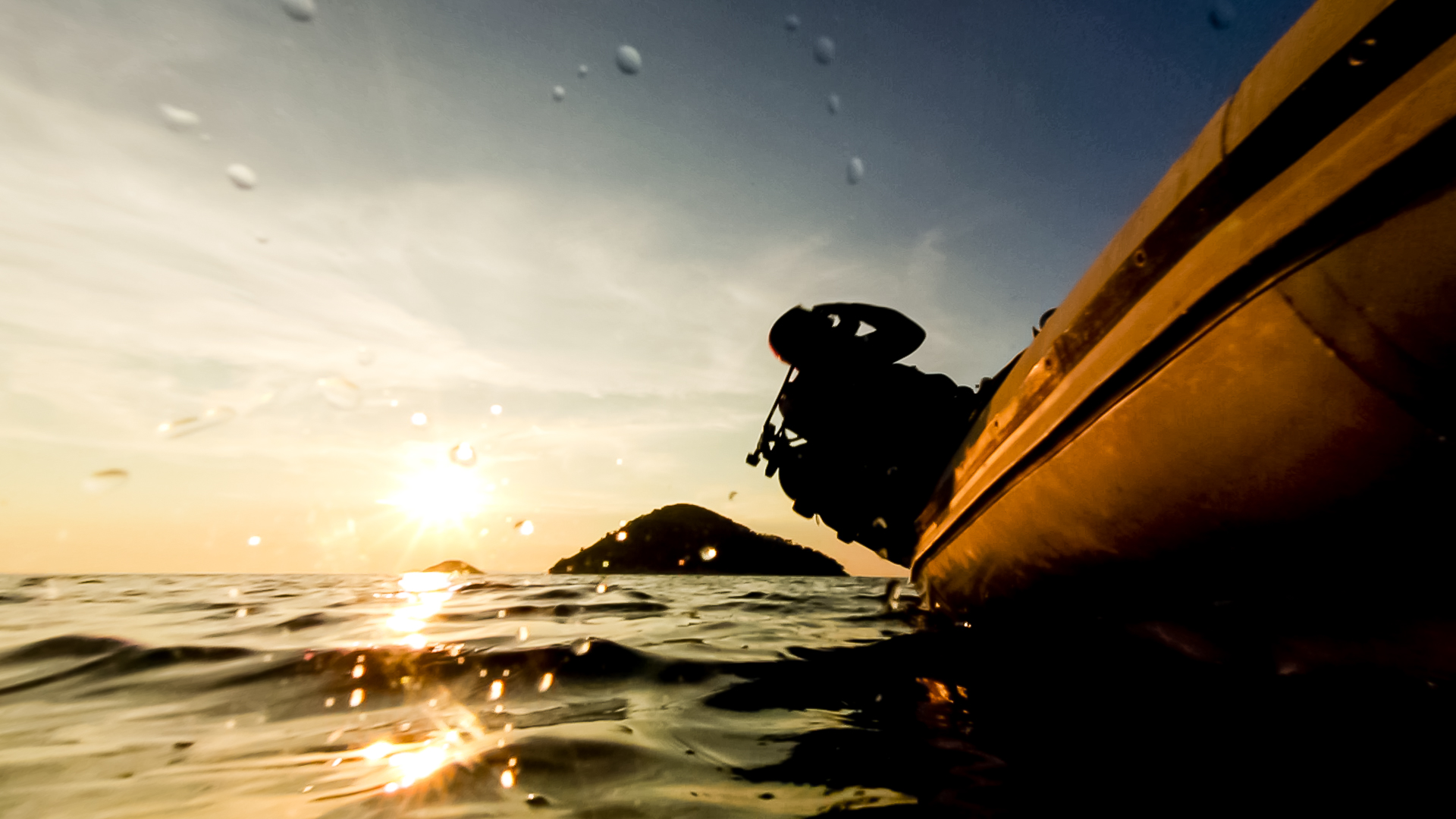 What is your name?
(Anastasios) Tasos Ktistis
What is the name of your business?
Sporades Diving: Skopelos Dive Center operates in Skopelos island and Ikion Diving that operates in Alonissos island, which is run by my business partner Kostas Danis.
What is your role within the business?
Master Scuba Diving Trainer PADI & Co-Owner of Skopelos Dive Center & Manager of Skopelos Island diving operations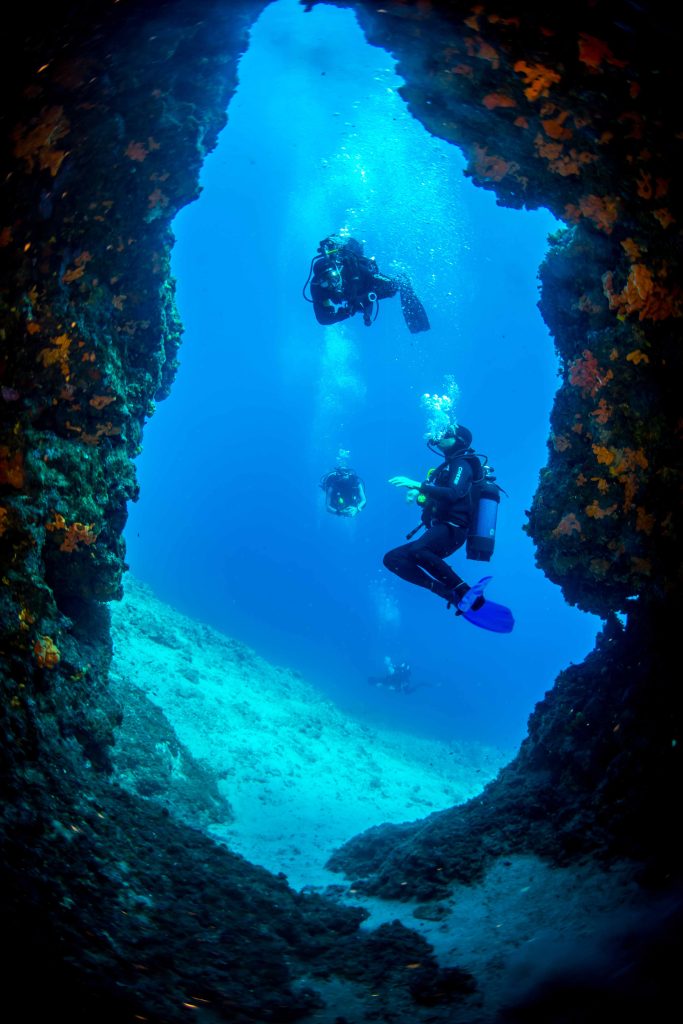 How long has the business operated for?
Since 2014
How long have you dived for, and what qualification are you?
I have been diving since 2012. I am a Mechanical Engineer with a BA in Documentary Photography and since 2012 I am qualified as a Master Scuba Diving Trainer PADI, since 2021 Tec65 diver and since 2022 as a Tec40 Diving Instructor
What is your favorite type of diving?
Wreck Diving
If you could tell people one thing about your business (or maybe more!) to make them want to visit you what would it be?
We offer our clients a safe and relaxed type of diving in the exciting and crystal-clear waters of the Sporades islands in Greece. Christoforos and Peristera's ancient wreck are two must dive destinations.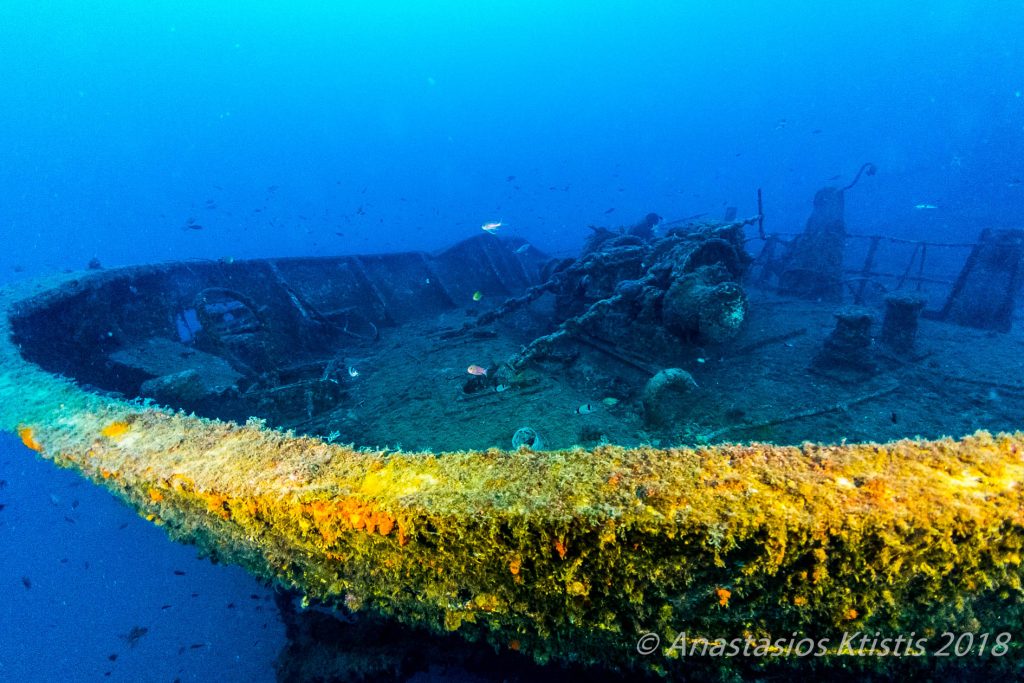 What is your favorite dive in your location and why?
My favorite dive location is the "Christophoros" shipwreck. A 83m long modern shipwreck that sank in 1983 in Panormos Bay in Skopelos island. As a wreck diving lover, I am so excited that as one of our dive locations I get to dive on this amazing site with our clients.
What types of diving are available in your location?
On our dive sites the rocky landscape is dominant with beautiful reefs, walls and caverns that I am sure everyone will enjoy. And of course wreck diving at the "Christophoros" shipwreck
What do you find most rewarding about your current role?
The satisfaction and the happiness on our clients' faces after a dive.
What is your favorite underwater creature?
Nudibranches!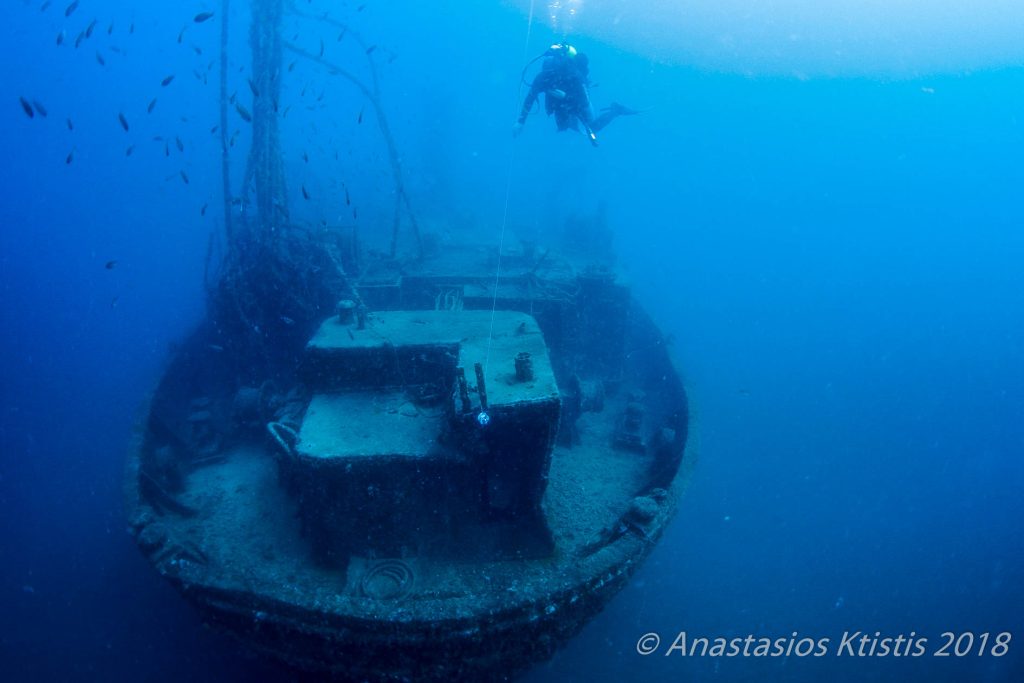 As a center what is the biggest problem you face at the moment?
I would say the fact that the Sporades islands have a short summer season (July-August) although the weather is ideal for diving from May till October.
Is your center involved in any environmental work?
Of course we are! First of all, we are all great advocates of the less plastic movement that has started in 2014, not only in Skopelos but also in Alonissos (Ikion Diving). We participate in underwater clean-ups as well as in projects for local management of plastic waste (#zeroplastic with iSea and Re-Shape plastic-funded by Beyond Plastic MED.)
Are there any exciting changes / developments coming up in the near future?
We currently aspire to get more involved in Scientific Diving projects by actively supporting the operations through our involvement in EU funded projects, while at the same time we are also exploring the possibilities of Technical Diving as me and my partner of the Alonissos base, Kostas Danis, are certified PADI Tec40 Instructors. We believe that in the future our business will be well known for not only its recreational diving services but also its involvement with the Scientific Diving community through its technical diving services and expertise.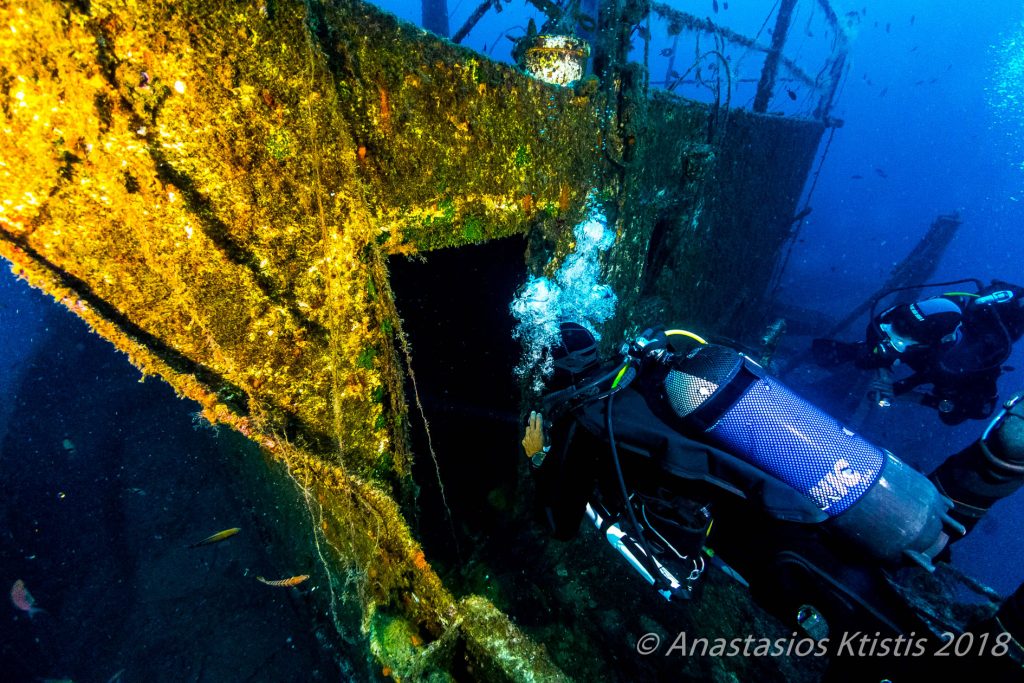 How do you see the SCUBA / Freediving / snorkeling industry overall? What changes would you make?
I believe that SCUBA and in general alternative tourism becomes more inclusive and even more people are interested to get to engage in this type of activities that ultimately protect the environment by raising awareness of the public about the ecosystem of the sea and its significance to a viable future.
Finally, what would you say to our visitors to promote the diving you have to offer?
At Skopelos Dive Center and Ikion Diving Alonissos (Sporades Diving Group) you can create fantastic underwater experiences – including guided dives, PADI courses, and snorkeling tours combining the two islands. It is our goal to create a safe, comfortable experience for divers of all abilities.
Where can our visitors find out more about your business? (This is where you enter your contact details and any specific details on how our audience can reach you)
Website: https://sporadesdiving.gr/
Skopelos Dive Center (Skopelos Island)
+306940448000
Ikion Diving Alonissos (Alonissos island)
+30 6940 448 004 (WhatsApp: +30 6984181598)