Meet Our Club: Severnside Sub-Aqua Club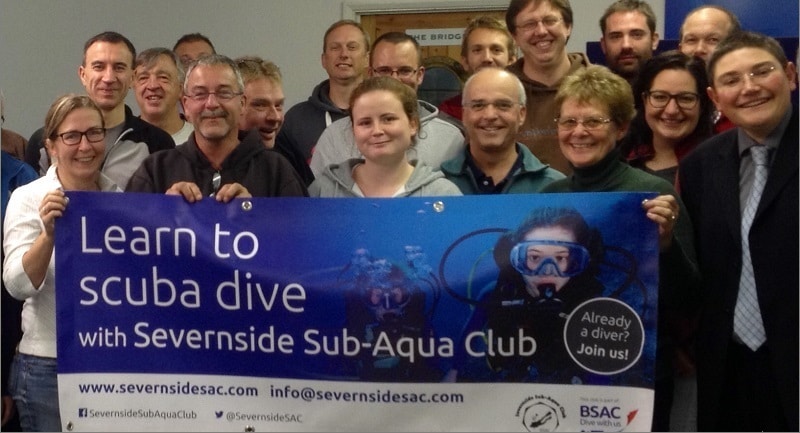 Want to join a dive club? In this new series, we take a look at grassroots diving and find out what's happening on the club scene in the UK and around the world…
---
What is the name of your club?
Severnside Sub-Aqua Club (BSAC Branch No. 364)
Where is your club based?
We are based in central Bristol in the South West of England.
Club affiliations (i.e. BSAC, PADI, SAA, etc.)
We are a branch of the British Sub-Aqua Club (BSAC Branch No. 364). However, we have members with qualifications from various training agencies including commercial divers and PADI-qualified instructors. All of our training offered is in accordance with the BSAC Diver Training Programme but any qualified divers are more than welcome do dive with us within the limits of their existing qualifications.
Where and when do you meet?
We have our own dedicated clubhouse and boat store in the heart of Bristol's historic docklands which is always open to members and guests from around 8 pm to 10 pm every Monday (except Bank Holidays). We also meet earlier for meetings or training and have exclusive use of a nearby private heated swimming pool for training and skills practice every Monday night from 7.30 pm to 9 pm.
In between our weekly meetings we also have mid-week and weekend training sessions as well as a packed schedule of social events including walking and hiking trips, local food and drink festivals, theatre and music gig nights, cultural events, and regular 'Friday Night Shout' social occasions at one or more local pubs.
How do you respond to the challenge of recruiting new members?
We are one of the largest and most active dive clubs in the South West currently with around 140 members. We are able to offer a full range of BSAC training courses from absolute beginner to advanced diver and even instructor training support and we make extensive use of social media and online tools for promotion and marketing using promotional materials provided by the BSAC.
One of our favourite ways to reach potential new members has been to donate a free 'try dive experience' voucher to local charities for fundraising raffles and prize draws. It costs us nothing since we have the kit and our pool available and it helps to raise vital funds for worthy local causes. At the same time, our volunteer instructors love to introduce new people to the fantastic sport of diving and we make sure that they always leave with a DVD and a free magazine with details about our training courses on offer.
Otherwise, many of our new members are introduced to us by word-of-mouth for friends, family, or colleagues. It also helps that we have such great facilities and a full and active year-round diving programme which makes us attractive to already qualified-divers.
What facilities and resources does the club use/have?
Each week we have exclusive use of a heated indoor swimming pool and our dedicated clubhouse has its own classroom, a large meeting room, and a fully-equipped workshop as well as a shower room, a disabled access toilet, and kitchen facilities. We have free wi-fi access for members, two training PCs with fixed digital projectors, a portable projector, a sound system, and a full library of resources, research and training materials, annual tide times, admiralty charts, and diving tables.
The clubhouse is also used to store our two Tornado and Humber RIBs which are kept on towable trailers available for any suitably-qualified members to use for diving and training. These have been fully-equipped with echo-sounders, marine GPS, and fixed radios and have been extensively modified for diving with externally-mounted stores for emergency equipment, racking for cylinders, and chandlery boxes full of shot weights, buoy lines and signal-pills, etc.
Our diving equipment includes ten complete sets of SCUBA kit available for trainee and members' use with BCs in a range of sizes as well as cylinders from 5 ltrs up to 10 ltrs. We also have three emergency O2 kits as well as various first aid kits and a range of resusci anne manikins which we also use to run regular first aid and rescue/incident response training courses.
Lastly, we have our own breathing air compressors and gas blending plant including a large nitrox bank and full trimix blending facilities. This means that we are able to offer 'premixed' nitrox of less than 40% O2 for members to safely fill non-O2 cleaned cylinders for recreational diving.
What sort of diving do you do, and where?
We dive all around the UK from our two club RIBs and members' own boats, as well as shore dives and charter boat bookings. Most frequently we dive along the South coast in Dorset, Devon, and Cornwall. However, we will venture as far out as the Skomer marine reserve in West Wales, Lundy Island and the Isles of Scilly. In the last few years we have even traveled to Lymington and the Isle of Wight, Ireland, the Farne Islands, and the Isle of Skye and Loch Duich in Scotland.
We are also lucky to have three great inland diving sites within easy driving distance at Vobster Quay in Somerset, Cromhall Quarry in South Gloucestershire, and the National Diving and Activity Centre in Monmouthshire.
Do you organise any club trips abroad, and if so, where?
We have several club trips abroad every year normally, including at least one week-long liveaboard trip (usually to the Red Sea).  In the last few years our club members have also been to Indonesia, the Philippines, Truk Lagoon, Tobago, France, Spain and the Canary Islands, as well as land-based trips to Egypt and Jordan. Already for 2018 we have trips booked to the Maldives and the Southern Red Sea. We even have an annual ski trip which for the last few years has been to various resorts around the French Alps!
Does your club have any special interests such as conservation, special projects, etc?
We are very keen on supporting conservation and encouraging a culture of sustainable behaviours amongst our members. We have recently put in place an Environmental and Sustainability Policy providing that we will appoint an Environmental and Sustainability Champion each year who will be responsible for ensuring that we work towards minimising the environmental impact of any of our activities. Car sharing is arranged wherever possible and we have bike storage and shower facilities at our club to encourage our members to cycle to our training and meetings.
We have also worked closely with the UK charity the Marine Conservation Society to raise money and awareness in support of their various environmental campaigns. We have recently run a 'Marine Life Appreciation' skill development course as well as a 'SeaSearch UK' observer course with members volunteering undertake marine life and habitat surveys. Our members are also involved in regular litter picking campaigns including the annual #GreatBritishBeachClean and monthly 'Clean Up Bristol Harbour' events.
Another of our major interests over the last few years has been our 'Adopt-a-Wreck' project. Under the scheme organised by the Nautical Archaeology Society, we have unofficially 'adopted' the wreck of the SS Bayginato two miles off the Dorset coast in Lyme Bay. As part of the project we have organised a 'Wreck Appreciation' skill development course as well as a series of survey dives on the wreck site and a programme of research into the history of the wreck, her crew, and the story behind her loss to enemy action during WWI on 18 March 1918.
Does your club have any claims to fame or any particularly interesting stories… or members?
Our 'Adopt-a-Wreck' project has attracted a lot of press interest during the 100th anniversary commemorations of the Great War.  After winning the BSAC's inaugural 'Wreck Award', some of our members were invited onto the big red sofa to talk about the project on BBC's six o'clock news. This gave the club the opportunity to promote SCUBA diving as well as to talk about the rich heritage of the UK's maritime history just under the surface of the water along our coastlines. This was recognised by the Sports + Recreation Alliance who awarded the club the award for 'Most Innovative Project' presented by HRH Prince Edward, the Earl of Wessex! Most recently, we were awarded the Nautical Archaeology Society's 'Adopted Wreck Project Award', presented to TV archaeologist Dr Phil Harding, and commended for our efforts to promote the sport by the BSAC's Heinke Trophy awards panel.
What are the club's plans for the future?
This year we will be reaching the culmination of our 'Adopt-a-Wreck' project by marking the centenary of the sinking of the SS Baygitano. We are planning to commemorate the sacrifice and dedication of all those merchant navy seaman who served in the Great War by laying a reef on the wreck site diving a memorial dive on Sunday 18 March 2018.
A number of our members have also recently completed the BSAC's 'Diving for All' instructor course to learn how to adapt their training procedures to help and support people with disabilities. We are planning to integrate as many of the skills and teaching techniques taught on that course into our own diver training programme to ensure that we are as welcoming and accessible as we can be to potential new members.
Finally, we are hoping to develop our outreach programme offering discounted 'try dive' evenings to local scouts and other other community and youth groups. That way we know that there will always be 'plenty more divers in the sea!'
Where can people find out more about your club?
The best way to find out more about the club would be to come and see us at the Cambria Yard, Avon Crescent, Bristol, England BS1 6XQ on a Monday night (except Bank Holidays) between 9 and 10 pm!  But, if readers want to find out a bit more in advance, then they can also contact us by email, look us up online, or visit our Facebook or Twitter pages.
Finally… if you could sum up your club in just one sentence, what would it be?
Fun, family-friendly, welcoming, and flying the A-flag for the British Sub-Aqua Club!
Jeff chats to… Ana Filipa Sobral, Founder of The Manta Catalog Project in the Azores (Watch Video)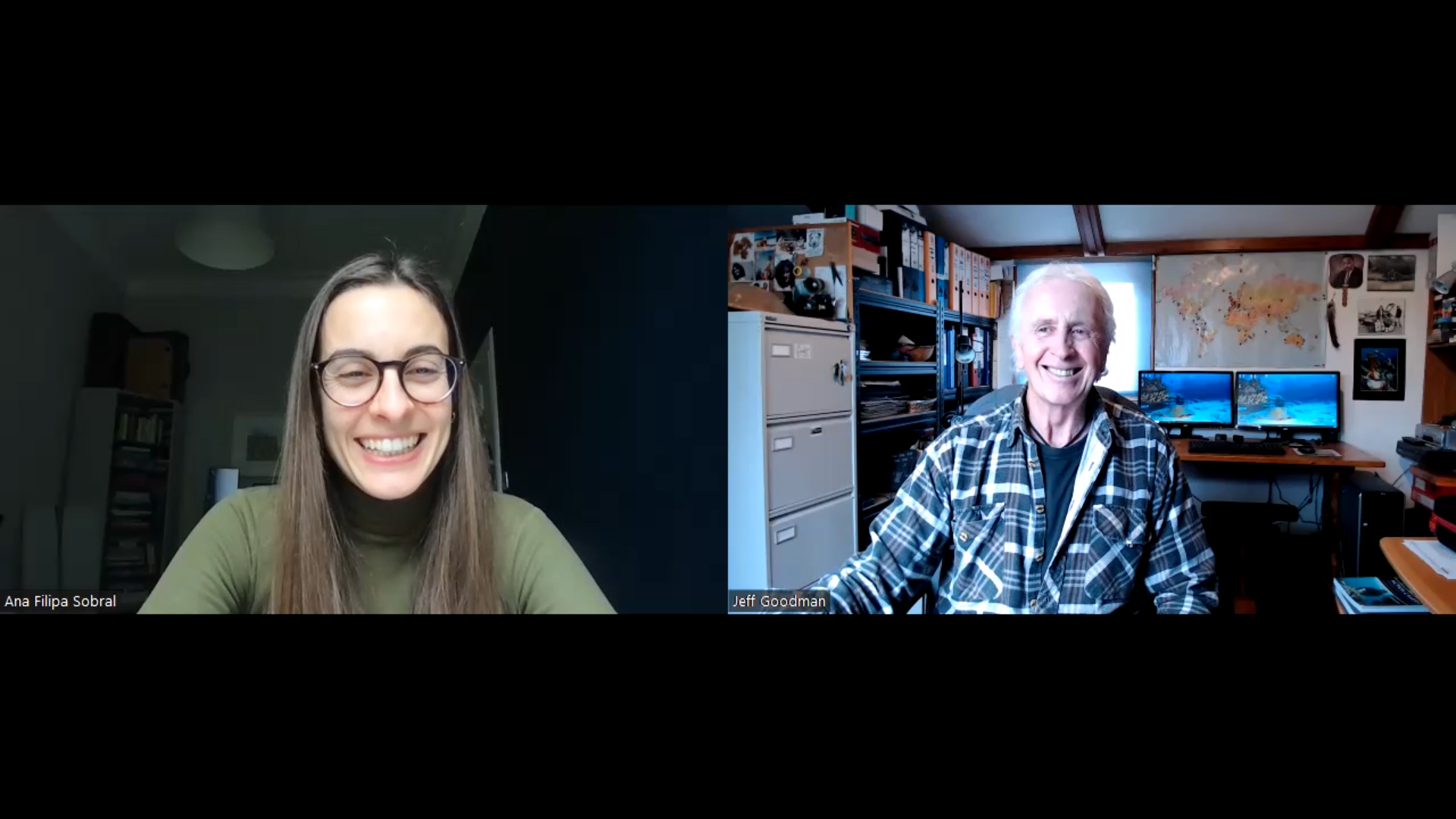 In this exclusive Zoom interview, Jeff Goodman, Scubaverse Editor-at-Large, chats to Ana Filipa Sobral, Founder and Project Leader of The Manta Catalog Project in the Azores.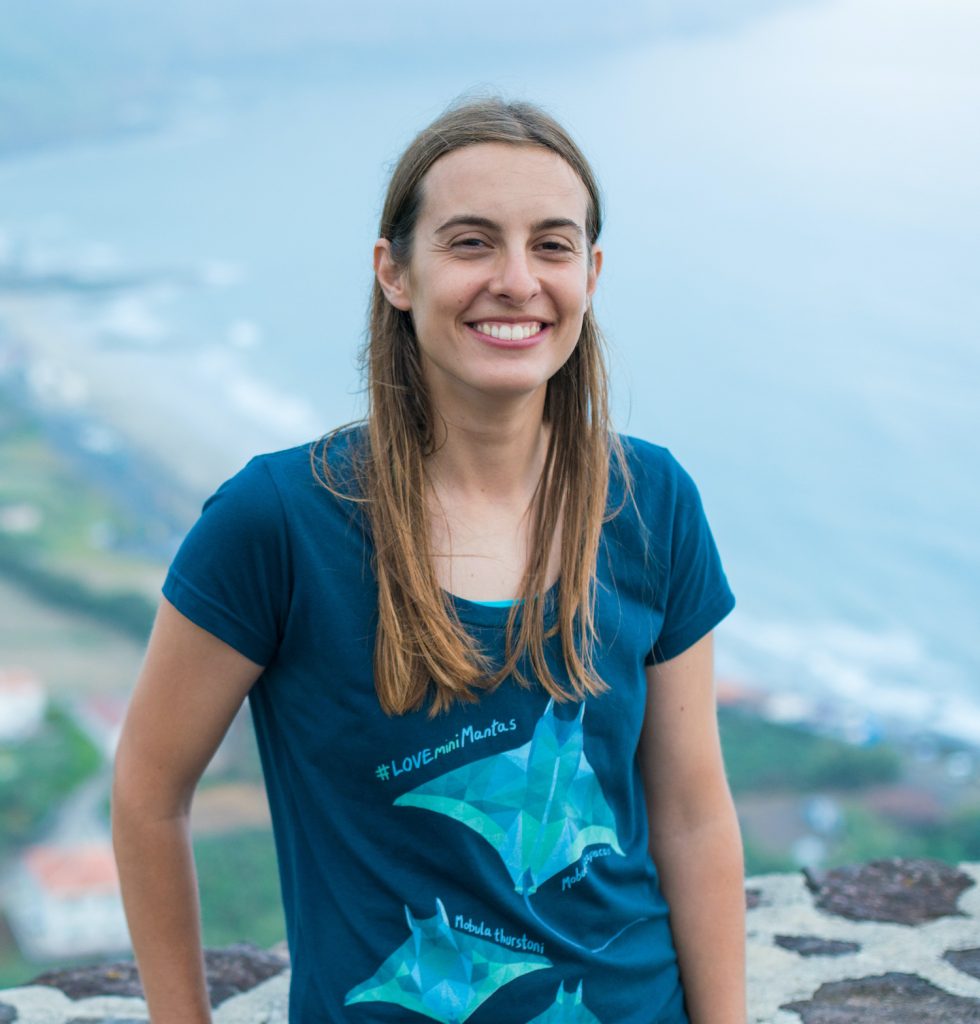 Ana Filipa Sobral is a marine biologist and conservationist based in the Azores Islands. She moved to the Azores in 2011 and once there, realised that this was one of the few places in the world where Sicklefin Devil Rays (Mobula tarapacana) gather in large groups, making it a strategic place to study them. She started the The Manta Catalog Project and through this project, collects photo ID and occurrence data on Mobulid Rays, with the precious help of divers and dive operators as citizen scientists.
Ana is also finishing her PhD which focuses on population genetics and connectivity of migratory elasmobranchs in oceanic islands in the Atlantic Ocean. The main goal fueling my research has been to help fill the knowledge gaps on elasmobranch biology and ecology to ultimately assist in the design of effective conservation and management plans aimed at protecting their populations in this remote region of the North Atlantic Ocean.
You can find out more about Ana's important work at: https://mantacatalogazores.wixsite.com/mobulaid/project.
---
Rather listen to a podcast? Listen to the audio HERE on the Scubaverse podcast channel at Anchor FM.
Jeff chats to… Arlindo Serrao, Founder of PortugalDive.com about diving in Portugal, The Azores and Madeira (Watch Video)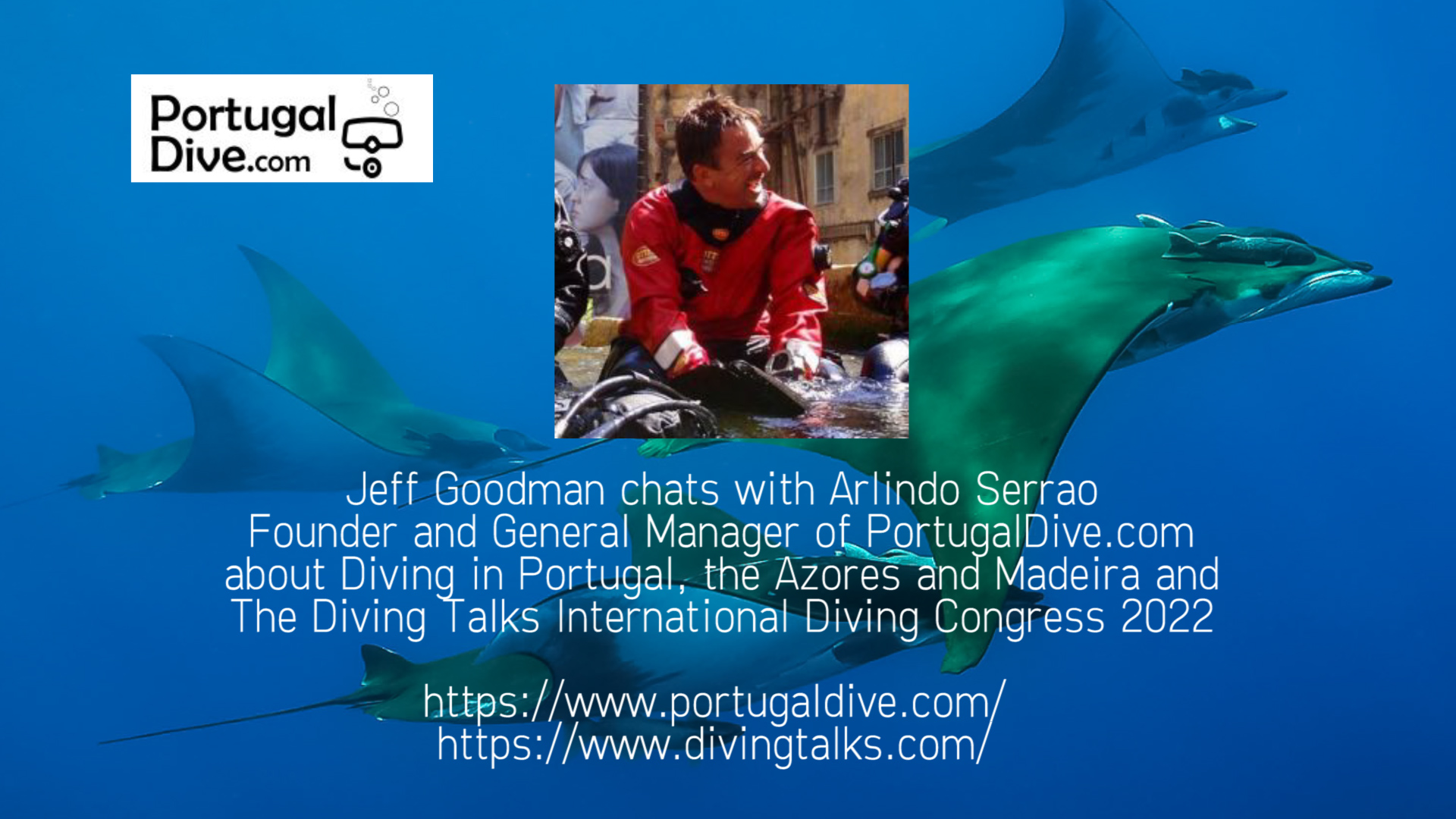 In this exclusive Zoom interview, Jeff Goodman, Scubaverse Editor-at-Large, chats to Arlindo Serrao, Founder and General Manager of PortugalDive.com. They talk about diving in Portugal, The Azores and Madeira, as well as The Diving Talks International Diving Congress 2022.
Arlindo describes himself as "a father of three, a cave diver, and I love to share what Portugal, the Azores archipelago and Madeira islands have to offer."
"After 25+ years working in multinational companies, I decided to start doing it for fun! I founded Portugal Dive, the "We worry, You dive!" concept: a boutique dive concierge that organizes group and solo trips for guests to experience Portugal's underwater highlights on the mainland and in the Azores and Madeira. More recently I founded Diving Talks, an international diving congress that brings Portugal divers, explorers, scientists, researchers, to share with the diving community their most recent subaquatic achievements and discoveries."
Find out more at www.portugaldive.com and www.divingtalks.com.
---
Rather listen to a podcast? Listen to the audio HERE on the new Scubaverse podcast channel at Anchor FM.