Diving with…Mark Murphy, Oyster Diving: London, Surrey, Berkshire, Oxfordshire, Kent, Hertfordshire and Sussex
In this ongoing series, we speak to the people who run dive centres, resorts and liveaboards from around the world about their businesses and the diving they have to offer…
---
What is your name?
Mark Murphy
What is the name of your business?
Oyster Luxury Travel & Diving Ltd
What is your role within the business?
Managing Director
How long has the business operated for?
14 years
How long have you dived for, and what qualification are you?
I did my first Discover Scuba in the South of France in 1997 and completed my Open Water in 1999. I am currently a PADI Master Scuba Diver Trainer and have been teaching for 16 years.
What is your favorite type of diving?
Shark diving! There are few things in life that are as exhilarating as diving with sharks. They are amazing creatures that have been around since before the dinosaurs.
If you could tell people one thing about your business (or maybe more!) to make them want to visit you what would it be?
We are a professionally run 5 star PADI dive centre offering courses from beginner to instructor. Incorporated is a fully bonded travel centre which means we can offer holidays around the world as well as UK trips to our customers and club members. We stock the major brands of diving equipment at competitive prices and are proud to be an Aqua Lung partner centre. We have 6 pool locations around the South East to make it as easy as possible for customers to take their first breaths underwater.
What is your favorite dive in your location and why?
I've been really fortunately to have been to some truly amazing places including the Med, Red Sea, Mexico, Thailand, Virgin Islands, Barbados, Sudan, UK, Australia and Djibouti but nothing has ever come close to the Galapagos. The shear abundance of marine life, the giant schools of hammerheads and huge whale sharks is unlike anywhere else on earth. It's very expensive but worth every penny.
What types of diving are available in your location?
We offer dives around the UK and we have regular boat dives off the South Coast close to our offices in Brighton. We also visit some of the inland sites to complete training and allow newer dives to gain additional experience.
What do you find most rewarding about your current role?
Since we've become one of the largest dive centres in the UK I find that I am spending less time teaching courses then I used to. So, I'm always really pleased to receive thank you emails from customers that we have taught as it means that all the hard work we put in is paying off and our instructors and Divemasters are doing a great job.
What is your favorite underwater creature?
After sharks I love big schools of fish. Watching hundreds of barracudas swirling round and following each other's tails is great to watch. However, I could also just plonk myself on the sand (carefully of course) and spend hours just watch clown fish dancing around their anemone.
Are there any exciting changes / developments coming up in the near future?
We have recently taken delivery of Ocean Reef Full Face masks with underwater comms so we can't wait for our customers and instructors to give these a whirl. We've also just become stockists for Paralenz so it means that the quality of the videos we and our customers produce on our trips will be even better – even our most technophobes can operate them.
As a center what is the biggest problem you face at the moment?
The biggest problem Oyster Diving face in the UK is awareness of the 'referral system'. Many people in the UK have the idea that diving in the UK is dark and cold and don't realise that you can complete the theory and pool skills saving on valuable holiday time. If the industry could generate more awareness of the referral system then it would allow our instructors to educate people about ways to keep warm and talk about some of the great dive sites we have in this country. This means they could carry on diving on returning from holiday and continue their new passion instead of just forgetting about it and moving on to the next challenge.
I find that the other challenge in the UK is getting new divers boat diving in the sea. If you look at most of the dive boats these days they have an aging population of men on them who have been diving for years. I believe the one of the reasons for this is that many of the dive boats don't offer the same level of service that people find on their overseas holiday. So, when people do go for their first UK sea dive they are usually disappointed, feel uncared for or are just scared.
A lot of new divers are understandably anxious when they do their first sea dive. I think it would be great for the industry to have boats that offer proper briefings, an experienced guide that knows the dive site and an option for some decent food (even if it's sandwiches and hot chocolate) or a few few other luxuries.
We are trying to introduce this level of service to our South Coast boat dives but without owning our own boat it is very difficult.
Is your center involved in any environmental work?
We believe that as divers we are the ambassadors for the underwater world and need to educate people on the impact that our lifestyles are having on the environment. We have set up some corporate dive clubs where we give regular talks on what we can do to help our oceans. We regularly post on our social media and newsletters with the latest news. We have run many 'Project Shark' trips with blue o two which have also encouraged many of our customers to spread the word about the plight of many shark species.
How do you see the SCUBA / Freediving / snorkeling industry overall? What changes would you make?
I think in the modern age of cheap and fast travel it gives us a great opportunity to visit destinations that would never have accessible to our parents. I would like to see more schools offering diving and holidays to accompany their usual annual ski trip. Diving offers kids the chance to put many of their subjects they learn such as physics, chemistry, maths, biology and history in to practice in a fun and rewarding manner. Unlike many school sports you don't have to be a great sportsperson to be a great diver so everyone can get involved regardless of age and sex.
On school trips we run we find the students really bond with each other despite being in different year groups and coming from different backgrounds and it makes them much more sociable when they return home as well as having a new passion that can be used in a future career.
What would you say to our visitors to promote the diving you have to offer?
I would say come along to one of drinks nights in London or Brighton and meet some new friends. We have a great crowd with people from all different ages, different levels of dive experience and from different backgrounds from bin men to wealthy stock brokers. By meeting like-minded friendly people opens up the opportunity to join our holidays around the world and have some amazing experiences.
Where can our visitors find out more about your business
We have two websites:
Dive School, Club and Holidays – www.oysterdiving.com
Online dive shop www.oysterdivingshop.com
We have a freephone number 0800 699 0243 and people are always welcome to e-mail us at info@oysterdiving.com.
DIVING talks 2022: the discussion we all want to hear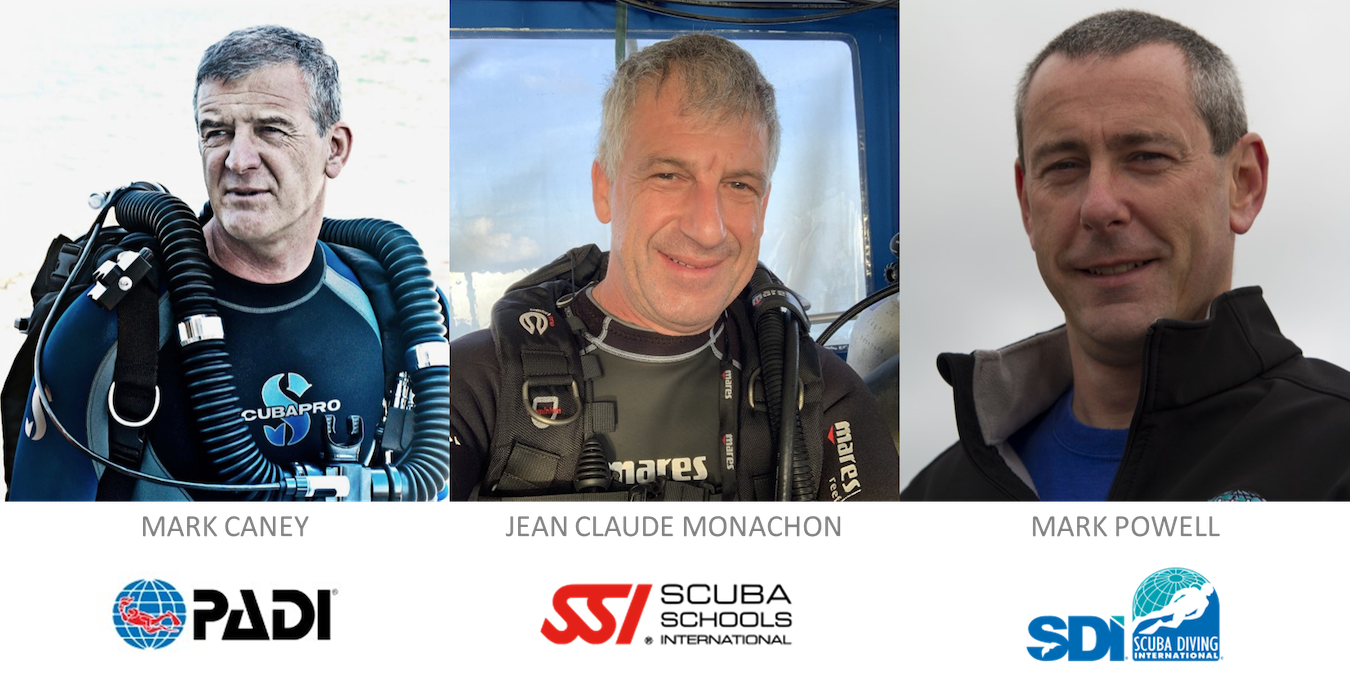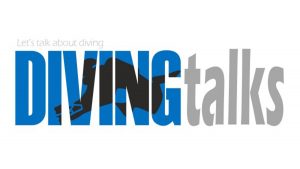 This year's DIVING talks event will take place in Troia, Portugal from October 7-9 2022. The event will bring together many of the world's leading divers, explorers, scientists, and researchers, and one of the highlights is sure to be the presentations.
Imagine having PADI, SDI and SSI in the same room to discuss the future of teaching in diving? This would be an exciting debate, wouldn't it?
Imagine no more. Mark Caney, Mark Powell and Jean Claude Monachon are going to be talking about diving through the perspective of the three biggest agencies: PADI, SDI and SSI.
Mark Caney, PADI – Professional Association of Diving Instructors' Industry Relations and Training Executive, is President of the European Underwater Federation, President of the Rebreather Training Council and President of the World Recreational Scuba Training Council.
Mark Powell is the SDI – Scuba Diving International Director of Global Development
Jean Claude Monachon is SSI – Scuba Schools International Vice-President, International Business Development & Marketing.
This is one 'talk' you won't want to miss!
For more information, contact Arlindo Serrão via e-mail: arlindo.serrao@portugaldive.com or check out the following links:
DIVING talks 2022: all you need to know about this year's event in Portugal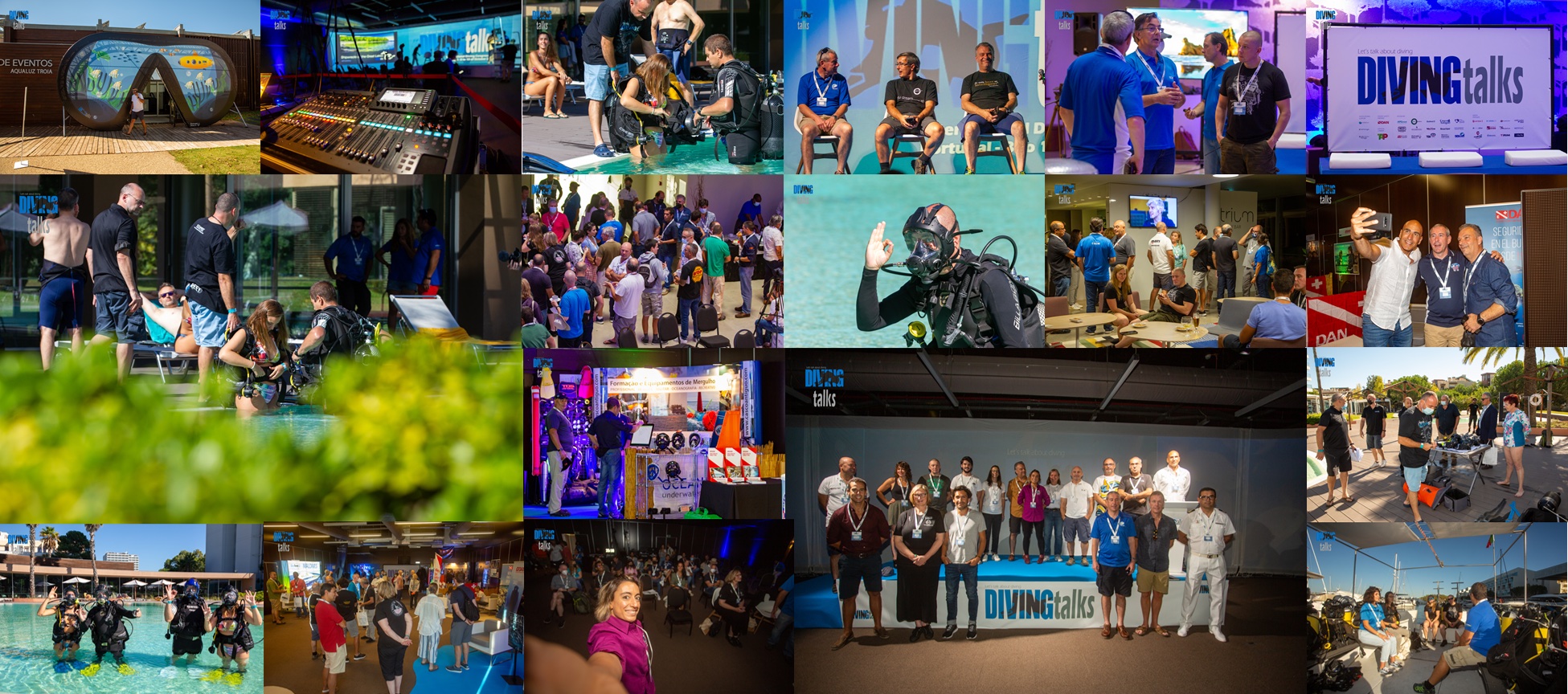 It's been announced that the second DIVING talks event will take place in Troia, Portugal from October 7-9 2022. This international event brings together the world's leading divers, explorers, scientists, and researchers, and follows the 2021 event considered by many to be one of the best dive shows worldwide.
DIVING talks will feature presentation panels, talks and debates by keynote speakers from all over the world to promote and share knowledge on the underwater environment. The Organization expects to host 450+ worldwide attendees locally and 50,000 online viewers during the show's three days.
EVENT HIGHLIGHTS
Once again, the show will bring together a fantastic Speakers Panel with some of the most recognised and followed divers, explorers, scientists, and researchers;
Capitalising on the success of the "Talks" format, DIVING talks 2022 maintains the thematic panels', but the Speakers will engage in other debate formats;
The brands will have more facetime with their clients and promote equipment trials, workshops, and networking opportunities during the so-called "Activities".
Establish in Portugal a new hub for all subjects related to diving, both technical and scientific.
The DIVING talks speakers come from all over the world, work on different projects related to the subaquatic environment and will share incredible stories with the attendees. Already confirmed are Adam Wood, Alexandre Hasche, Armando Ribeiro, Audrey Cudel, William (Bill) Stone, Brandi Mueller, Gareth Lock, Jean Claude Monachon, Leigh Bishop, Mark Caney, Mark Powell, Nuno Sá, Simon Mitchell, Stef Panis, Teresa Amaro, Tomasz Stachura, and Xavier Meniscus.
STRUCTURE OF THE EVENT
THE PANELS
The Panels will promote the best, the most innovative content, the latest work and discoveries in diving, sub-aquatic studies, and technological development. The Panels will feature exciting presentations or debates on essential topics such as scuba diving teaching evolution.
THE EXHIBITION
DIVING talks 2021 will feature an exhibition area, a 'show and tell' expo that will host a range of exhibitors from the global diving industry, showcasing their latest services, products and technologies.
THE ACTIVITIES
The Activities will be a space and time for joining a brand with its client base, showing, discussing or experimenting – even underwater.
VISITING AND 'STAY & DIVE' PACKAGES
DIVING talks 2022 partners with Portugal Dive to provide the best planning solutions for Attendees wanting to spend some time in Portugal, visiting and diving before or after the show.
Find our more at www.portugaldive.com | portugaldive@portugaldive.com
Attendees wanting to benefit from special conditions using Portugal Dive's services, please provide a copy of your e-ticket when booking.
PROGRAM
DIVING talks 2022 will be held from October 7 to 9. The schedule is as follows:
FRIDAY, October 7 2022
09:30 – 12:00  Scuba discovery activities
09:30 – 18:00  Arrival, accreditation and set-up of displays
12:30               Welcome lunch
12:30 – 18:00  Workshops, trials, brand networking
14:30               Official opening of the Exhibition
17:30               Visit Grandola with dinner
SATURDAY, October 8 2022
All-day             Exhibition and visit to displays
Morning          "Talks"
13:00 – 14:00  Lunch
Afternoon       "Talks"
19:30               DIVING talks dinner and Awards Ceremony
SUNDAY, October 9 2022
All-day             Exhibition and visit to displays
Morning          "Talks"
13:00 – 14:00  Lunch
Afternoon       "Talks"
Attendees will benefit from special conditions for accommodation in selected hotels close to the show venue.
CONTACT POINT FOR FURTHER DETAILS
Arlindo Serrão
E-mail: arlindo.serrao@portugaldive.com
Mobile: +351 964643858
For more information: