Dive Notes from a Small Island: Part 4 – North East England & Scottish Borders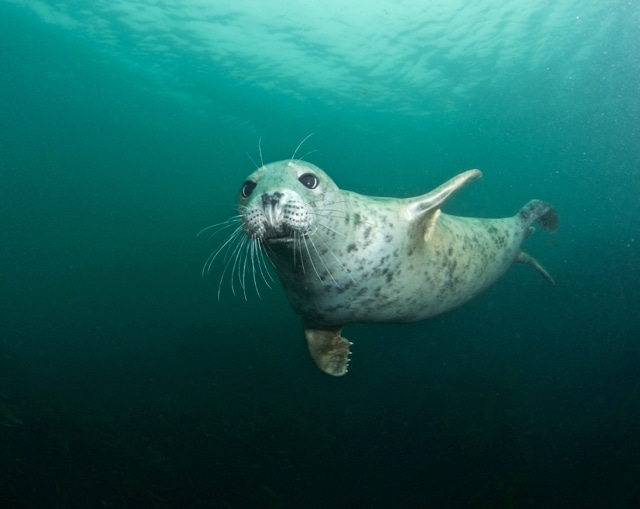 After a week's break back home to dry our kit off and see the family we headed north to explore what the East coast near the Scottish border had to offer us. I had visited the Farne Islands several years ago and did some great diving with seals, so I was keen to share this fun experience with Mike. I also wanted to explore the diving off St Abbs, which I had heard great things about (both boat and shore diving) from many UK diving friends. Since we were late in the season trying to book we were very fortunate to get two spots on Marine Quest's boat going out of Eyemouth and with Sovereign diving out of Seahouses, on consecutive days.
We drove up the day before to find a flat calm sea, sun and excellent visibility looking out from the coast at Bamburgh. Of course, by the following day, in Eyemouth, we were greeted with thick fog, a huge tide and deep swell (down from Norway apparently). I was relieved we had booked boat diving, as shore diving was definitely out of the question, but despite the less than ideal conditions, our skipper Iain found us two sites with some shelter to enjoy!
Dive 10: Fast Castle, St Abbs
Site description:
Above the surface this site sits beside some very impressive cliffs round from St Abbs Head, at the base of the cliffs the rocky beach shelves off into the water and this slope continues down to rocky reef below. The dive is on this sloping reef with rock and gullies down to plateau at 20m. Known for the life on the reef and being a sheltered location, this makes for a great and safe dive in trickier conditions.
The Dive:
For us this dive started at 12m, as the swell would have been too dangerous in shallower water. The conditions were pretty awful, it felt rather like being washing machined in green murk, however, as promised, Iain had managed to find us a spot where we weren't being swept along by the tidal flow as well and this gave us chance to appreciate the fantastic reef life. Over our 50mins at a max depth of 19m we saw more lobster than I could count, squat lobsters in every nook and cranny, crabs and shrimp. The rocks had dead men's fingers all over them down to where the rock plateaued beneath us at approx. 20m, from about 18m onwards the rocks were carpeted in brittle stars. We had a good explore given the visibility and saw lots of macro life, followed by a big and very grumpy looking scorpionfish, which was our treat at the end of the dive as we deployed the SMB.
Mike's thoughts:
As we descended into the pea soup it took a while for my eyes to adjust enough to spot the approaching bottom (let alone keep my buddy in sight). We managed to stay together and found that despite the challenging conditions the sea life was abundant, and quite interesting. The variety of crustaceans in particular was amazing with all different sizes and types of squat lobster and shrimp. We also saw an explosion of juvenile brittle stars covering hundreds of square meters of the bottom, so dense in places they were two or three layers deep and covering other species of starfish. Composing a macro photo was difficult with the surge but there was no shortage of subjects on which to try and I got lucky with my camera's auto-focus for a few shots as I swung back and forth in the surge.
Dive 11: The Horn, St Abbs
Site description:
The Horn Reef got its name as St Abbs Head fog horn can be seen from the boat if you are directly over the reef (and it's not foggy!). The reef lies directly offshore from St Abbs village and begins at 17m running parallel to shore. There are a series of mounds or high points, with gullies in between at approximately 20-22m. Heading seaward, the reef shelves off to a wall which has an abundance of life.
The Dive:
We had better conditions on the surface and first 3m, unfortunately we then experienced decreasing vis and a big swell as we descended using the shot line. The shot went to the top of the reef at about 17m, and we could see other mounds separated by gullies at about 20m. The rocks were covered in life, mainly dead men's fingers, interspersed with cup corals. We pottered about, spotting small stuff while circling the approximate location of the shot line, not bothering with the wall, given our decreased bottom time, it being our second dive and the less than stellar conditions. Again we saw huge numbers of shrimp, squat lobsters and lobsters and several nudibranch eggs on the algae keeping us well entertained us on this surgy 40minute dive. I would love to come back to this site on a day with better conditions, as the life on the wall must be fantastic and the topography impressive if you could see to appreciate it. I can definitely see why St Abbs has such a great reputation for diving. I would also highly recommend Marine Quest as they were very accommodating and quick to reply to our diving inquiry and provided excellent and knowledgable service on the boat. We were treated to delicious ginger cake washed down with multiple cups of coffee both in the surface interval and after the second dive. What is possibly more upsetting than the weather conditions, is that I forgot to ask for the cake recipe!
Mike's Thoughts:
As with our first dive of the day I could sense the potential here in better conditions. As it was I enjoyed seeing glimpses of the small stuff when I wasn't caught in the swells. I also should have known after ten dives in the UK that I should have brought a good torch with me. Rather than focusing on taking pictures, I'd probably have had a more relaxing dive just exploring the reef with a decent light! It was still interesting to see baby squat lobsters perched on the dead men's fingers, the usual abundance of larger crustaceans in the crevices, and even a new (to me) pea-sized nudibranch. A return visit in better conditions would be in order!
Arriving in Seahouses the weather hadn't improved and we were anxious about not being able to dive, when another dive boat cancelled. However all was ok; it turned out the other boat had done the sheltered sites yesterday and with another huge tide and large swell other sites were off limits. For us however, the seals dives were still a go!
Heading out we went to the north side of the Megstones and found a sheltered area with a large number of grey seals (one-year old pups) and a large number of diving seabirds, including over 100 gannets. Then for the second dive, moved round to see some adults on the rocks near Knoxes Reef.
Dive 12: Megstones, Farne Islands
Site description: This 10m dive is just off the north side of the Megstones. The rocks slope down from the island down to 10m where kelp and a gravelly bottom provide a playground for the inquisitive seals. Nice easy dive, with a gully on the north east to explore.
The Dive:
SEALS!!! There were loads! We jumped in under observation from tens of adolescent grey seals and a flotilla of gannets. Descending to about 5m, we were soon sussed out by 8 seals, one or two of which became curious and seemed to enjoy sneaking up on Mike and I to nibble our fins. We had a great 30mins playing with the more curious of the seals, then went for a swim to warm up a bit. Exploring the kelp we found many blue lined limpets and a nudibranch, then returned to the seals. At the end of our dive while putting up the SMB, we were even joined by a shag, which dived down into the kelp beside Mikes head, presumably on the hunt for fish. Our captain Rob was very good at positioning us so we got a great experience with no swell or current and lots of seals. He also took the boat over so we could watch the gannets diving during our surface interval. Brilliant dive all round!
Mike's Thoughts:
I was pretty excited as our boat approached the dive site because 40 or 50 adolescent grey seals were lounging on the rocks and swimming close to shore. Immediately upon reaching the top of the kelp at 5 meters, we were rewarded with 7 or 8 seals circling us in the water. For the first 30 minutes of the dive we were continually shadowed by the same few seals, tugging gently on our fins and circling us curiously. Unfortunately I missed the shag at the end of the dive, but I did enjoy seeing why the waters were so rich in bird life. Streams of bait fish passed above and around us during the latter half of the dive. All in all, this was a very rewarding experience and highly recommended.
Dive 13: Knoxes Reef, Farne Islands
Site description:
A shallow site, 0-5m, consisting of a kelp bed off shore from a seal colony. Here the main draw is the large colony of mature grey seals that haul out on the nearby rocks. Hundreds can be seen here and although the adults are not usually as playful as the adolescent seals, it is a safe sheltered dive spot where you can be in the water with big seals.
The Dive:
The seals were not as playful on this dive and we caught glimpses of them as they swam off so we kept the dive short and shallow, looking for nudibranchs on the kelp. Finishing off with a surface scuba close to shore to watch the seals popping their heads up at us. Having had such a great first dive we were happy to return to the boat after about 25mins.
Mike's Thoughts:
Despite entering the water not too many meters from hundreds of seals, they were elusive underwater and we only caught fleeting glimpses of several circling around us 8-10 meters away. It was still nice to see so many seals from the surface though, and as with all wild animal encounters you just never know how it will turn out.
Jeff chats to… Ana Filipa Sobral, Founder of The Manta Catalog Project in the Azores (Watch Video)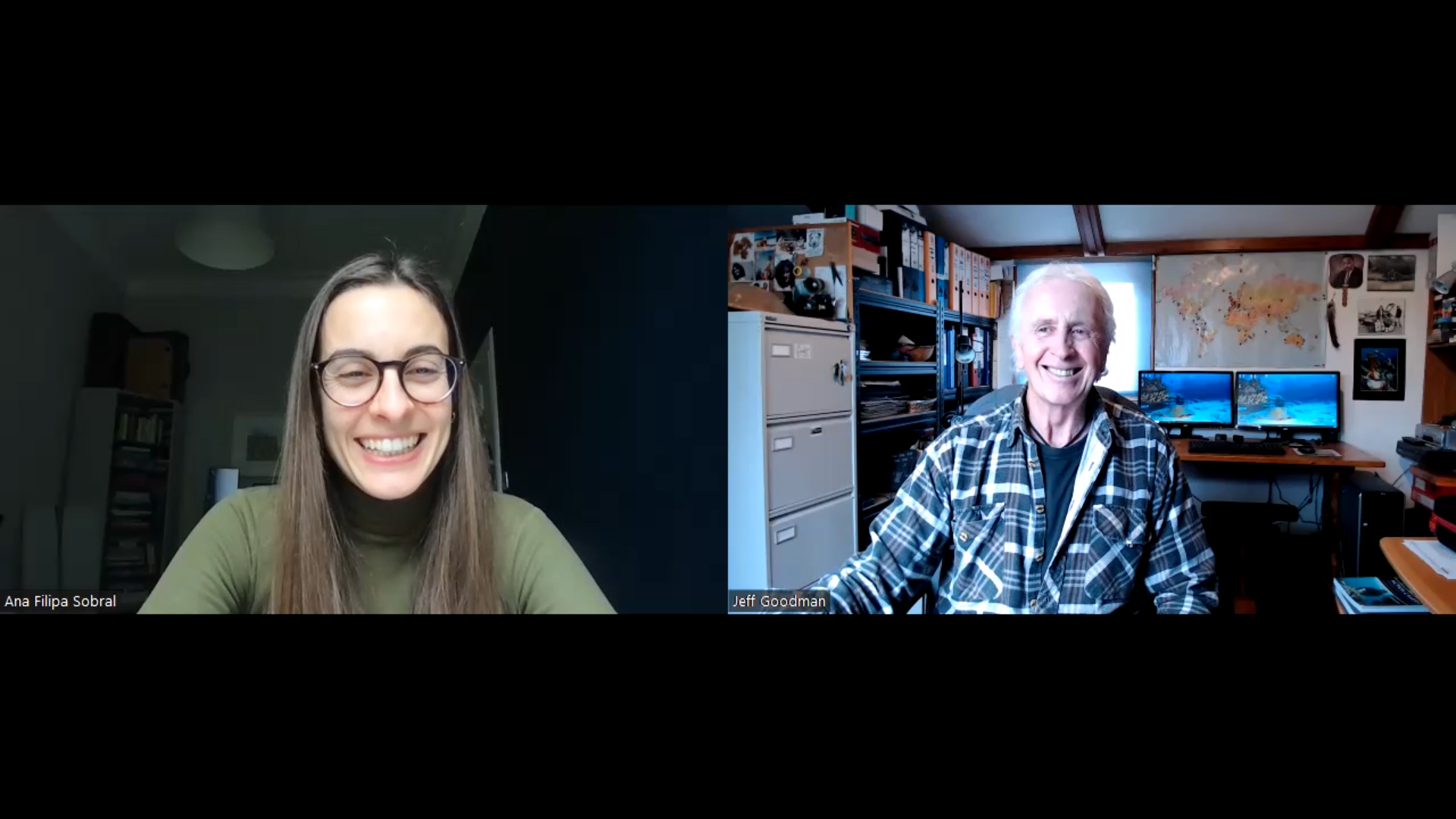 In this exclusive Zoom interview, Jeff Goodman, Scubaverse Editor-at-Large, chats to Ana Filipa Sobral, Founder and Project Leader of The Manta Catalog Project in the Azores.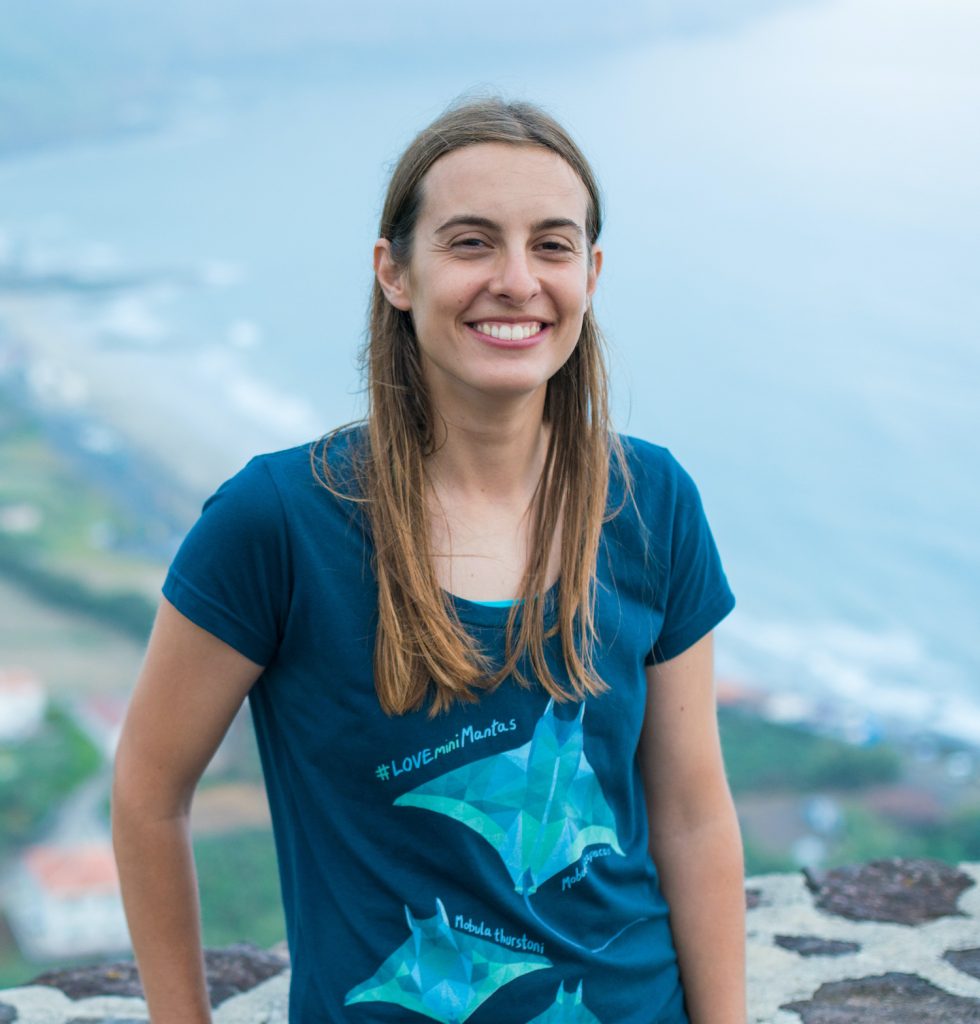 Ana Filipa Sobral is a marine biologist and conservationist based in the Azores Islands. She moved to the Azores in 2011 and once there, realised that this was one of the few places in the world where Sicklefin Devil Rays (Mobula tarapacana) gather in large groups, making it a strategic place to study them. She started the The Manta Catalog Project and through this project, collects photo ID and occurrence data on Mobulid Rays, with the precious help of divers and dive operators as citizen scientists.
Ana is also finishing her PhD which focuses on population genetics and connectivity of migratory elasmobranchs in oceanic islands in the Atlantic Ocean. The main goal fueling my research has been to help fill the knowledge gaps on elasmobranch biology and ecology to ultimately assist in the design of effective conservation and management plans aimed at protecting their populations in this remote region of the North Atlantic Ocean.
You can find out more about Ana's important work at: https://mantacatalogazores.wixsite.com/mobulaid/project.
---
Rather listen to a podcast? Listen to the audio HERE on the Scubaverse podcast channel at Anchor FM.
Jeff chats to… Arlindo Serrao, Founder of PortugalDive.com about diving in Portugal, The Azores and Madeira (Watch Video)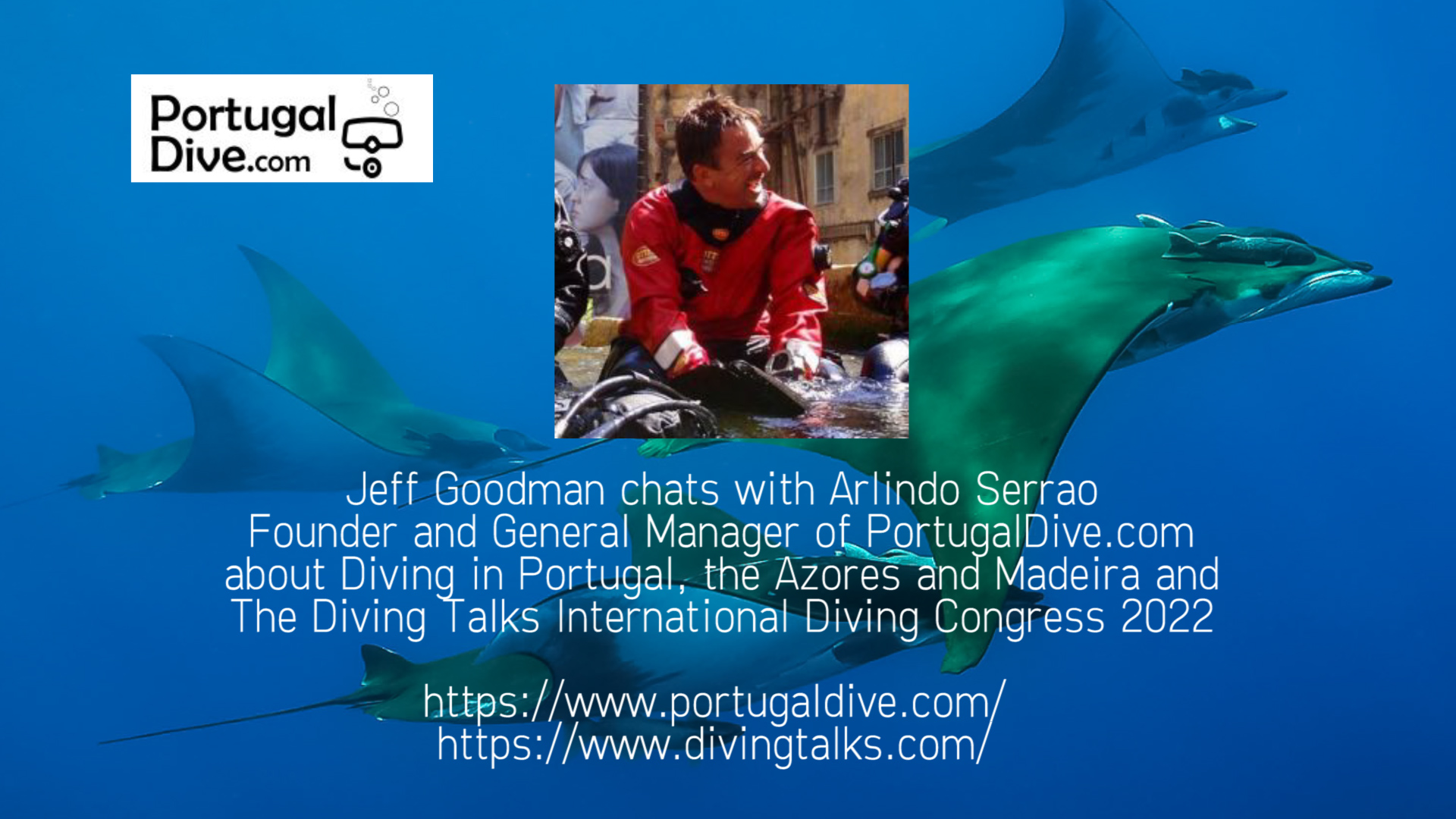 In this exclusive Zoom interview, Jeff Goodman, Scubaverse Editor-at-Large, chats to Arlindo Serrao, Founder and General Manager of PortugalDive.com. They talk about diving in Portugal, The Azores and Madeira, as well as The Diving Talks International Diving Congress 2022.
Arlindo describes himself as "a father of three, a cave diver, and I love to share what Portugal, the Azores archipelago and Madeira islands have to offer."
"After 25+ years working in multinational companies, I decided to start doing it for fun! I founded Portugal Dive, the "We worry, You dive!" concept: a boutique dive concierge that organizes group and solo trips for guests to experience Portugal's underwater highlights on the mainland and in the Azores and Madeira. More recently I founded Diving Talks, an international diving congress that brings Portugal divers, explorers, scientists, researchers, to share with the diving community their most recent subaquatic achievements and discoveries."
Find out more at www.portugaldive.com and www.divingtalks.com.
---
Rather listen to a podcast? Listen to the audio HERE on the new Scubaverse podcast channel at Anchor FM.