Dive Notes from a Small Island: Part 1 – The South West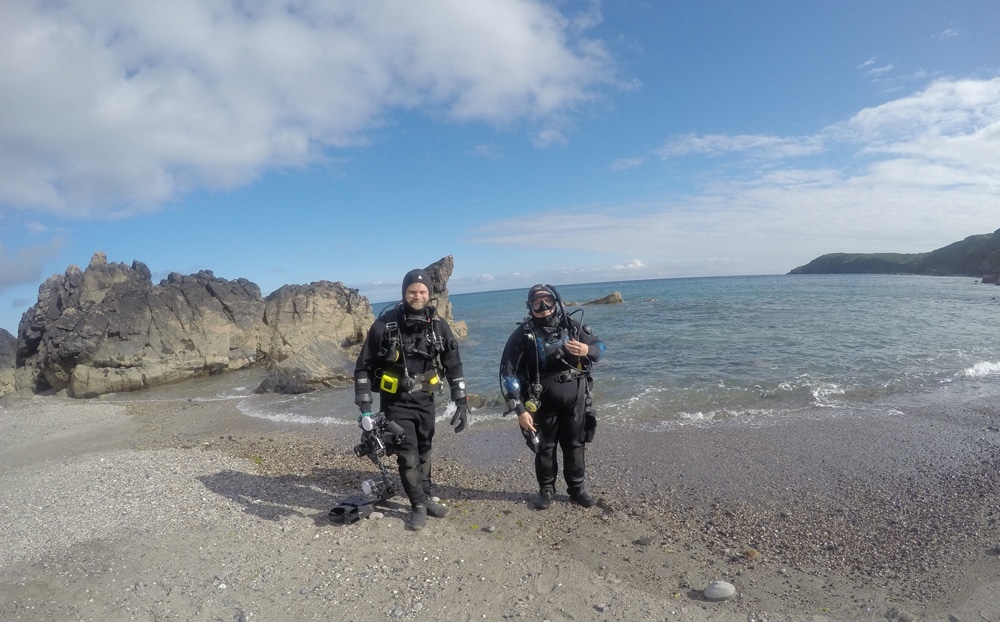 "Can you hand me that Phillips head screwdriver?"  Six days. Six days to convert our newly purchased van into a dive camper and begin our summer adventure. We have quite the schedule planned and currently time is tight, as we attempt to complete our biggest DIY project in time to head off to our first port of call, Cornwall, in one week.
Mike and I are diving instructors, recently returned to the UK after working abroad. My partner Mike is from the States and being a keen cold water diver, he is excited to see what UK diving is like. As a lover of my native diving, I decided to plan a two month dive adventure for us over the summer, to show off the best that UK diving has to offer. Now all we have to do is pack and go exploring!
Our itinerary looks like this:
July: The South West
Early August: Ireland and Northern Ireland
Late August: The North East
Late August into September: Scotland
The South West – Cornwall
Having completed our dive camper in our allotted time frame without too many hit thumbs and painted elbows, we packed up and headed to the South West. Cornwall was my home for four years during my time at university and first year in the working world; it is where I completed my DM course and so holds a very special place in my heart. I love the diving here and consider it some of the best in the UK. For this reason I have chosen to take Mike here first; that, and the fact it is known territory to begin our trip.
We have four days of diving here, both shore and boat dives. Let's see what Mike makes of it!
Dive 1: Pendennis (sometimes known as Silver Steps)
Site description:
Pendennis headland separates Falmouth harbour from the bay and has a popular and easy dive site. Characterised by a sprawling reef with gullys to explore, interspersed with sand patches, the maximum depth at high tide is about 10m. The site is popular for training and has a good amount of life and some remains of the German WWII U-Boats, the UB86 and UB112 to the left (eastwards) of the entry point.
The Dive:
We chose this as our first dive to ease into UK diving and revisit one of my old DM training sites, thankfully I could still navigate the site and we enjoyed beautiful sunny, calm conditions, with 6-8m visibility.
Mike's thoughts:
With an easy shore entry, this dive site seemed to offer a lot in a relatively compact area. It was quite hypnotic to float back and forth in the slight surge among strands of kelp. I especially enjoyed sighting a tompot blenny … one of the fish on my list of must-sees for here in the UK. We even had surprisingly good visibility (up to 8m!); no doubt helped by the sunny summer day.
Dive 2: Kennack Sands
Site description:
Kennack Sands is a surf beach on the Lizard peninsula and while not suitable for diving when the waves are stacking up, it has a great macro site right of the beach when the sea is calm. It is best dived at mid tide so that you can see the rocks you are aiming for and have an easier entry and exit. The rocks are out a little ways so the dive starts with either a surface swim or a sandy bottom (worth exploring for the occasional ray or flounder). The rocks are in about 8m at mid tide and covered in kelp. The best stuff is under the kelp in the gullies between rocks, stick your head under the kelp and search for nudibranchs, anemones, cup corals and crustaceans. Scan the surrounding sand for cuttlefish, which are in abundance.
The Dive:
This was another old favourite for me, as I love nudibranch hunting. Since we were fortunate to have calm conditions off the Lizard, we headed for the surf beach with my friend and local marine life expert, Trudy. Reasonable vis for this time of year made finding the rocks easy, but a slight swell and suspended sand in the water made for challenging photography conditions. However we did see loads of macro life!
Mike's thoughts:
Another smashing shore dive! With better than average visibility I was blown away by the amount of life in the coastal areas here. As in many temperate regions it's not always so colorful, so as my creature-spotting eye was still not attuned to the area I was thankful for my dive buddies who were able to show me more local residents such as Polycera nudibranchs, stalk jellyfish, cuttlefish, and a massive population of sea hares in the shallows on the way back to shore.
Dive 3: Vase Rock (Boat dive from Porthkerris)
Site description:
Vase rock is one of the pinnacles of the Manacles, the offshore submerged rocks off the Lizard peninsula. The Manacles have notorious strong currents swirling around them, which has resulted in many wrecks and excellent marine life. It is just a short boat ride from Porthkerris. Vase rock starts at around 6m and steps down to 35m+ and is covered in invertebrate life, such as jewel anemones and pink sea fans. The best life starts below 15m, where the kelp stops and walls are covered in anemones. Porthkerris has a dive center with good facilities: 2 boats, air filling station, campsite, parking, kit washing, an excellent shore dive and friendly staff.
The Dive:
We booked on a 2 dive boat trip to go and see the Manacles, and went out on their smaller boat, the Celtic Kitten, to Vase rock. We had calm surface conditions and slack water, but sadly not the best visibility, but who doesn't love a bit of British murk? It was enough to navigate, see both your buddies and more importantly, enjoy the life on the rocks!
Mike's thoughts:
Vase Rock was a fun dive site with a lot of life clinging to the kelp-covered rock pinnacles, and lots of nooks and crannies to explore. A mostly sunny morning helped make the visibility acceptable for the time of year, although a return during the clearer waters in the wintertime is a must. Anemones were abundant, and I especially enjoyed seeing nudibranchs on the pink sea fans. Although common, the cuckoo wrasse were very curious and provided some comic relief.
Dive 4: Pancra (Boat dive from Porthkerris)
Site description:
Pancra Head is a reef between Porthkerris and Porthoustock accessible by boat, usually dived in slack water, it can also be done as a drift for experienced divers. It starts from a shallow plateau at 10m, through gullies and kelp forest down sloping walls to gravel at 30m. It is a site full of life, lobsters, numerous fish, anemones, dead-mans fingers and sea fans.
The Dive:
This was our second boat dive of the day and the tide had started running so we were advised by our boat captain that this site would make a gentle drift dive with great marine life, suitable for everyone on the boat. Having not been to this site, I was excited to go somewhere new and found it was even better that the first dive. The gullies were full of invertebrate life and I saw over 20 pink sea fan nudibranchs; sometimes there were five nudibranchs on one sea fan!
Mike's thoughts:
The topography of this dive site was quite interesting once again (an underwater pinnacle with lots of gullies). My favorite part of the dive was actually something quite simple to spot: jewel anemones. Their sheer abundance on many of the rock walls as we drifted by the spectacular array of different colors produced an almost kaleidoscopic effect that was absolutely stunning on our sunny day. Dozens of spiny lobsters also provided some interesting subjects to watch. Overall a great dive site; one that definitely upholds the reputation of the Manacles as some of the best diving in the country.
Dive 5: Drawna Rocks (Porthkerris house reef)
Site description:
Drawna rocks is considered one of the best shore dives in Cornwall and for good reason. From the beach you can see the rocks approximately 100m offshore, beyond these a submerged reef continues out for another 200m, from 6m to a depth of 20m. With lots of route options and gullies to explore it is suitable for divers of all levels and is generally sheltered from all but Easterly winds. Below the kelp line you will find the usual (invertebrate) suspects, jewel anemones, tunicates and sponges.
The Dive:
The sea was flat calm and the sun out, promising easy dive conditions: as usual with Cornish summer time the vis wasn't great due to the plankton, but we could see each other and the shapes of the rocks for navigation. After a short swim out to the deeper areas, we started seeing pink sea fans and soon came to the walls of anemones, cup corals and the nooks and crannies where we were in search of the black-headed blenny. We spent an enjoyable hour with little current, exploring the rocks, before heading into shore and for ice cream at the local Roskilly farm.
Mike's thoughts:
This was another nice shore dive. With parking just meters from the beach, entry into and exit from the shallow sandy bay was easy. The visibility for us was not great but it was clear that the rocks had lots of nooks and crannies with surprises in store if you could see through the swaying kelp. I enjoyed spotting a black-headed blenny (another first on my UK creature list). I would definitely return … Drawna seemed like the kind of site that rewards repeated visits as the seasons and conditions change.
See you next time!
Jeff chats to… Ana Filipa Sobral, Founder of The Manta Catalog Project in the Azores (Watch Video)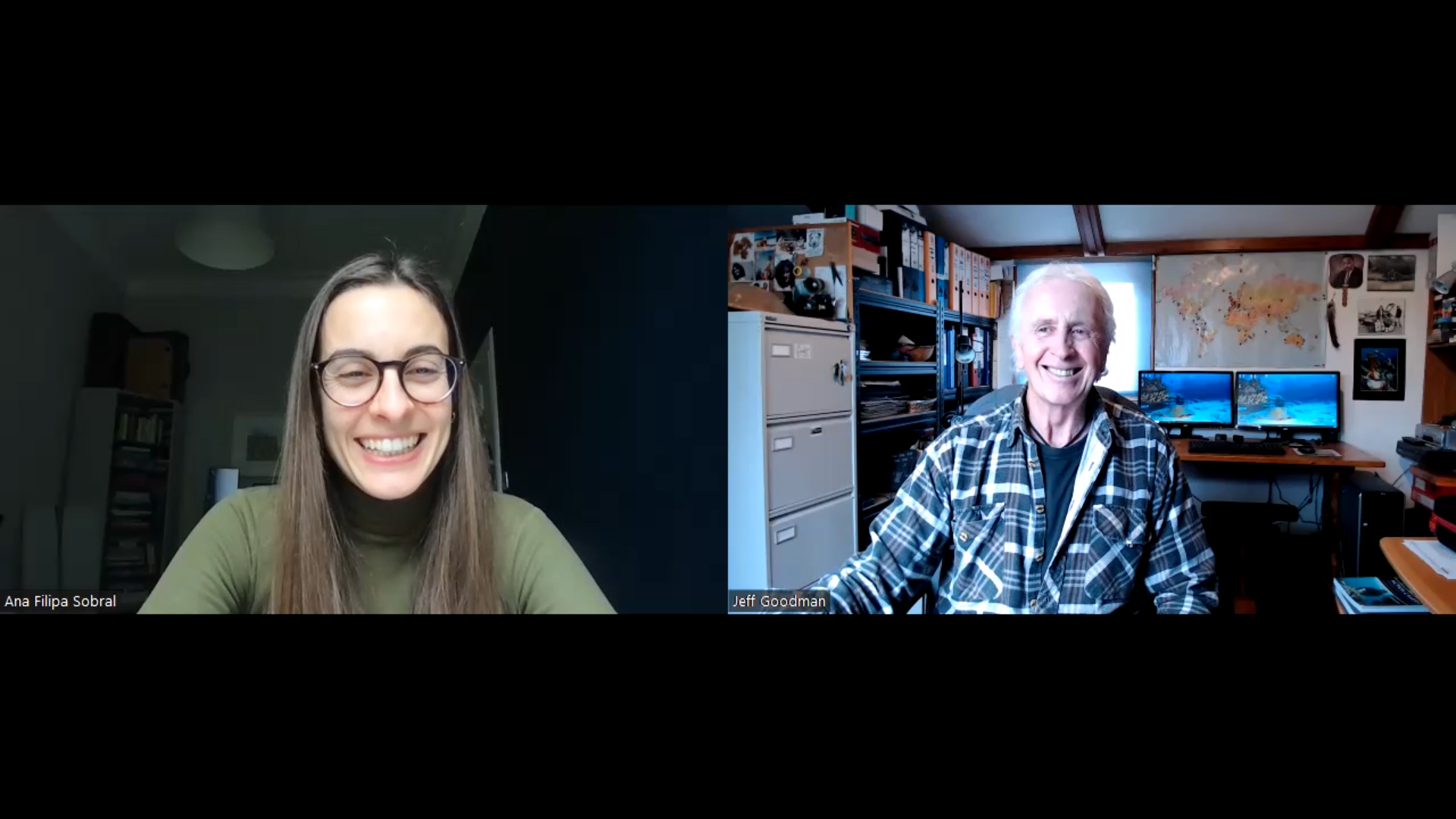 In this exclusive Zoom interview, Jeff Goodman, Scubaverse Editor-at-Large, chats to Ana Filipa Sobral, Founder and Project Leader of The Manta Catalog Project in the Azores.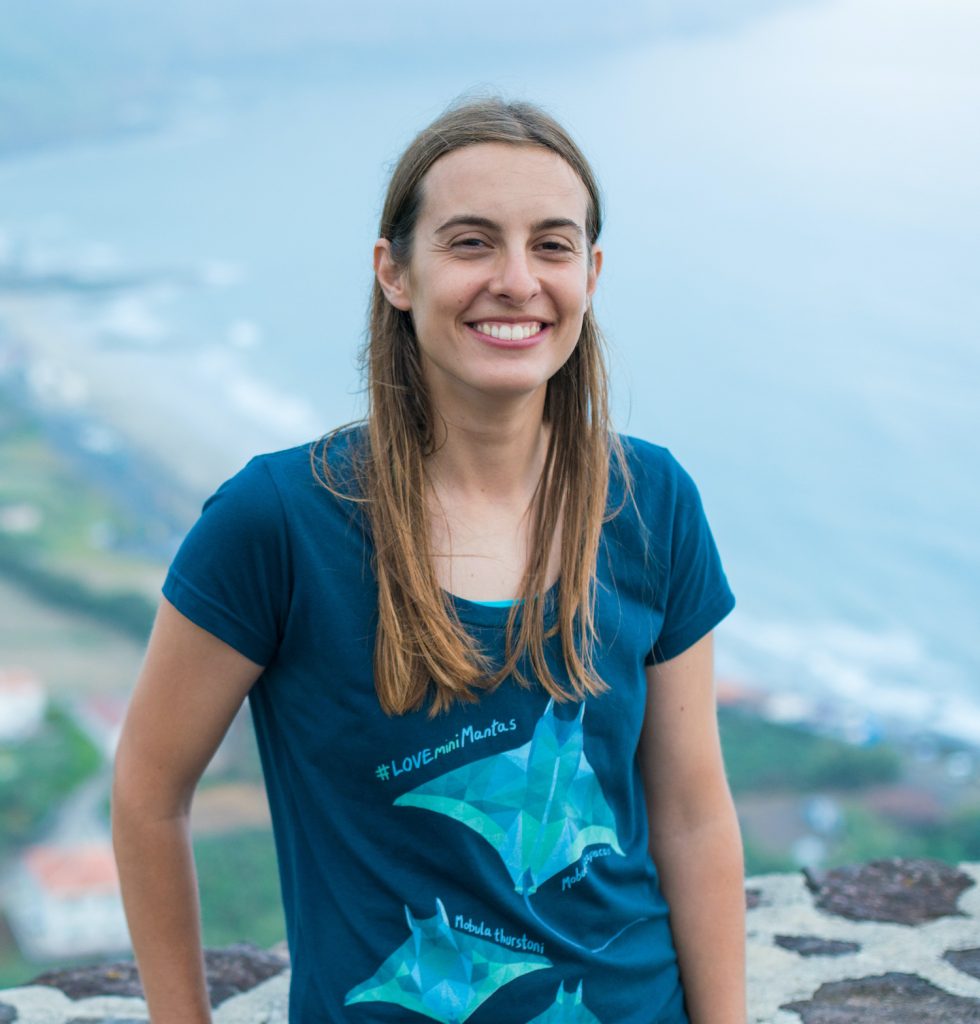 Ana Filipa Sobral is a marine biologist and conservationist based in the Azores Islands. She moved to the Azores in 2011 and once there, realised that this was one of the few places in the world where Sicklefin Devil Rays (Mobula tarapacana) gather in large groups, making it a strategic place to study them. She started the The Manta Catalog Project and through this project, collects photo ID and occurrence data on Mobulid Rays, with the precious help of divers and dive operators as citizen scientists.
Ana is also finishing her PhD which focuses on population genetics and connectivity of migratory elasmobranchs in oceanic islands in the Atlantic Ocean. The main goal fueling my research has been to help fill the knowledge gaps on elasmobranch biology and ecology to ultimately assist in the design of effective conservation and management plans aimed at protecting their populations in this remote region of the North Atlantic Ocean.
You can find out more about Ana's important work at: https://mantacatalogazores.wixsite.com/mobulaid/project.
---
Rather listen to a podcast? Listen to the audio HERE on the Scubaverse podcast channel at Anchor FM.
Jeff chats to… Arlindo Serrao, Founder of PortugalDive.com about diving in Portugal, The Azores and Madeira (Watch Video)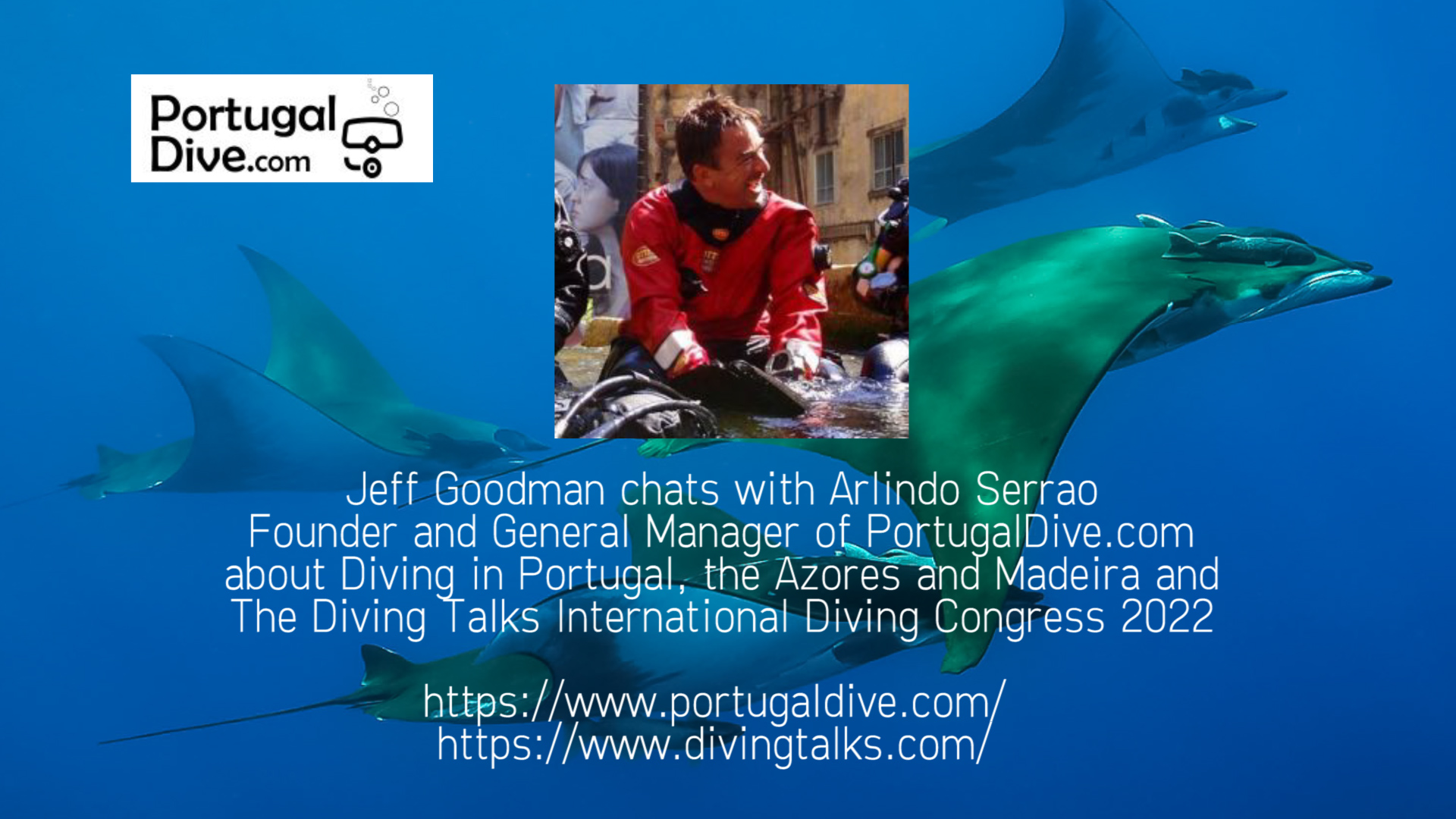 In this exclusive Zoom interview, Jeff Goodman, Scubaverse Editor-at-Large, chats to Arlindo Serrao, Founder and General Manager of PortugalDive.com. They talk about diving in Portugal, The Azores and Madeira, as well as The Diving Talks International Diving Congress 2022.
Arlindo describes himself as "a father of three, a cave diver, and I love to share what Portugal, the Azores archipelago and Madeira islands have to offer."
"After 25+ years working in multinational companies, I decided to start doing it for fun! I founded Portugal Dive, the "We worry, You dive!" concept: a boutique dive concierge that organizes group and solo trips for guests to experience Portugal's underwater highlights on the mainland and in the Azores and Madeira. More recently I founded Diving Talks, an international diving congress that brings Portugal divers, explorers, scientists, researchers, to share with the diving community their most recent subaquatic achievements and discoveries."
Find out more at www.portugaldive.com and www.divingtalks.com.
---
Rather listen to a podcast? Listen to the audio HERE on the new Scubaverse podcast channel at Anchor FM.