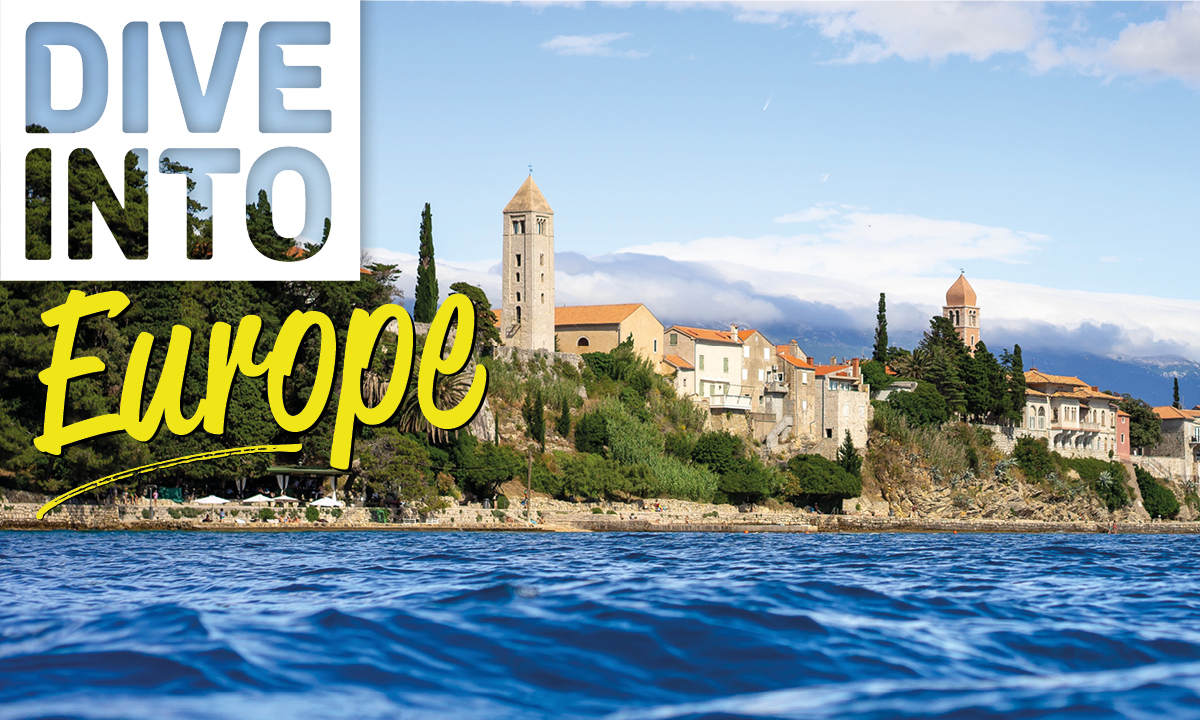 Wherever you are in Europe, you don't have to travel far for an outstanding dive experience. Europe offers a wealth of fantastic and interesting diving, from reefs and inland sites, to historical wrecks and ice diving. One of the highlights of European diving is the incredible diversity of marine habitats and marine life. European waters may not be the warmest for diving all year round but the underwater treasures you will find are absolutely worth it.
Read on for some of our highly recommended dive spots and enjoy your next dive travel adventure in Europe…
---
Coral Bay Divers – Coral Bay, Paphos, Cyprus
Tel: +357 26622980
Email: info@coralbaydivers.com
Web: www.coralbaydivers.com
Coral Bay Divers is the ONLY PADI Career Development Centre in Cyprus, with the most outstanding facilities and professional, enthusiastic, and fun loving divemasters and instructors. You can be confident that you will be well looked after as we show you the beautiful and crystal-clear waters of the Mediterranean Sea.
Come and join us for a lifetime of adventures – whether it's for the first or the thousandth time.
Taking your first breath underwater with our Discover Scuba Diving programme enjoying the awesome experience of diving under the waves. Coral Bay Divers offers the full range of recreational PADI courses from the absolute beginner to the highest professional instructor levels.
For those seeking a career in diving, Coral Bay Divers and its award-winning Course Director, are your best choice to reach your potential and goals in becoming a PADI Professional. Coral Bay Divers offers Technical Diver Training and dives for the seasoned tech diver.
Come and join us for some of our great shore dives, which are suitable for all level of divers, or on one of our daytrips to Limassol, Larnaka or Latchi.  One of the island's highlights is to dive the world-famous wreck of the Zenobia. This is one of the most exciting dives you will ever do.
Special Offer
Coral Bay Divers offers the Scubaverse visitors a 10% Discount on all bookings for Discover Scuba Diving experiences, local diving and diving courses (excluding Professional courses).
Facebook: @CoralBayDivers |   Instagram: @coralbaydivers
---
Deep Blue Diving – Fuerteventura, Spain
Tel: +34 606 275 468
Email: info@deep-blue-diving.com
Web: www.deep-blue-diving.com

The DEEP BLUE DIVING-Base is an award-winning Dive Centre. On your first wander around Caleta you can´t miss us in the harbour. With us you can learn to dive following the standards of SSI, PADI. We offer discover diving experiences, speciality courses, courses just for kids and snorkeling. SSI and PADI dive instructor training courses take place on numerous occasions throughout the year.
Learning to dive with us is fun from the start. Due to our perfect location, right in the harbour, we have direct access to our boats. We can reach all the fascinating dive sites in the area easily and after only a short boat ride. The underwater world of Fuerteventura, with its bizarre rock formations and abundance of fish, means that every dive is an adventure. We offer 18 dive sites with depths of up to 40m. We have a wide range of fish to encounter here from trumpet fish, stonefish, breams, damsel fish to barracudas, tuna, sardines, sting rays and even angel sharks in the winter so you will always have something to see here.
What else do we have to offer: it goes without saying that we have a vast amount of modern and well maintained equipment, a lot of space for equipment storage if you bring your own, modern shower and bathroom facilities, and a classroom. Our pool is built into our jetty so there are no long walks with the equipment on, and it is 2m deep so it is safe and comfortable for everyone to start learning to dive.
To ensure the fun carries on after your dive, we have a comfortable après-dive-area, which boasts a great coffee bar and beer pump. Of course we also have cold, soft drinks.
Special Offer
We are offering 10% off diving for dive groups to come and dive with us here in sunny Fuerteventura. You can dive our 18 dive sites and come and see what the Atlantic Ocean of Fuerteventura has to offer. We look forward to diving with you all.
Instagram: @deepbluediving  |   Facebook: @Deep.Blue.Diving.Fuerteventura
---
St. Andrew's Divers Cove – Xlendi, Gozo, Malta
Tel: +356 21551301
Email: standrew1989@gmail.com
Web: www.gozodive.com
It's a well-known secret that tiny Gozo boasts some of the Mediterranean's best dive sites, featuring warm, clear, deep blue sea with sublime underwater structures that form intriguing caverns, tunnels, arches and chimneys. With its high cliffs, quaint bays and sandy beaches, Gozo has something to offer everyone in all seasons, an excellent dive destination for both beginners and experienced divers.
St. Andrew's Divers Cove is situated on the water's edge in the picturesque fishing village of Xlendi catering for all levels of divers. We're open throughout the year and have been organising tailor-made diving holidays for individuals, families and groups since 1989. We offer 2 hour try dives for absolute beginners. Those wishing to learn and get qualified can sign up for a 3-day introductory course and get certified to enjoy dives to 18-metres. Advanced level PADI and SSI Courses up to Divemaster level are also organised regularly.
Qualified divers can enjoy a mix of guided shore and boat dives around the coasts of Gozo, Comino and North Malta. We do our best to ensure that our divers do the best dives possible, a variety that suits their preferences. Dive sites are often only a 15-minute boat ride away and diving off our boat DIVEMANIA is so easy!
Special Offer
Complete diving packages including 10 dives, accommodation and transfers starting from 409 euros in the peak season – July and August 2022. Book your flights and let us take care of your transfers and accommodation. We book hotels and apartments near the dive shop, as well as villas and converted farmhouses with pools across Gozo. Contact us today for more information and a tailor-made quote.
Facebook: @standrewsgozo  |  Instagram: @standrewsdiverscove
---
Tenerife Turtles – Small Expectations, Great Rewards

It's no great secret that for UK based divers and underwater photographers who want truly out of this world wildlife diving, you usually have to dig deep in your pocket and be prepared for a long journey with great expectations. But what about photographing exotic wildlife in warm seas, a flight no more than 5 hours away and a trip that's kind to your bank balance?
---
Anfibios – Sant Jordi, Ibiza, Spain
Tel: +34 665 139 198
Email: anfibios@anfibios.com
Web: www.anfibios.com
Founded over 25 years ago, Anfibios is the highest rated diving and nautical activity center on Ibiza. With us you can enjoy diving, snorkeling, kayaking, stand up paddle (SUP), and special adventure packs for groups and families.
Experience the best diving spots in Ibiza with Anfibios. Our dives are always accompanied by expert guides who know the sites like the back of their hand. They will be pleased to assist you during all your underwater experiences. We run boat trips to the diving areas in the "Es Freus" marine reserve, which are just a few minutes from our dive center.
Anfibios Ibiza has a comfortable terrace, shop, two changing rooms, a drying area for diving equipment, and a high-performance BAUER compressor. We use the diving industry's top brands for our rental equipment. Wetsuits and regulators are disinfected after use and we check the condition of our rental equipment several times a year to always guarantee the highest quality.
Our instructors have a wealth of experience when it comes to training divers. We offer a personal and professional service to all our customers, whether they are just starting out on their diving journey with an SSI Intro Programme "Basic Diver" or taking part in an SSI Instructor Assistant Program.
Wouldn't it be great to have a job that you love so much and can't believe you're getting paid to do it? You can truly have a career doing something you love while receiving the compensation you deserve. We are looking for candidates for an instructor assistant internship course for our new international project. Would you like to join?
If you love diving, Ibiza will surprise you with the luminosity of its waters and the diversity of species, its Posidonia meadows, its shipwrecks, caves, and more…
Facebook: @anfibios.ibiza.scuba.diving |   Instagram: @anfibiosibiza
---
DIVE.IS – Silfra, Iceland
Tel: +354 578 6200
Email: dive@dive.is
Web: www.dive.is
DIVE.IS is a PADI 5* Dive center located in Reykjavik, Iceland. We offer the world famous scuba dive between the continents in the beautiful Silfra fissure, located in Thingvellir national park (a 45 minute drive from Reykjavik).
Silfra is a crack in the Earth ripped open by the movement of the North American and Eurasian tectonic plates meaning you can dive between the continents! The crystal clear glacial water providing over 100 meters of underwater visibility has been filtered for decades through underground lava rocks. The underwater scenery that you experience in Silfra is found nowhere else on Earth.
All scuba divers need to be dry suit certified before diving in Silfra. At DIVE.IS you can obtain your PADI dry suit certification on our Dry suit diver courses. Check out our Dry suit Academy for several combo tour options.
Another amazing but lesser known scuba diving location is Hot Spring diving at Lake Kleifarvatn (a 30 minute drive from Reykjavik). Some divers have described it as diving in a Champagne glass.
DIVE.IS also offers multi-day tours. Choose between 2, 3 and 5 day tours to experience more of the scuba diving adventures Iceland has to offer.
Special Offer
We offer the divers of Scubaverse 15% discount off all our day and multi-day diving tours as well as our Dry suit Academy tours. This offer can be claimed using the promo code SCUBAVERSE2022 in the checkout process on the www.dive.is website.
YouTube: @DIVEIS  |   Facebook: @dive.is
---
Wining and Diving – Costa Brava, Spain
The Costa Brava is a hugely popular destination for those seeking sunshine, but it has much, much more to offer that just beaches and bars. We had heard that there was some excellent diving around the Medes Islands and we got the opportunity to head to L'Estartit for a long weekend to check it out, as well as exploring the local region to sample its excellent food and wine…
---
Maltaqua – Malta
Tel: +356 21571111
Email: dive@maltaqua.com
Web: www.maltaqua.com
If you are reading this guide, it is because you love diving, and what better dive shop to choose than one where everyone here loves it too!
Maltaqua is a family run business and we want all our visitors to feel part of that family as long as they are diving with us – and to remember us when they go home. Judging by the number of visitors we see year after year, it works!
We are proud to back up our warm welcome and flexible approach to our clients' requests with external recognition of our commitment to safety and training. We are Europe's first PADI centre, a BSAC Centre of Excellence, MOD CONMac approved Centre, and Bauer Pure Air station.
All your diving enjoyment is supported by a friendly and experienced team, who between them speak a wide number of languages, plus the recognition of high standards from international organisations.
From novice to the most experienced, we offer courses and activities for everyone, with full on-site technical facilities with gases, twin sets, CCR tanks and slings.
We take advantage of Malta's superb diving environment to offer our visitors the best dives – both shore and boat dives – with the minimum travel time. And in addition to our great diving facilities, we have our own accommodation close by, suitable for individuals and for groups.
Malta's popularity as a diving destination is growing year by year, so whether you are new to our islands or a seasoned diver in Maltese waters, we invite you to reach out to us and let us tailor any training or dive trip you are planning for 2022.
Special Offer
Short break package for May to October 
Private apartment for 4 nights
6 shore dives over 3 days
Cylinder and weight hire
Road transport to the dive sites
Price based on two sharing a room: €315 per person
Single room: €435
Should any of your diving days fall on a Sunday please add €25 to the cost of your package.
Facebook: @Maltaqua |   Instagram: @maltaqua
---
Portugal Dive – Lisbon, Portugal
Tel: +351 915616157
Email: portugaldive@portugaldive.com
Web: www.portugaldive.com
Portugal Dive is a group of Portuguese divers keen to share the love for the ocean.
Come to Portugal, Azores or Madeira, and do the best thing: experience diving here with us.
If you wish to spend some time visiting and diving, we will help you put together your holiday and diving program: where to stay, where to go, what to do.
If you are in Portugal and wish to experience diving, we can take you to your favorite kind of spot.
Either way, we always take you to the best spots, to dive the way you like, and to see what you want to see underwater. We worry, You dive!
The quality of the underwater scenery is incredible; the fauna and flora you'll see everywhere; the small number of divers on each one of the 300+ dive spots we have identified; the quality of the diving infrastructure; and, of course, the topside experiences.
Let us know your schedule and your budget, and we'll give you a proposal aligned with your expectations in one of these incredible locations: within this triangle, Portugese mainland – Azores – Madeira, there's everything you like to see underwater.
We are looking forward to diving with you.
Special Offer
Azores – Diving in the middle of the Atlantic Ocean.
A diving trip to an archipelago hidden in the middle of the Atlantic Ocean. A trip to divers' paradise. Encounters with big pelagics – whale sharks, mantas, amberjacks, multiple species of sharks are expected. Prepare yourself!
The air temperatures range from 12° to 25°C, the water temperatures from 16° to 24°C. We can advise on different locations and the perfect balance between diving and other activities.
Prices from: €949,00 per diver for 8 days with 5 days diving (10 dives) based on two divers
In São Miguel or Santa Maria (other locations available)
Includes transfers, 8 days, 7 nights 3-star hotel (room for two), wetsuits and equipment.
Facebook: @portugaldive |   Instagram: @portugaldive
---
Mission Blue announce Azores as new Hope Spot

Rising from the deep seafloor where three continental plates meet, the Azores Archipelago stands as a grand oasis in the middle of the Atlantic Ocean. Here, underwater volcanoes host highly specialized fauna and rugged seamounts hold vibrant, thriving sponges and coral gardens. Forever loved by the whales, adventurous sailors, and its people, the rich heritage of the Azores Archipelago has become globally renowned and cherished…
---
Amazing Alonissos – The all round dive vacation destination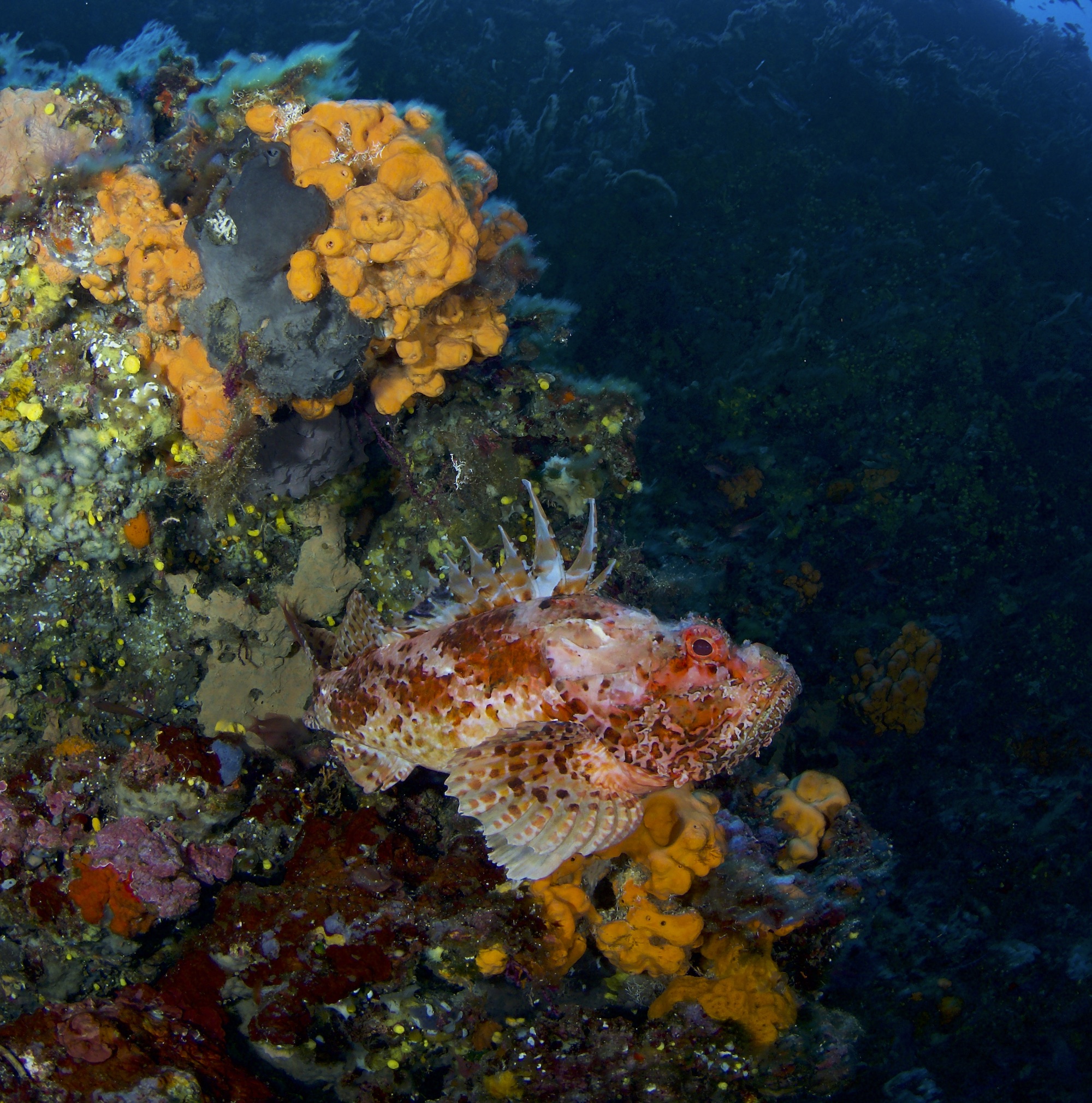 In early summer we were given a wonderful opportunity to visit Alonissos in the Sporades Islands in the northern Aegean Sea. This green and forested island sits at the edge of the Alonissos National Marine Park, the largest marine protected area in Europe. Our main focus was to be scuba diving, but during our short stay we were especially impressed with all of the other activities and experiences available on Alonissos for the discerning vacationer.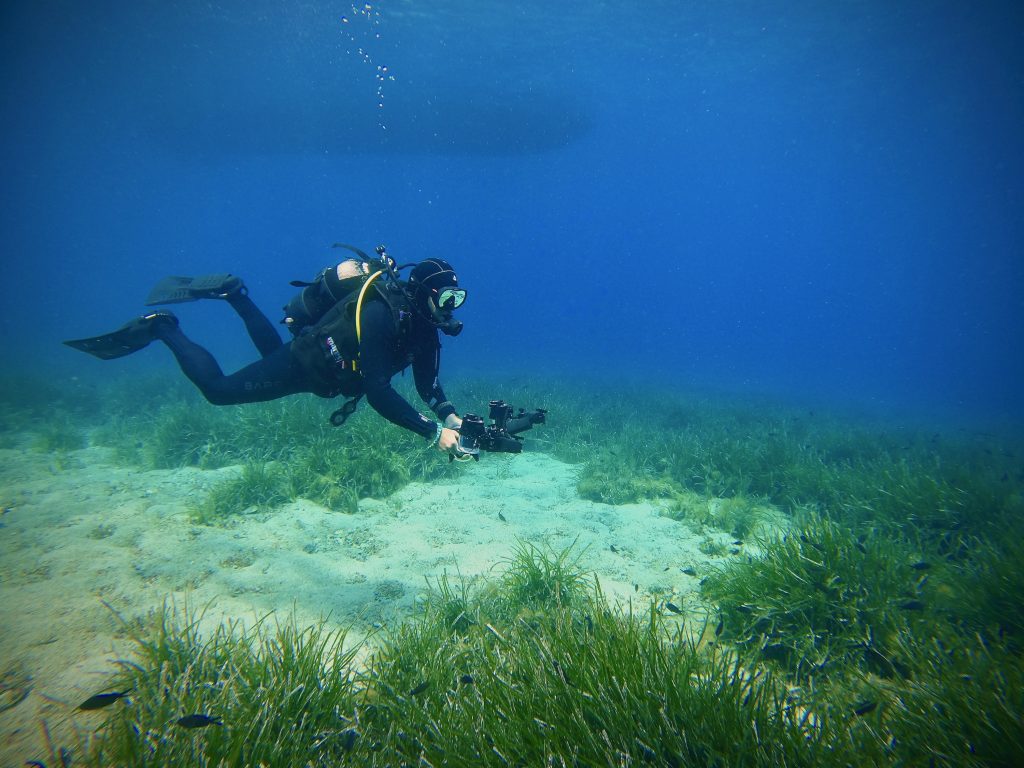 The scuba diving was really outstanding. In contrast to some areas of the Mediterranean, the marine biodiversity here was impressively diverse and abundant. Our short stay meant we just had a small taste of the diving available, however our hosts at Alonissos Triton Dive Center treated us to some exceptional sites from their impressively long list. The variety of marine life we encountered was a delight: large Gorgonian sea fans, many species of nudibranchs, small pipefish to large groupers, octopus, and much more.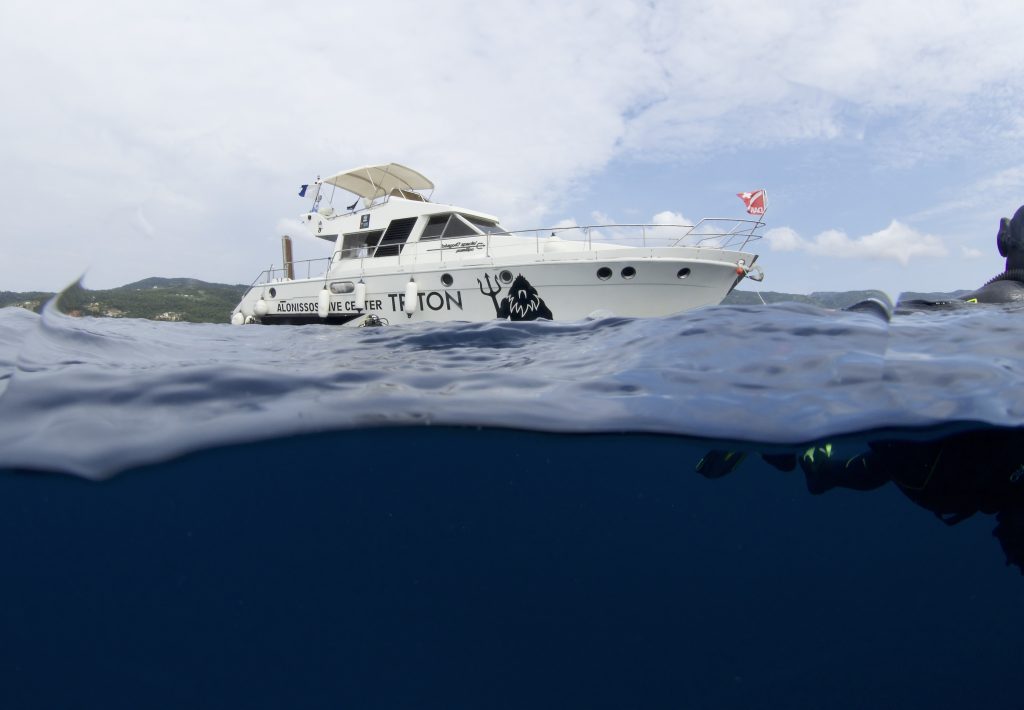 One of the most incredible experiences was the chance to dive the oldest accessible shipwreck in the world, the Ancient Shipwreck of Peristera underwater archeological site from 500 BC … an amazing dive site with a very unique automated underwater museum monitoring system in place to protect its archaeological heritage. It was a busy but hugely satisfying few days of diving and we could certainly spend much longer on this idyllic isle!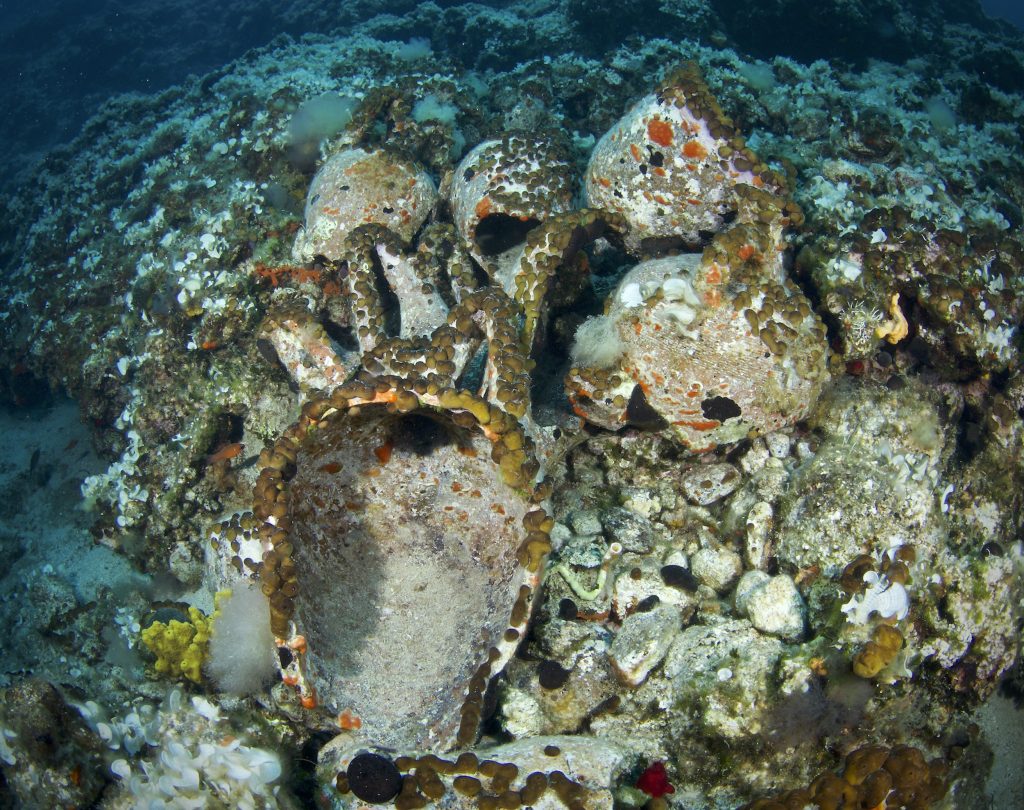 Greece has a huge number of beautiful islands to visit, so why choose Alonissos?
This island is one of the quieter Greek islands and as such has a very relaxed and welcoming feel, where you can find an authentic slice of the Aegean region. And, it is really easy to get there — so many airports in the UK offer flight connections directly to Skiathos (the hub of the Sporades) that you should not have to drive more than 100km in the UK to an airport.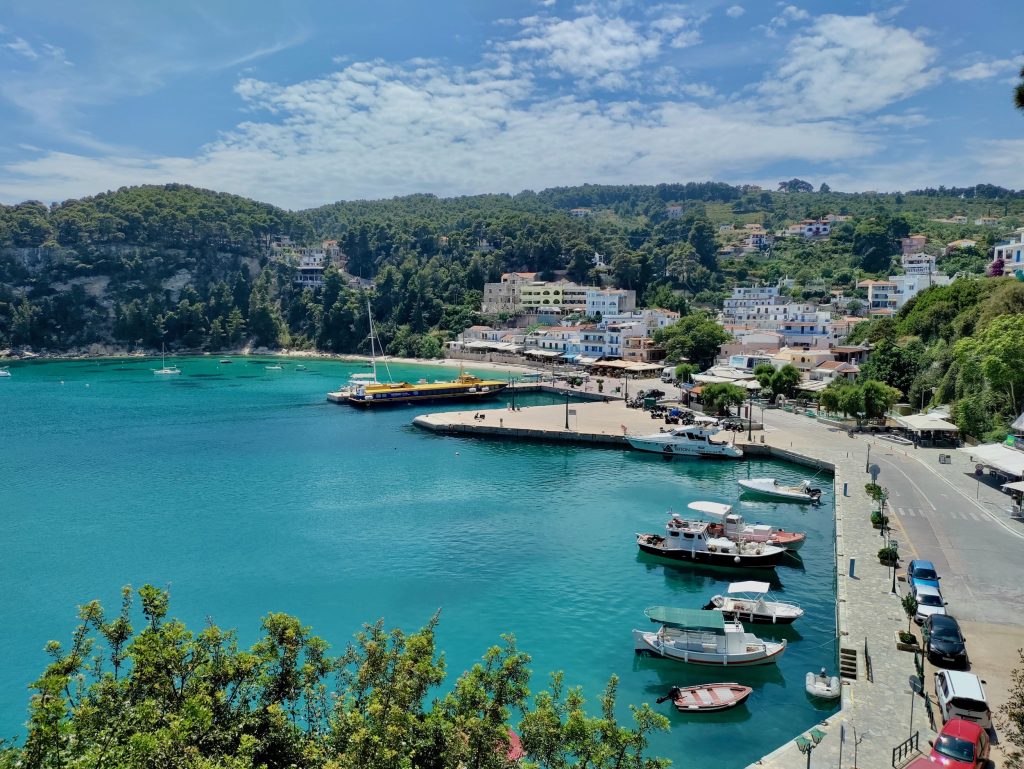 Finally, the variety of non-diving activities is hard to beat. There are boating day trips into the National Marine Park, taking you to visit secluded beaches and giving you a chance to see some amazing wildlife (such as monk seals, Eleonora's Falcon, and several species of dolphin to name a few). Both the main port town of Patitiri and the old village of Chora are full of interesting shops, charming alleyways, and restaurants with delicious meals. As an added bonus, the Alonissos cheese pie is a particularly moreish local specialty!
As a holiday destination, Alonissos really had everything one could ask for. Look for our full print article in an upcoming issue of Scubaverse's own Dive Travel Adventures magazine!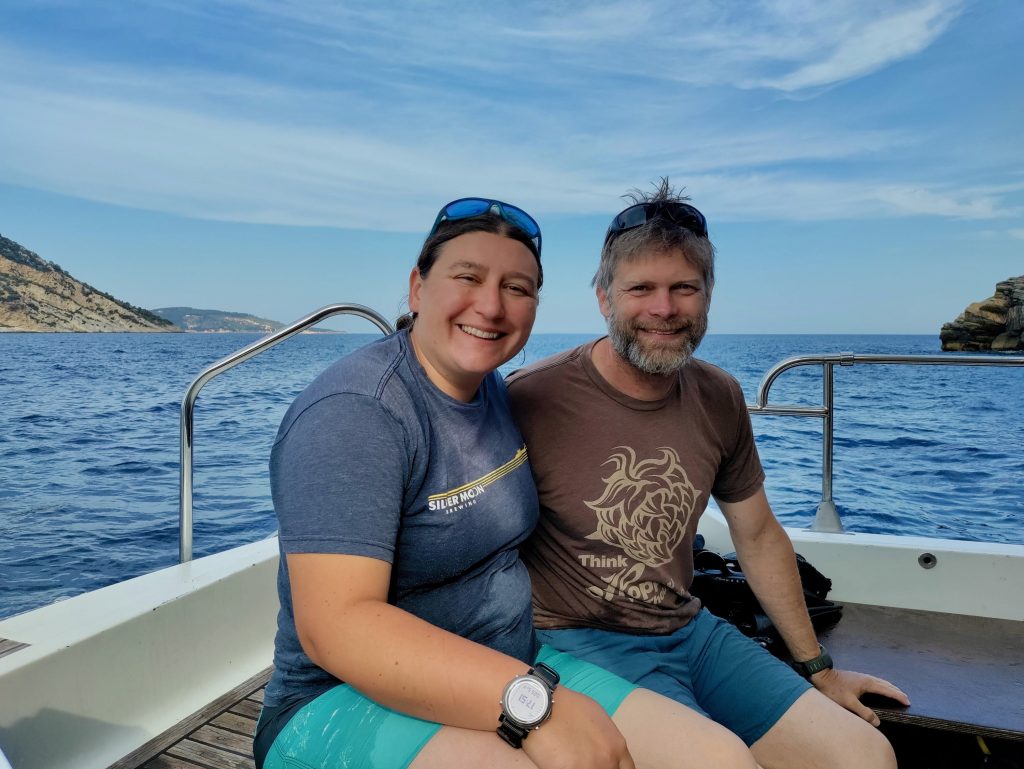 Thanks to:
The Municipality of Alonissos (https://alonissos.gr/en/)
Alonissos Triton Dive Center (https://bestdivingingreece.com)
Alonissos National Marine Park (https://alonissos.gr/en/marine-park/overview.html)
Paradise Hotel (https://paradise-hotel.gr/)
Albedo Travel (https://alonissosholidays.com/)
Diving With… Sporades Diving Group in Skopelos & Alonissos Islands, Greece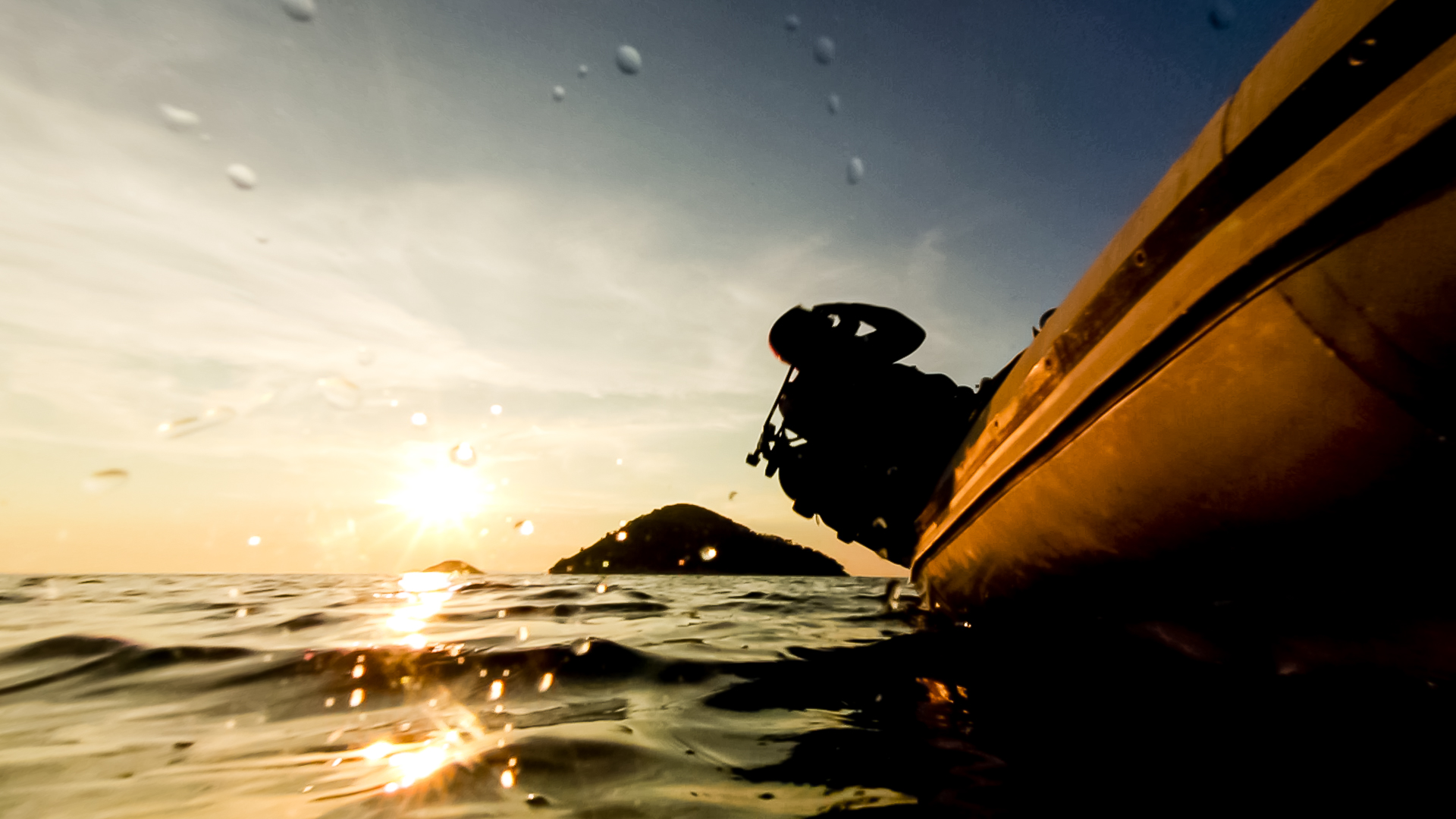 What is your name?
(Anastasios) Tasos Ktistis
What is the name of your business?
Sporades Diving: Skopelos Dive Center operates in Skopelos island and Ikion Diving that operates in Alonissos island, which is run by my business partner Kostas Danis.
What is your role within the business?
Master Scuba Diving Trainer PADI & Co-Owner of Skopelos Dive Center & Manager of Skopelos Island diving operations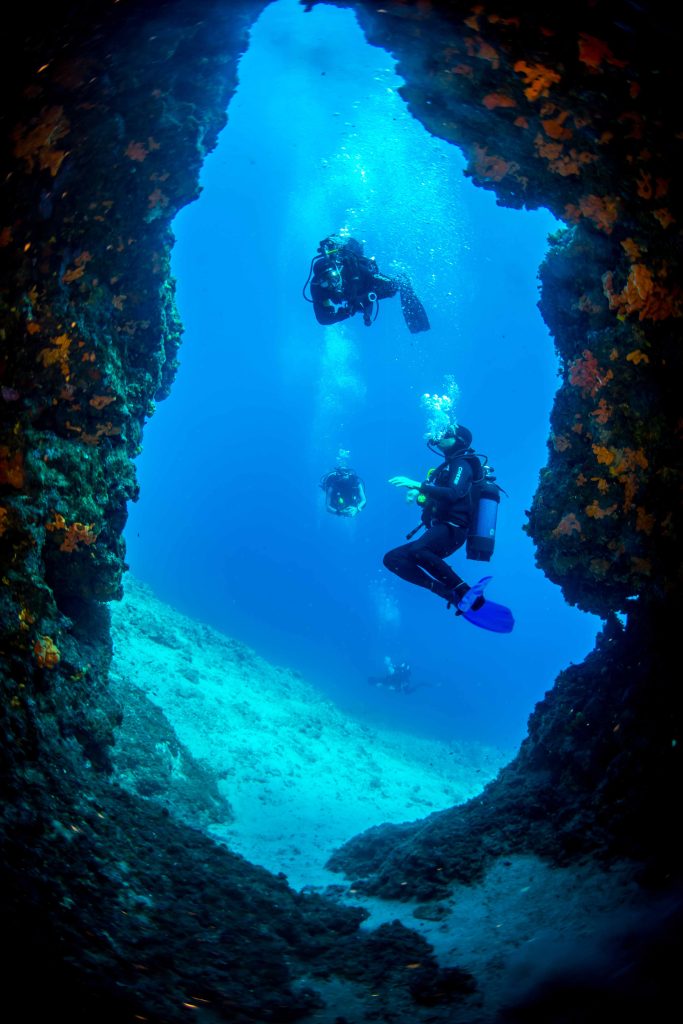 How long has the business operated for?
Since 2014
How long have you dived for, and what qualification are you?
I have been diving since 2012. I am a Mechanical Engineer with a BA in Documentary Photography and since 2012 I am qualified as a Master Scuba Diving Trainer PADI, since 2021 Tec65 diver and since 2022 as a Tec40 Diving Instructor
What is your favorite type of diving?
Wreck Diving
If you could tell people one thing about your business (or maybe more!) to make them want to visit you what would it be?
We offer our clients a safe and relaxed type of diving in the exciting and crystal-clear waters of the Sporades islands in Greece. Christoforos and Peristera's ancient wreck are two must dive destinations.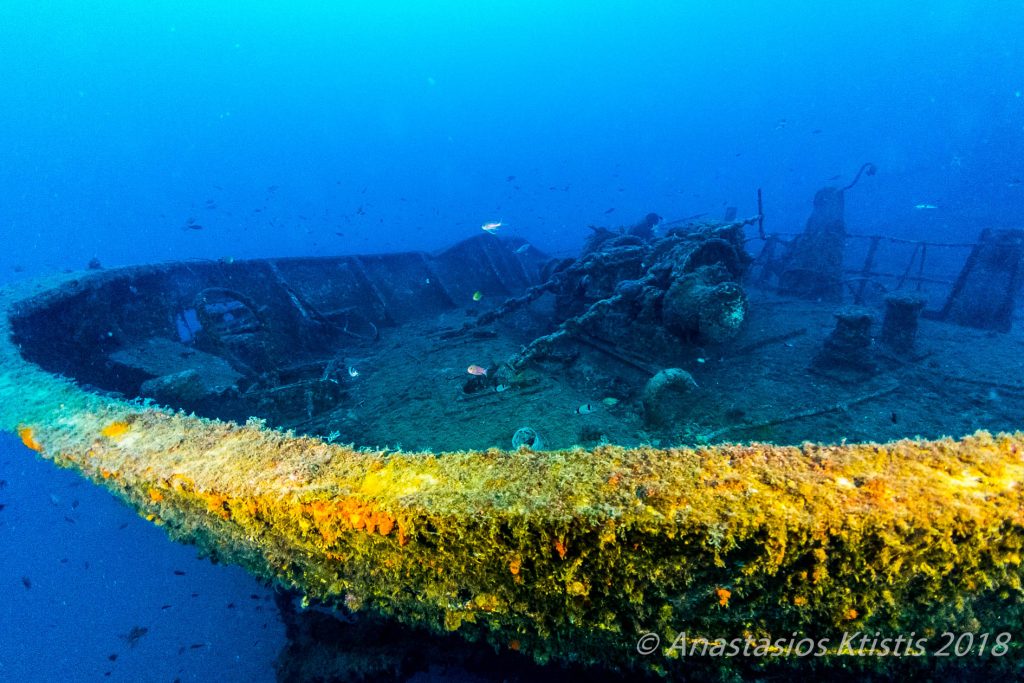 What is your favorite dive in your location and why?
My favorite dive location is the "Christophoros" shipwreck. A 83m long modern shipwreck that sank in 1983 in Panormos Bay in Skopelos island. As a wreck diving lover, I am so excited that as one of our dive locations I get to dive on this amazing site with our clients.
What types of diving are available in your location?
On our dive sites the rocky landscape is dominant with beautiful reefs, walls and caverns that I am sure everyone will enjoy. And of course wreck diving at the "Christophoros" shipwreck
What do you find most rewarding about your current role?
The satisfaction and the happiness on our clients' faces after a dive.
What is your favorite underwater creature?
Nudibranches!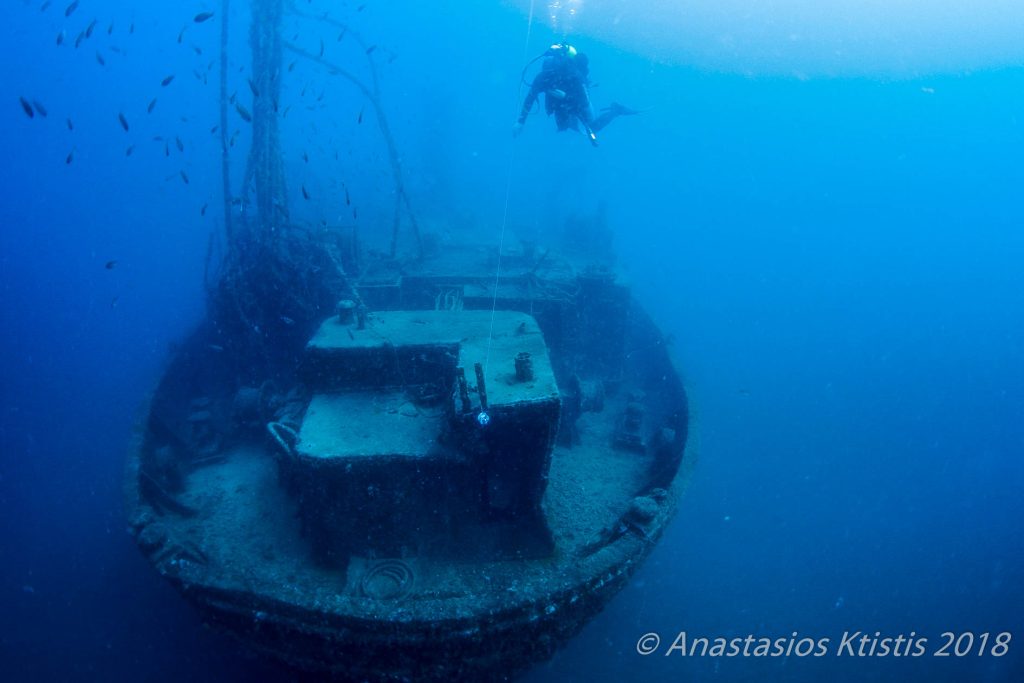 As a center what is the biggest problem you face at the moment?
I would say the fact that the Sporades islands have a short summer season (July-August) although the weather is ideal for diving from May till October.
Is your center involved in any environmental work?
Of course we are! First of all, we are all great advocates of the less plastic movement that has started in 2014, not only in Skopelos but also in Alonissos (Ikion Diving). We participate in underwater clean-ups as well as in projects for local management of plastic waste (#zeroplastic with iSea and Re-Shape plastic-funded by Beyond Plastic MED.)
Are there any exciting changes / developments coming up in the near future?
We currently aspire to get more involved in Scientific Diving projects by actively supporting the operations through our involvement in EU funded projects, while at the same time we are also exploring the possibilities of Technical Diving as me and my partner of the Alonissos base, Kostas Danis, are certified PADI Tec40 Instructors. We believe that in the future our business will be well known for not only its recreational diving services but also its involvement with the Scientific Diving community through its technical diving services and expertise.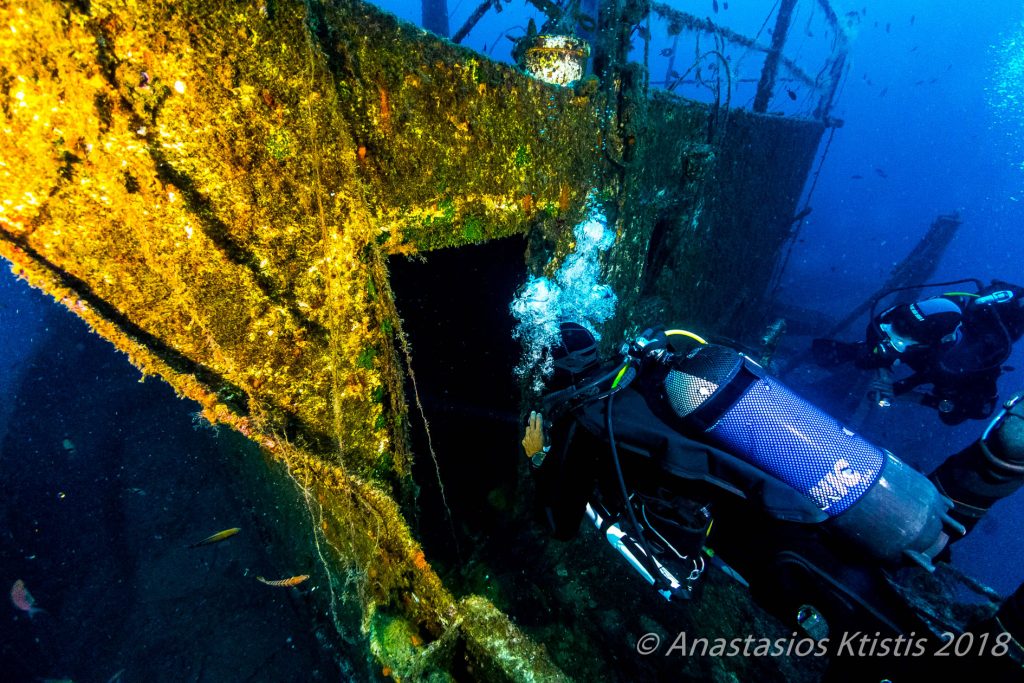 How do you see the SCUBA / Freediving / snorkeling industry overall? What changes would you make?
I believe that SCUBA and in general alternative tourism becomes more inclusive and even more people are interested to get to engage in this type of activities that ultimately protect the environment by raising awareness of the public about the ecosystem of the sea and its significance to a viable future.
Finally, what would you say to our visitors to promote the diving you have to offer?
At Skopelos Dive Center and Ikion Diving Alonissos (Sporades Diving Group) you can create fantastic underwater experiences – including guided dives, PADI courses, and snorkeling tours combining the two islands. It is our goal to create a safe, comfortable experience for divers of all abilities.
Where can our visitors find out more about your business? (This is where you enter your contact details and any specific details on how our audience can reach you)
Website: https://sporadesdiving.gr/
Skopelos Dive Center (Skopelos Island)
+306940448000
Ikion Diving Alonissos (Alonissos island)
+30 6940 448 004 (WhatsApp: +30 6984181598)